Russian prodigy wins music competition in Germany
An international pianist contest has awarded the first prize in the youngest age category to a Russian boy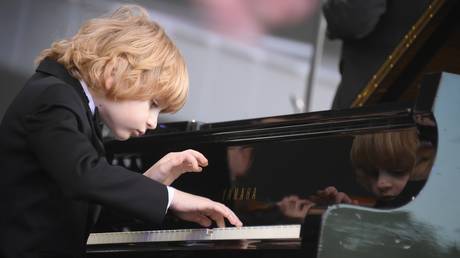 Elisey Mysin, a young Russian pianist, has been awarded the first prize in his age category by the international Robert Schumann Competition held in Dusseldorf. The event was organized in late February.
Russia's pianist gained jury's affection by first playing Wolfgang Amadeus Mozart's concerto for piano and orchestra №12 before interpreting Schumann's 'Colorful Leaves' pieces. Born in 2010, Mysin has been playing piano since he was four. He gained prominence in Russia after taking part in the popular children's 'Blue Bird' TV competition show.
The International Robert Schumann Competition for young pianists has been held by the Society of Friends and Sponsors of the Robert Schumann High School in Dusseldorf since 2017.
Mysin's victory came at a time when many western music competitions outright excluded Russian participants on the basis of their nationality amid the ongoing conflict between Moscow and Kiev.
In April 2022, the Jean Sibelius Violin Competition held in Finland banned Russian participants despite previously selecting them on the basis of merit. The competition committee blamed Russians for "atrocities" amid Moscow's military action in Ukraine.
In May 2022, a similar decision was taken by the acclaimed Rodolfo Lipizer International Violin Competition held in Italy. The move even prompted the Italian FVG Orchestra, which traditionally accompanied the competition finalists, to drop out of the event altogether. Its president, Paolo Petiziol, then blasted the organizers' decision to ban Russians as "inexplicable" and "completely unfair."
Kiev repeatedly called on various western platforms to ban Russian music and performers. In February, it urged the Swedish streaming service, Spotify, to remove songs by Russian artists who "support the war." Some western nations also demanded a ban on the Russian culture altogether.
In January, Lithuanian Culture Minister Simonas Kairys said his country's citizens should not enjoy Russian culture as long as the conflict in Ukraine continues. While stopping short of supporting what he called an "authoritarian" administrative ban on Russian culture, the minister said he favored a "mental quarantine" on it.