Russian official condemns 'terrorism' against cultural center
Rossotrudnichestvo head believes Ukrainians might be behind the Nicosia fire, which should be considered an act of terrorism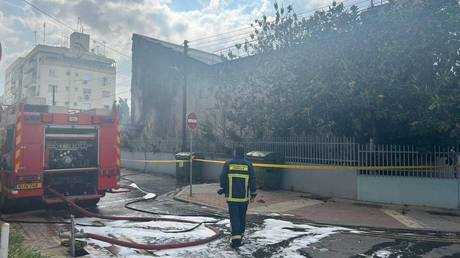 27 Apr, 2023 00:18
HomeRussia & FSU
Russian official condemns 'terrorism' against cultural center
Rossotrudnichestvo head suspects Ukrainian activists were behind the Cyprus fire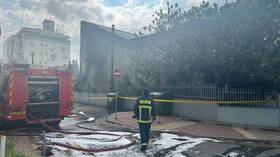 The blaze at the Russian science and culture center in Nicosia may have been the work of Ukrainians and if so, should be considered an act of terrorism, Yevgeny Primakov, the head of Rossotrudnichestvo, said on Wednesday.
"I am sure that the terrorists were supporters of the Kiev regime, most likely from among the Ukrainians who now live in Cyprus," Primakov said in an interview with Rossiya 24 TV. He later posted the same sentiment on Telegram. "In the house across the road, someone hung up a Ukrainian flag, apparently wanting to leave a signature."
Primakov noted that the building is a "purely civilian institution" used for exhibits, concerts, and classes of Russian language and music for children. He compared the arson to the infamous May 2, 2014 attack by Ukrainian nationalists on the Trade Union Hall in Odessa, when at least 42 people were burned alive.
The Russian science and cultural center in Nicosia was engulfed in flames on Wednesday morning. Witnesses said multiple people threw flaming bottles at the building. Firefighters responded quickly, deploying seven trucks to battle the blaze. All the staff were evacuated to safety and no one was injured or killed. Cypriot police are investigating the attack.
Primakov argued the fire should be treated as terrorism because it was "an attack on a civilian building intended not only to cause damage, but to intimidate our employees and the people who visit the center." He vowed not to close down the center.
"Everything that burned down, we will repair and repaint," said Primakov. "We continue to work."
Rossotrudnichestvo is the federal agency for international humanitarian cooperation and outreach to Russians living abroad. The 46-year-old Primakov has been its head since 2020.
Thousands of Russians and Ukrainians flocked to Cyprus after the Ukraine conflict escalated in February 2022. The island, an EU member since 2004, was already home to a sizable Russian diaspora, concentrated in the southern city of Limassol.