Russian MP proposes downgrading educational status of English
A lawmaker from Dagestan has proposed ending the mandatory teaching of English in Russian middle and high schools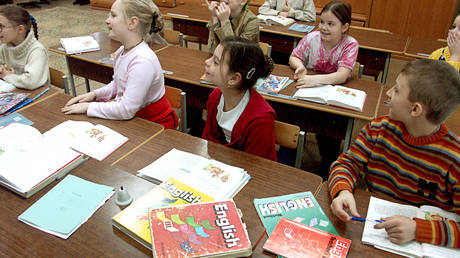 25 Apr, 2023 02:02
HomeRussia & FSU
Russian MP proposes downgrading educational status of English
Teaching the language should no longer be required, a ruling party deputy has said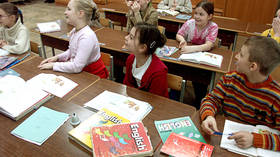 Studying English should no longer be mandatory in Russian schools, a member of the State Duma from the ruling United Russia party said on Monday. Sultan Khamzaev has argued that the world is much bigger than the West.
"We need to move away from the pro-Western vector in the Russian education system," Khamzaev told RIA Novosti. "The key to this is removing English from the list of mandatory subjects in secondary schools."
According to Khamzaev, English only became the international language because the school curricula in many countries made teaching it an obligation. Last year, Russia's education regulator dropped the second language requirement, but at least one foreign language – almost universally English – remains a mandatory part of every middle and high school curricula.
"We have been pointing our children's eyes to the West," said Khamzaev. "But where is Russian in the curricula of the US or the UK?" There was no point in forcing English when the world also consisted of China, India, Africa, the Arab world and Latin America, he added.
Khamzaev noted that the Russian curriculum has squeezed in basic military training "with difficulty," while neglecting classical subjects such as astronomy and drawing. Schools need to focus on subjects that improve the physical and psychological health of students, such as sports, psychology, and other activities that contribute to socialization.
Russia needs "strong specialists in various fields, primarily technical ones, and not just 'polyglots' who know only English," the lawmaker concluded.
Khamzaev, who hails from the Republic of Dagestan in the Caucasus, is a member of the State Duma from the ruling United Russia party. He sits on the committee on security and combating corruption. He is the leader of the 'Sober Russia' movement, best known for initiatives to ban the consumption of alcohol. Earlier this month, Khamzaev proposed a ban on e-cigarettes and other vaping merchandise. In 2021, he proposed to punish football players for poor performance while playing on the national team.