Russia shows 'battle-tested' weapons at defense expo
Rostec has presented "battle-tested" weapons at IDEX 23 defense expo in the UAE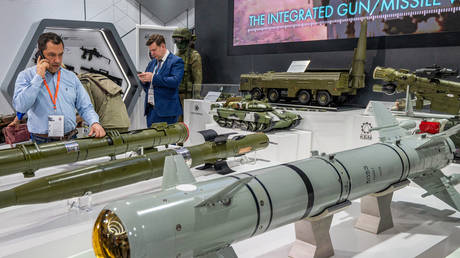 Russia shows 'battle-tested' weapons at defense expo
Rostec presented new small arms, aircraft and armored vehicles at the IDEX in Abu-Dhabi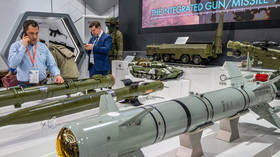 Russia's state-owned defense consortium Rostec has shown off a selection of new military tech at the 2023 International Defence Exhibition (IDEX) in Abu-Dhabi. Russian defense companies are not officially listed as expo participants but promote from a separate, 1,000-square-meter 'Russian Pavilion.'
Rostec showcased a number of new products there, ranging from sniper rifles and optical sights to combat helicopters and multiple rocket launchers. Company CEO Sergey Chemezov said last week that although most of the conglomerate's efforts were on defense orders from the Russian government, Rostec was still fulfilling international contracts. Russia "does not intend to give up positions on the world arms market," he said.
Chemezov said Rostec was presenting over 150 different items, "most of which are already tested in real combat," adding that this was "one of the main advantages of Russian weapons when compared to competitors."
Among the items shown was the 1K144-E, a portable stealth surveillance kit which can reportedly identify enemy troops and vehicles while remaining completely invisible. The device includes seismic, infrared and magnetometric sensors that can be put underground and send data about opponents' numbers and direction to the operator via a radio channel.
IDEX is a biennial UAE-based arms fair for the defense industry, governments, armed forces and military personnel to showcase their newest developments and is taking place all week from February 20. Russian companies were not listed as official exhibitors, but were nonetheless available in the separate pavilion and easily accessible by expo attendees.
Foreign countries have expressed interest in Russian air defense systems, "which have already proven themselves during military actions," an official from Russia's Federal Service for Military-Technical Cooperation told the TASS news agency on Monday.
Alexander Mikheyev, CEO of Rosoboronexport, the Russian state agency for international arms trade, said Moscow was using IDEX to consider various options for joint projects, including the development of a fifth-generation fighter based on the Checkmate light tactical aircraft, also known as Su-75.