Russia boosts gas supply to China – official
Exports via the mega Power of Siberia pipeline have been growing, says Deputy PM Aleksandr Novak Exports of natural gas from Russia to China via the Power of Siberia pipeline surged to a record 15.4 billion cubic meters last year, Deputy Prime Minister Aleksandr Novak has stated.Novak wrote in an article for the Energy Policy magazine on Monday that "gas supplies to China were actively growing during the year ... Deliveries through the Power of Siberia increased by 48% and reached a historical maximum." He noted that overall Russian gas exports decreased by more than 25% in 2022 due to EU sanctions and the sabotage of the Nord Stream pipelines network."We see the potential for growth in gas supplies to the Asia-Pacific Region. Work has been intensified to further diversify the export infrastructure," Novak stressed. "To this end, Gazprom, on behalf of the President of Russia, is working on accelerating the construction of the Eastern Route [Power of Siberia], as well as the Power of Siberia 2 gas pipelines." The deputy PM highlighted that the development of these projects will attract 4-5 trillion rubles ($54-68 billion) of additional direct investment and 1.5-2 trillion rubles ($20-27 billion) to related sectors, such as metallurgy, cement, and the chemical industries.Russia has been supplying gas to China via the Power of Siberia pipeline, a section of the so-called Eastern Route, under a long-term bilateral agreement between the two countries.The Eastern Route natural gas pipeline was partially launched in December 2019, thus becoming the first pipeline to supply Russian gas to China. It includes the 3,000km-long Power of Siberia pipeline in Russia and a section in China that extends 5,111km (3,175 miles). READ MORE: Russia reveals 'new level' of gas supplies to China The mega pipeline will provide China with 38 billion cubic meters of Russian natural gas annually starting in 2024. It is part of a $400 billion, 30-year agreement between Russia's Gazprom and the China National Petroleum Corporation inked in May 2014.The two companies are also working on a western gas route that involves constructing a pipeline to China through Mongolia. Once operational, the route will be capable of delivering as much as 50 billion cubic meters of gas per year.For more stories on economy & finance visit RT's business section You can share this story on social media: Follow RT on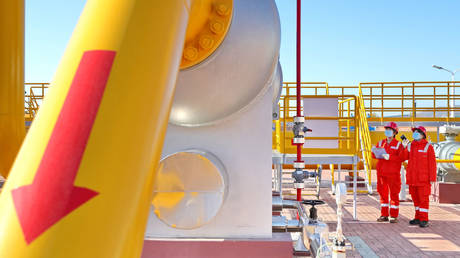 Exports via the mega Power of Siberia pipeline have been growing, says Deputy PM Aleksandr Novak
Exports of natural gas from Russia to China via the Power of Siberia pipeline surged to a record 15.4 billion cubic meters last year, Deputy Prime Minister Aleksandr Novak has stated.
Novak wrote in an article for the Energy Policy magazine on Monday that "gas supplies to China were actively growing during the year ... Deliveries through the Power of Siberia increased by 48% and reached a historical maximum." 
He noted that overall Russian gas exports decreased by more than 25% in 2022 due to EU sanctions and the sabotage of the Nord Stream pipelines network.
"We see the potential for growth in gas supplies to the Asia-Pacific Region. Work has been intensified to further diversify the export infrastructure," Novak stressed. "To this end, Gazprom, on behalf of the President of Russia, is working on accelerating the construction of the Eastern Route [Power of Siberia], as well as the Power of Siberia 2 gas pipelines." 
The deputy PM highlighted that the development of these projects will attract 4-5 trillion rubles ($54-68 billion) of additional direct investment and 1.5-2 trillion rubles ($20-27 billion) to related sectors, such as metallurgy, cement, and the chemical industries.
Russia has been supplying gas to China via the Power of Siberia pipeline, a section of the so-called Eastern Route, under a long-term bilateral agreement between the two countries.
The Eastern Route natural gas pipeline was partially launched in December 2019, thus becoming the first pipeline to supply Russian gas to China. It includes the 3,000km-long Power of Siberia pipeline in Russia and a section in China that extends 5,111km (3,175 miles).
The mega pipeline will provide China with 38 billion cubic meters of Russian natural gas annually starting in 2024. It is part of a $400 billion, 30-year agreement between Russia's Gazprom and the China National Petroleum Corporation inked in May 2014.
The two companies are also working on a western gas route that involves constructing a pipeline to China through Mongolia. Once operational, the route will be capable of delivering as much as 50 billion cubic meters of gas per year.
For more stories on economy & finance visit RT's business section
You can share this story on social media: