Russia and Türkiye agree to boost trade
Moscow and Ankara will deepen economic cooperation and expand bilateral trade, Russian President Vladimir Putin announced on Thursday.The statement was made during a fuel delivery ceremony at the Akkuyu nuclear power plant in Türkiye. The Russian leader and his Turkish counterpart, Recep Tayyip Erdogan, participated remotely by video link."Of course, in addition to cooperation in the field of peaceful nuclear energy, we have just discussed other urgent issues in the development of the entire range of Russian-Turkish relations. And in this regard, a number of fundamentally important joint agreements have been reached," Putin said.The two heads-of-state also agreed to encourage mutual investments and help Russian and Turkish businesses enter each other's markets.According to Putin, the trade turnover between the two countries in 2022 exceeded $62 billion.Last year, Türkiye and Russia signed a roadmap for economic cooperation that envisages bringing bilateral trade turnover to $100 billion a year. The two nations have also agreed to introduce the Russian ruble as a settlement currency for bilateral trade, including for Russian natural gas supplies. READ MORE: Türkiye becoming one of Russia's top trade partners Data shows that last summer Türkiye became one of the top five exporters to Russia. In 2021, it ranked 11th ahead of the US, France, Japan, Poland, and Italy.For more stories on economy & finance visit RT's business section You can share this story on social media: Follow RT on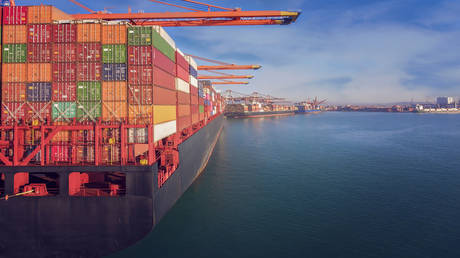 Moscow and Ankara will deepen economic cooperation and expand bilateral trade, Russian President Vladimir Putin announced on Thursday.
The statement was made during a fuel delivery ceremony at the Akkuyu nuclear power plant in Türkiye. The Russian leader and his Turkish counterpart, Recep Tayyip Erdogan, participated remotely by video link.
"Of course, in addition to cooperation in the field of peaceful nuclear energy, we have just discussed other urgent issues in the development of the entire range of Russian-Turkish relations. And in this regard, a number of fundamentally important joint agreements have been reached," Putin said.
The two heads-of-state also agreed to encourage mutual investments and help Russian and Turkish businesses enter each other's markets.
According to Putin, the trade turnover between the two countries in 2022 exceeded $62 billion.
Last year, Türkiye and Russia signed a roadmap for economic cooperation that envisages bringing bilateral trade turnover to $100 billion a year. The two nations have also agreed to introduce the Russian ruble as a settlement currency for bilateral trade, including for Russian natural gas supplies.
Data shows that last summer Türkiye became one of the top five exporters to Russia. In 2021, it ranked 11th ahead of the US, France, Japan, Poland, and Italy.
For more stories on economy & finance visit RT's business section
You can share this story on social media: