Road trips from Las Vegas
Ultimate Road trips from Las Vegas Visiting Las Vegas is a whole adventure and experience on its own in visiting all the wild, whacky and over the top venues around the city with each new casino trying to outdo all the others around the city. But, once you tire of all the neon lights, cocktail bars and buffet lines and long for some nature and natural environments, you'll be surprised that there's so much history, culture and stunning scenery to find just outside of the city. There are so many fantastic road trips from Las Vegas that should be on your bucket list of places to visit just outside of this man-made metropolis. Let these fellow travel writers and bloggers show you some of the best places to explore, wander and enjoy the amazing landscape, historical sites and some fun adventure experiences just a short ride from Las Vegas. Hopefully this will inspire you to allocate some time to see some gorgeous natural landscape or even man-made attraction that is an easy road trip away from the city. Ultimate road trip and day trips to enjoy from Las Vegas now Road trip to Zion National Park One of the most popular road trips to take from Las Viegas is to explore Zion National Park in Utah. Less that a 160 miles or about two and a half hours on I-15 North gets you to the southern entrance of the park and makes an easy day trip. But, you may want to do an overnight stay close by to explore the park in more detail and visit some of the beautiful monuments and attractions in the park or hike some of the most iconic trails in the park system. There is a shuttle service that goes through the valley floor that you have to take from the visitor's center that stops at most of the main attractions around the park valley area and from these areas you can explore the hikes and viewpoints on your own. You can take some easy and short hikes to the most beautiful spots in the park or more challenging routes like Angel's camp or the Emerald pools for stunning vista points to visit around the park. Campling is feasible around the park or even the main lodge of Zion, but the closest place to stay is located at Springdale just outside of the park. Check out these hotel listings to stay at different price points but located close to the park for you to visit early or even late around the various sites of the park area. Noel with USA Road Trip Now An easy road trip to The Valley of Fire State Park The Valley of Fire State Park may be one of the most popular day trips from Las Vegas, but for good reason. At just under 1 hour from the neon lights, you'll be transported to a different planet. Okay, maybe not literally, but it will look as though. The state park covers almost 46,000 acres and is filled with other-worldly Aztec red Sandstone. I do recommend leaving the strip early and arriving right around sunrise to beat the crowds and catch an epic sunrise along Mouse's Tank Road. After the sun has risen, head to the famous 1.5-mile Fire Wave Trail and then meander your way through the slot canyons on the White Domes Trail. If you have extra time during your day trip, make sure to search for the petroglyphs on top of Atlatl Rock and stop at Arch Rock, Elephant Rock, and the Beehives. If you do not have your own car in Las Vegas, there are several different tour companies that will take you into the Valley of Fire State Park for the day. No matter how you choose to spend your time inside the park, it will surely be a day trip to remember for a lifetime! Road trip visiting Antelope Canyon Antelope Canyon is a beautiful slot canyon carved out by millions of years of water erosion. And it is one of the most beautiful places in the American Southwest. If you're looking for an easy day trip from Las Vegas, Antelope Canyon is a great choice! A four-and-a-half-hour drive from Las Vegas, you'll take I-15 N up into Utah and then cut back down just south of the border via US-89 into Arizona, where you'll find Antelope Canyon. The 276-mile journey will be well worth it. The highlight of Antelope Canyon is the sandstone which is full of beautiful lines and colors. Combine that with towering walls and light beams coming in from above. It is a magical place and one of the most amazing natural wonders. Keep in mind, Antelope Canyon is on private Navajo land, and there are no self-guided tours. You cannot go to Antelope Canyon without a tour, so plan ahead. If you're wanting to explore the canyon, you must book a tour with a licensed tour guide. There are three different parts of the canyon you can tour: Upper, Lower, and Canyon X. Your Antelope Canyon tour will only cover one area of the canyon, so if you'd like to see different parts of the canyon, you will need to book multiple tours. Enjoy your adventure from Las Vegas to Antelope Canyon! Candice with CS Ginger Road trip to Hoover Dam Life Las Vegas is full of exciting and exhilarating activities, but if you're looking for somethin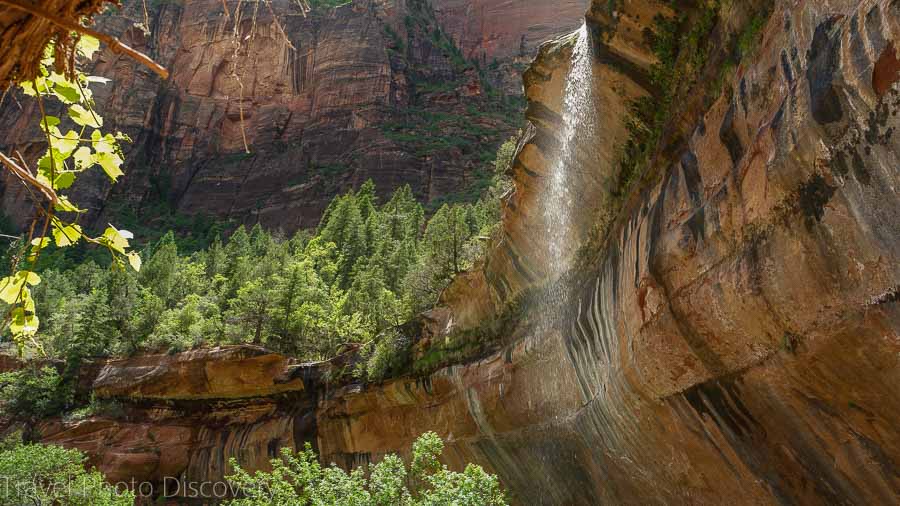 Ultimate Road trips from Las Vegas
Visiting Las Vegas is a whole adventure and experience on its own in visiting all the wild, whacky and over the top venues around the city with each new casino trying to outdo all the others around the city. But, once you tire of all the neon lights, cocktail bars and buffet lines and long for some nature and natural environments, you'll be surprised that there's so much history, culture and stunning scenery to find just outside of the city. There are so many fantastic road trips from Las Vegas that should be on your bucket list of places to visit just outside of this man-made metropolis.
Let these fellow travel writers and bloggers show you some of the best places to explore, wander and enjoy the amazing landscape, historical sites and some fun adventure experiences just a short ride from Las Vegas. Hopefully this will inspire you to allocate some time to see some gorgeous natural landscape or even man-made attraction that is an easy road trip away from the city.
Ultimate road trip and day trips to enjoy from Las Vegas now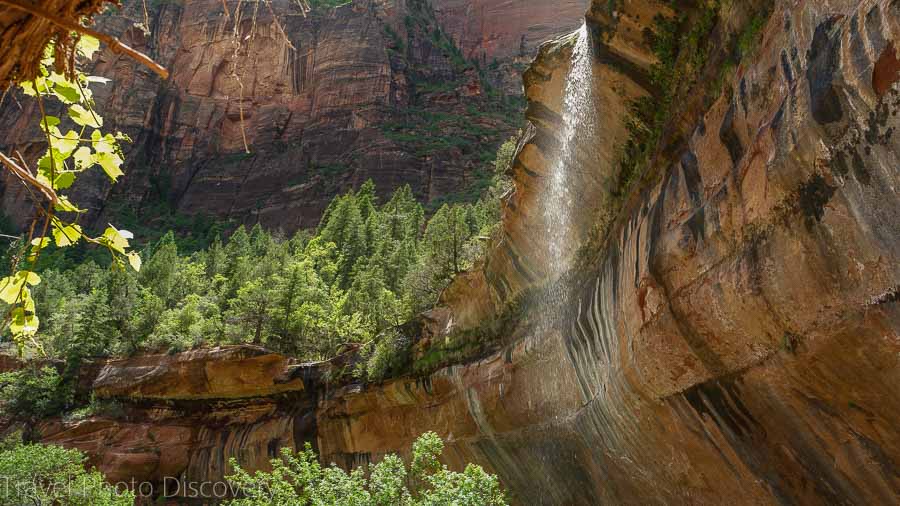 Road trip to Zion National Park
One of the most popular road trips to take from Las Viegas is to explore Zion National Park in Utah. Less that a 160 miles or about two and a half hours on I-15 North gets you to the southern entrance of the park and makes an easy day trip. But, you may want to do an overnight stay close by to explore the park in more detail and visit some of the beautiful monuments and attractions in the park or hike some of the most iconic trails in the park system.
There is a shuttle service that goes through the valley floor that you have to take from the visitor's center that stops at most of the main attractions around the park valley area and from these areas you can explore the hikes and viewpoints on your own. You can take some easy and short hikes to the most beautiful spots in the park or more challenging routes like Angel's camp or the Emerald pools for stunning vista points to visit around the park.
Campling is feasible around the park or even the main lodge of Zion, but the closest place to stay is located at Springdale just outside of the park. Check out these hotel listings to stay at different price points but located close to the park for you to visit early or even late around the various sites of the park area.
Noel with USA Road Trip Now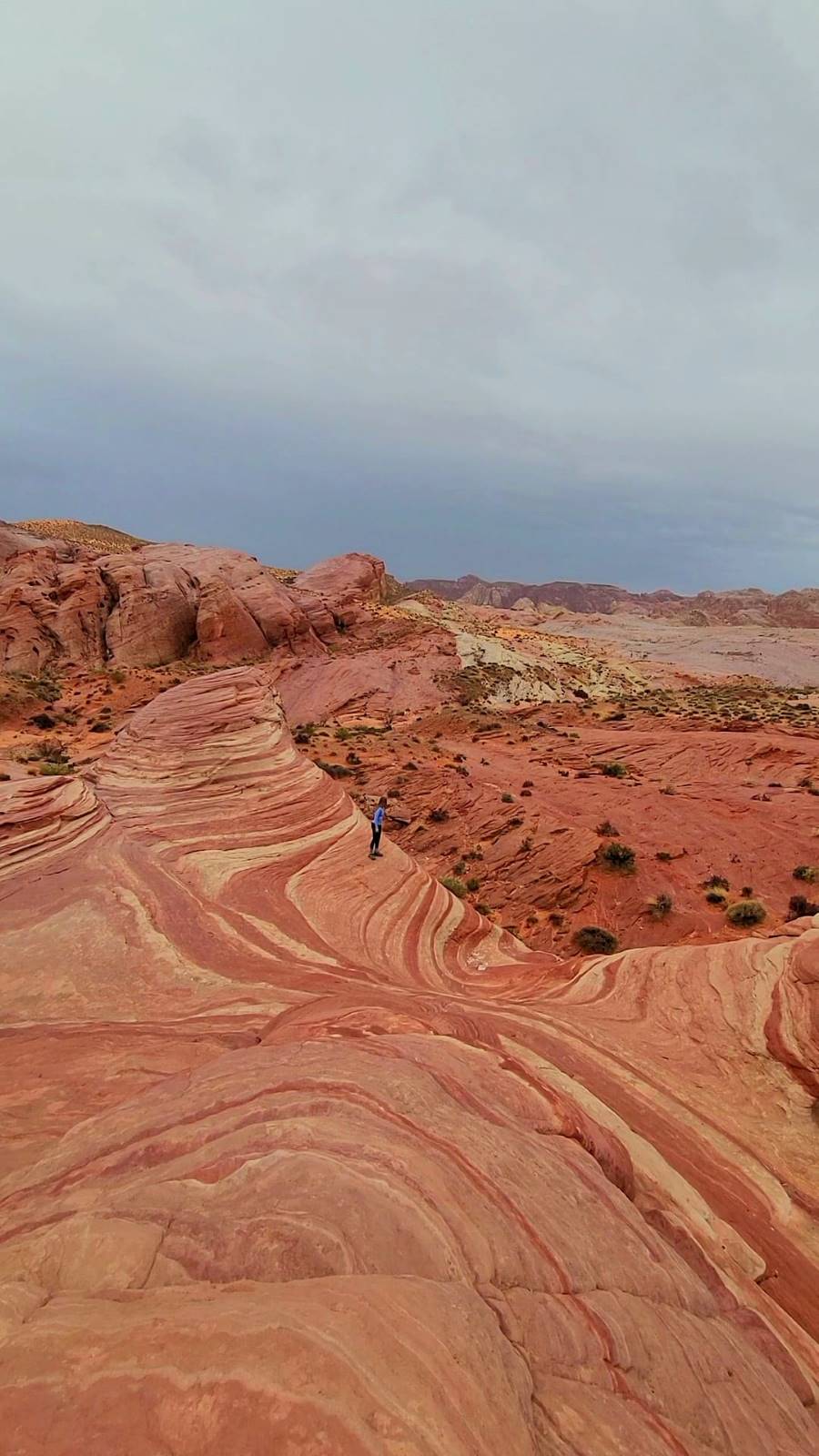 An easy road trip to The Valley of Fire State Park
The Valley of Fire State Park may be one of the most popular day trips from Las Vegas, but for good reason. At just under 1 hour from the neon lights, you'll be transported to a different planet. Okay, maybe not literally, but it will look as though.
The state park covers almost 46,000 acres and is filled with other-worldly Aztec red Sandstone. I do recommend leaving the strip early and arriving right around sunrise to beat the crowds and catch an epic sunrise along Mouse's Tank Road.
After the sun has risen, head to the famous 1.5-mile Fire Wave Trail and then meander your way through the slot canyons on the White Domes Trail. If you have extra time during your day trip, make sure to search for the petroglyphs on top of Atlatl Rock and stop at Arch Rock, Elephant Rock, and the Beehives.
If you do not have your own car in Las Vegas, there are several different tour companies that will take you into the Valley of Fire State Park for the day. No matter how you choose to spend your time inside the park, it will surely be a day trip to remember for a lifetime!

Road trip visiting Antelope Canyon
Antelope Canyon is a beautiful slot canyon carved out by millions of years of water erosion. And it is one of the most beautiful places in the American Southwest.
If you're looking for an easy day trip from Las Vegas, Antelope Canyon is a great choice!
A four-and-a-half-hour drive from Las Vegas, you'll take I-15 N up into Utah and then cut back down just south of the border via US-89 into Arizona, where you'll find Antelope Canyon. The 276-mile journey will be well worth it.
The highlight of Antelope Canyon is the sandstone which is full of beautiful lines and colors. Combine that with towering walls and light beams coming in from above. It is a magical place and one of the most amazing natural wonders.
Keep in mind, Antelope Canyon is on private Navajo land, and there are no self-guided tours. You cannot go to Antelope Canyon without a tour, so plan ahead. If you're wanting to explore the canyon, you must book a tour with a licensed tour guide.
There are three different parts of the canyon you can tour: Upper, Lower, and Canyon X. Your Antelope Canyon tour will only cover one area of the canyon, so if you'd like to see different parts of the canyon, you will need to book multiple tours.
Enjoy your adventure from Las Vegas to Antelope Canyon!
Candice with CS Ginger
Road trip to Hoover Dam
Life Las Vegas is full of exciting and exhilarating activities, but if you're looking for something different to do, then why not take a day trip to the iconic Hoover Dam? This engineering marvel is only 30 miles away from Vegas, making it an easy and convenient destination.
The Hoover Dam stands tall at 726 feet above the Colorado River, creating an awe-inspiring view that will take your breath away. From its massive size to its intricate construction, you'll be amazed by how much effort went into this dam. It took five years for workers to construct it—five years in which they faced harsh working conditions during one of the worst times in American history.
You can take a tour of the dam and learn about its fascinating history and engineering details, or you can just walk out on top of it and admire the views! If you're feeling adventurous, you can even take a helicopter ride over the dam and get some incredible aerial views. Regardless of what activity you choose, you're sure to have a great time exploring everything that this amazing landmark has to offer.
With so many unique shops located near the dam, there's something for everyone! From souvenirs to handmade crafts and jewelry, there are boundless shopping possibilities here. You could even buy yourself a piece of history with one of their collectible coins or stamps featuring images of the dam!
Contributed by Brodi Cole of Our Offbeat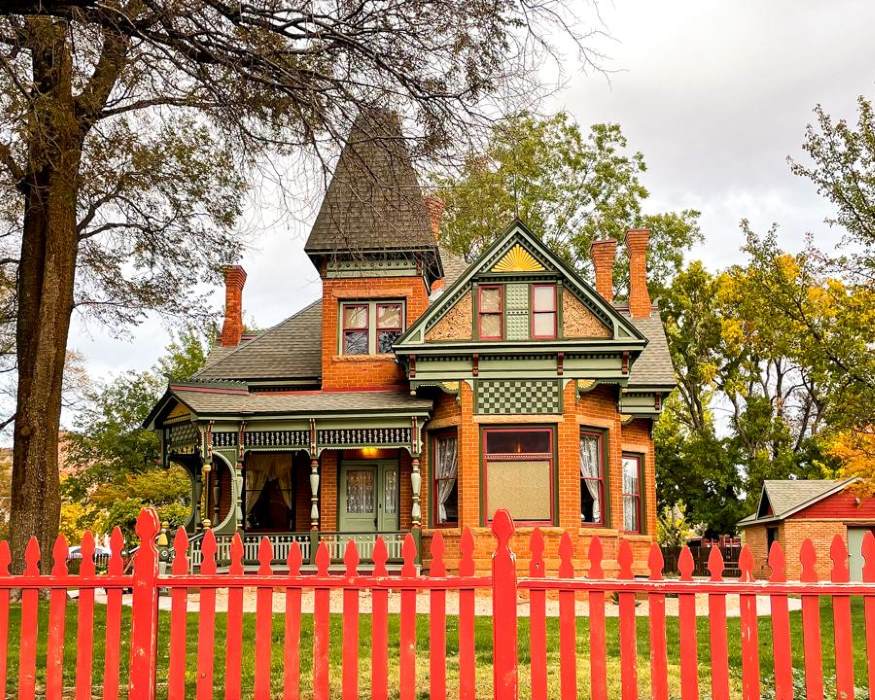 Explore Kanab, Utah
The small town of Kanab, Utah, is most commonly visited by travelers using it as a base to head out to one of Utah's national parks. However, there's enough to do here that you can easily enjoy a full day of exploring Utah's "Little Hollywood."
Kanab is perfect for those who love culture and kitsch. You can visit the Kanab Heritage House Museum, the Moqui Cave Museum, and, of course, the Little Hollywood Museum.
The town earned this nickname because numerous movies and tv series were filmed here, starting in the earliest days of cinema. The projects made here were usually old westerns, but not always. Other genres were occasionally filmed here as well.
Famous movies that were made in Kanab include The Lone Ranger, Broken Arrow, Planet of the Apes, and The Outlaw Josey Wells.
Television series filmed here include How the West was Won, Gunsmoke, and F Troop.
There are numerous hikes and slot canyons within an hour of Kanab to explore. These places often have far fewer visitors than the national parks, so make Kanab your destination if you want to see the beauty of Utah without the crowds!
One bucket-list outdoor adventure is sandboarding. If you haven't done it, you're in luck! The perfect spot is right on the edge of town at Coral Pink Sands State Park.
Stephanie Craig of History Fangirl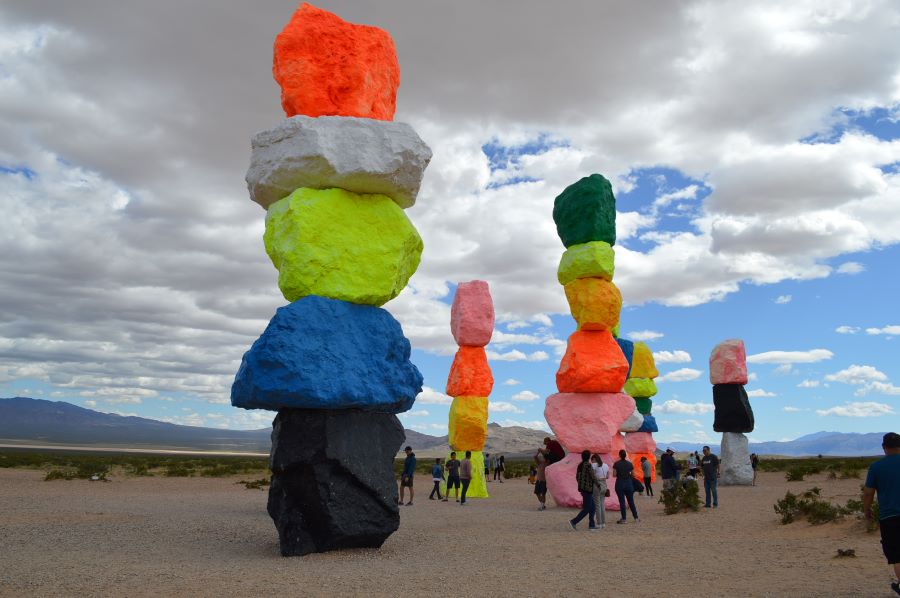 Seven Magic Mountains
Located just 25 minutes from the Las Vegas Strip is a beautiful desert art installation that makes for the most incredible photo backdrop. These are the Seven Magic Mountains created by Ugo Rondinone.
They are free to visit at make for a great getaway from the hustle of the city if you need a break from your Las Vegas itinerary. Seven Magic Mountains are a collection of stacks of giant boulders towering over 30 feet high and painted bright, neon colors.
To get there, travel south on I-15 South to Exit 25 for Sloan Road, then turn left on Sloan Rd and right on Las Vegas Blvd until you run into it. Parking is free but on a dirt lot so don't drive your expensive car.
There are also port-a-potties and a snack cart on site. To get up close to the installation, you'll be walking a short unpaved path up to the boulders. Unfortunately, this means Seven Magic Mountains is not friendly for strollers and wheelchairs.
The best thing to do there aside from read about the artist's vision, is to take photos from lots of angles and with boulders of varying colors! One tip for visiting is that it can get really windy in the middle of the desert so protect your eyes and camera lenses.
Seven Magic Mountains is open 24 hours a day and will be open through at least 2027 (although they keep pushing the end date farther and farther into the future).
By Alanna from Periodic Adventures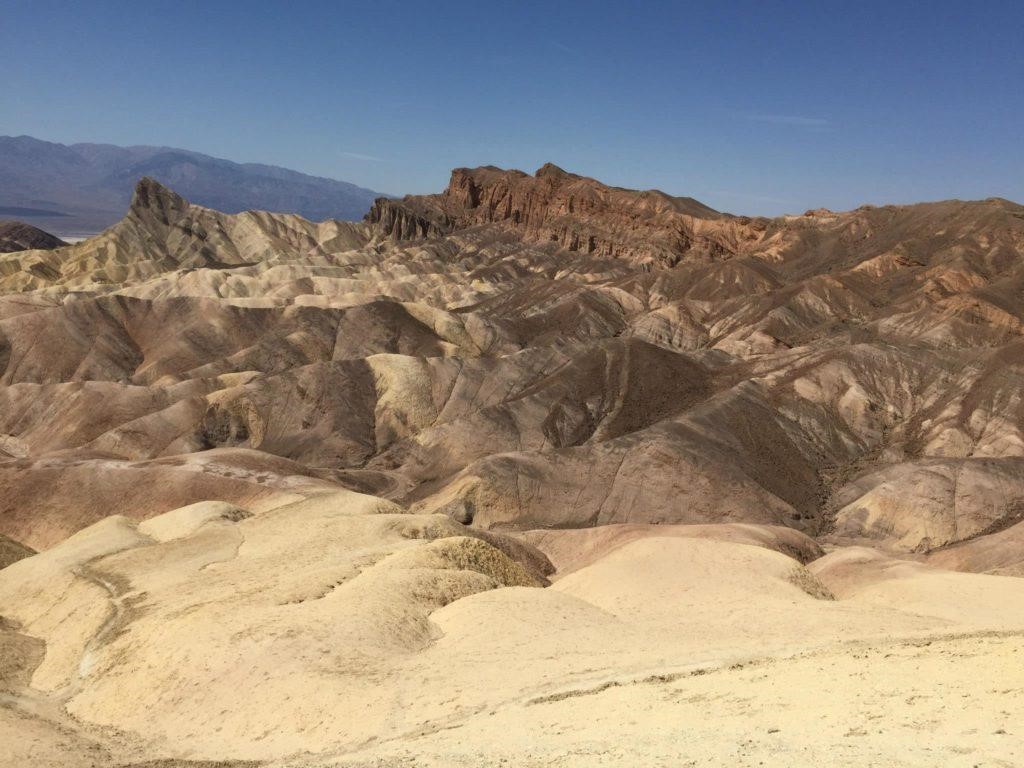 Road trip to Death Valley
Visiting Death Valley from Las Vegas is among the easiest and most popular day trips from Sin City.
Death Valley is only about 412 miles from the Las Vegas strip. In other words, a 2-hour drive will take you from the shiny lights of Las Vegas to the natural beauty of Death Valley.
Death Valley NP is one of the best west coast national parks and a must-see national park in the US. It is a spectacular place that holds three records. Death Valley is the hottest place on earth, the driest place in the US, and the deepest place in North America.
You can visit Death Valley for Las Vegas on your own. If you are flying to Las Vegas, rent a car at the McCarren airport and take a road trip to Death Valley. There are several driving routes to Death Valley from Las Vegas. The shortest route takes only 2 hours, and the most scenic route takes 4 hours. But if you are not into driving, you can take a bus in Las Vegas. The bus goes from Las Vegas to Yosemite and stops in Death Valley. However, joining a guided Death Valley tour from Las Vegas is among the most popular options.
On a Death Valley day tour from Las Vegas, visitors usually see the most popular sites in Death Valley, like Furnace Creek, Artist's Palette, Badwater Basin, Devil's Golf Course, and Zabriskie Point. But, if you would like to see more sites like Ubehebe Crater (a thousands-year-old volcanic crater in Death Valley) or a 'sailing rock' on Racetrack Playa, visit Death Valley independently.
Milijana of World Travel Connector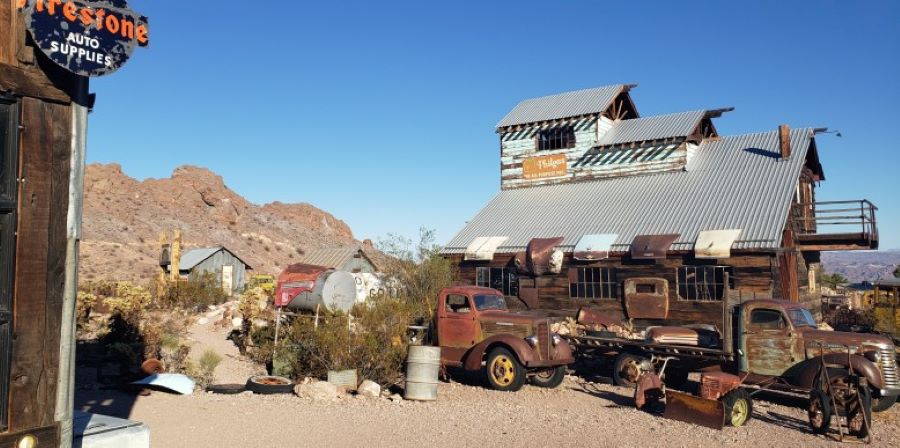 Nelson Ghost town
Nelson Ghost Town is an easy day trip from Las Vegas. It is less than an hour's drive to the notorious Eldorado Canyon, the lawless town that existed way before the bright lights of Las Vegas. It is now a very unique ghost town that caters to tourists looking for something a little different than the Las Vegas casinos. It is definitely on the list of cheap things to do in Las Vegas, since it only requires a small donation to tour the grounds.
Nelson Ghost Town is authentic Nevada history that features an abandoned mine as well as a large salute to classic Americana that is full of rusty nostalgia, dilapidated buildings from the gold rush era, and vintage cars, never to move again.
The abandoned town itself is very picturesque and full of scenery and that looks like it came out of a black and white western movie. In fact, it has become a popular Hollywood set where they have filmed some movies and tv shows. It is also popular for weddings and engagement photoshoots because the photographic memories are truly unique. Who else will have wedding photos with a backdrop similar to the outlaws in the Wild West?
Techatticup Mine was a booming mine that was infiltrated in 1861 with prospectors and desperados looking to strike it rich. It remained active until the 1940s, producing many bags of precious metals for those that survived the rough and rowdy bunch of inhabitants. It requires a reservation and admission for a tour of the mine,but is full of the rich and colorful history of the mining era.
By Michelle from Moyer Memoirs Empty Nest Travel Adventures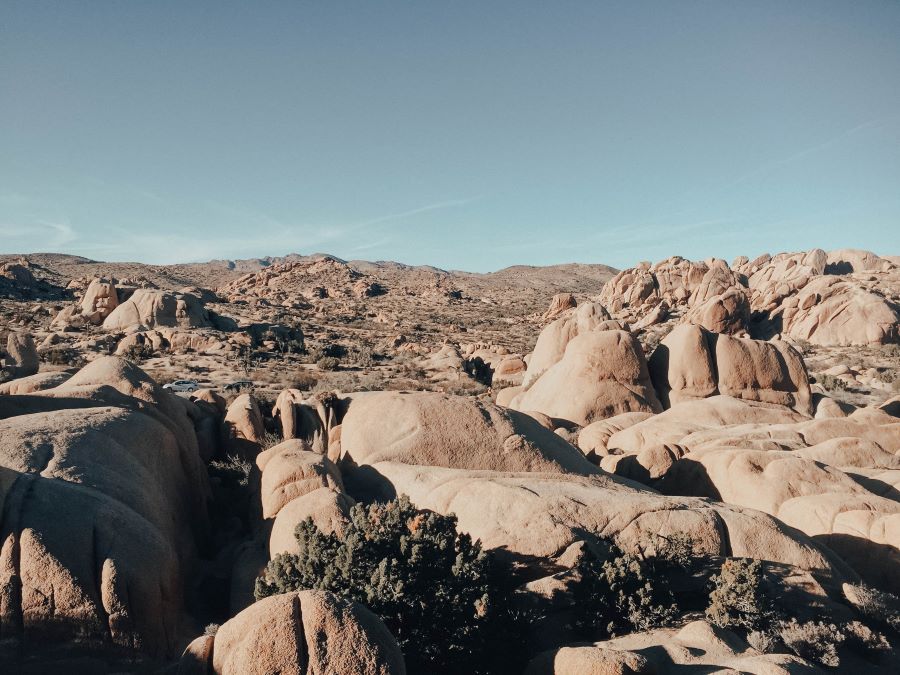 Explore Joshua Tree National Park
Joshua Tree National Park is located in southern California, just over a three hour drive from Las Vegas, Nevada.
The main attraction at Joshua Tree National Park are the Joshua Trees, which can be found all throughout the park. If you have not seen this type of tree before, it looks like a cross between a palm tree and a cactus. However, it actually belongs to the Yucca family.
You can also spend plenty of time hiking trails in the park. Two of the most popular trails are Arch Rock and Hall of Horrors. First, Arch Rock Trail is approximately 1.4 miles round trip with 90 feet in elevation gain and will take around 30 minutes to complete. The trail leads to a natural arch. Second, Hall of Horrors Trail is approximately 0.6 miles round trip with 25 feet in elevation gain and will take around 15 minutes to complete. The trail offers a variety of scrambling opportunities as well as the ability to shimmy through two slot canyons.
Additionally, you can visit the attraction of Skull Rock without having to hike at all, for it is right along the roadside. It is exactly what it sounds like – a rock in the shape of a skull that even has two depressions in the rock that look like eyes.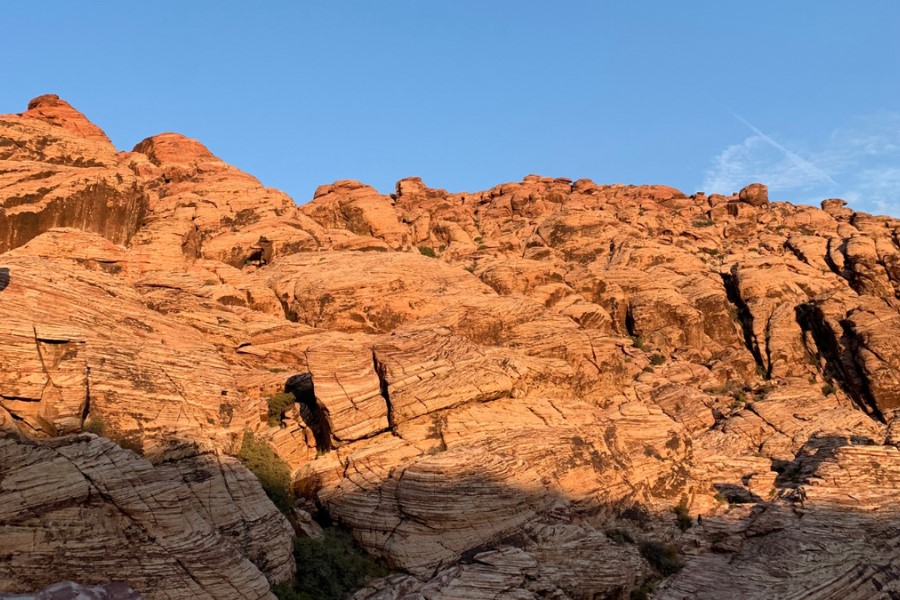 Visit the Red Rock Canyon
A place to visit from Las Vegas that will offer you a completely different atmosphere from all the glitz and flare of The Strip is Red Rock Canyon. In this National Conservation Area, visitors are treated to beautiful views of the desert landscape and towering rock formations. Plus, there are a host of activities to discover the area.
For example, hiking is a great way to explore Red Rock Canyon. There are 20+ trails that range from beginner to expert level, so no matter your skill set, you can find something enjoyable.
But, if you'd rather stick to the roadside, consider biking through the scenic canyon. You'll be able to travel at your own pace, cover more ground than walking, and get in some exercise! And, the roads are large enough that you can easily stop along the way to take photos or opt for a break to admire the stunning backdrop.
For those wanting to challenge themselves, rock climbing is another option. The area offers hundreds of different climbing routes that even beginner climbers can enjoy climbing the red rocks!
So if you're looking to get away from mainstream Vegas and enter the rugged side of the desert region, consider visiting Red Rock Canyon.
Contributed by Kristin of Global Travel Escapades

Explore Beatty and a mining town
Beatty, NV, is an off the beaten path location and the perfect way to spend a day trip from Las Vegas. Beatty is most often referred to as the "Gateway to Death Valley." Located only 7 miles from the entrance of Death Valley, Beatty is a common destination to stay when visiting the iconic national park. However, the small town offers many other unique local attractions as well.
One of the best things you can do on your day trip to Beatty is to visit the famous ghost town, Rhyolite Ghost Town. In 1904, it was once a booming mining town but was left vacant after the gold declined. Over a century later, you can explore the remnants of what is left of the deserted mining town.
Next to Rhyolite, take a stroll and discover an outdoor sculpture museum, The Goldwell Open Air Museum. The museum is free to visit and sits on 7.8 acres of open desert. It features several works of art, including a ghost rendition of The Last Supper and Lady Desert – The Venus of Nevada, a 25-foot tall LEGO-like woman.
Lastly, when visiting Beatty, don't forget to grab some road trip snacks at the Death Valley Nut & Candy. It is the largest candy store in Nevada. As you can imagine, it has every type of candy you could want and more. There are aisles and aisles filled with chocolate, gummies, taffy, and nuts for you to choose from.
Beatty is a great destination to visit if you are looking for a unique and interesting day trip from Las Vegas.
Alisha with Travel Today Work Tomorrow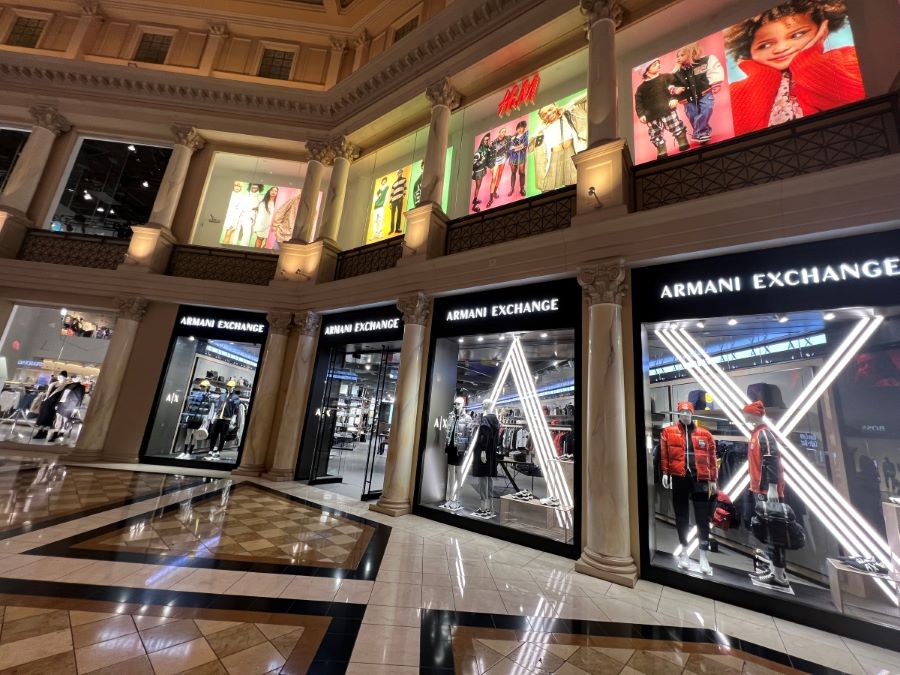 Premium Mall shopping at Las Vegas
Spending a day shopping at Las Vegas Premium outlets and snagging some great deals on designer wear is a very popular thing to do in Vegas. Just like everything else, shopping in Las Vegas is over the top as well. Here you will find world-class shopping malls with some of the top designer brands in the world.
There are two outlet malls on both ends of the Las Vegas Strip area – The Las Vegas North Premium Outlets and The Las Vegas South Premium Outlets. The Las Vegas North Outlets is an open-air outdoor mall with over 170 high-end designer brand stores for clothing and accessories. The North Outlets also has restaurants and a food court. There is paid parking here or you can take a cab or rideshare to get here.
The Las Vegas South Outlets is an indoor air-conditioned mall which is a great option during summer as temperatures in Las Vegas can be in the triple digits. There are over 140 designer store brands here for clothing, shoes, and accessories. There is a food court here with a variety of dining options. Parking is free at the South Outlets.
No matter what you are looking for, you are sure to find it at the Las Vegas Premium outlets at bargain prices!
Contributed by Anu Agarwal of Destination Checkoff.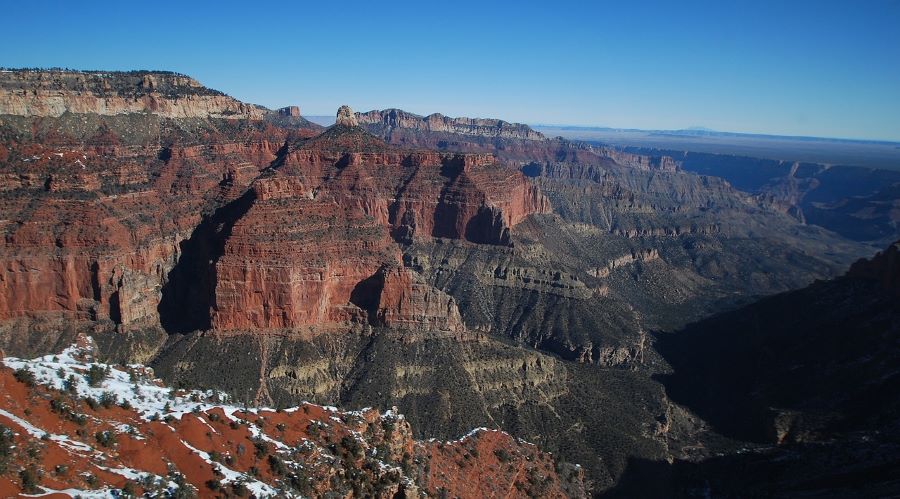 Road trip to the North Rim of the Grand Canyon
At just over 4 hours drive from Las Vegas, the North Rim of The Grand Canyon is a truly breathtaking place to experience. With just a fraction of the crowds that the Grand Canyon South Rim sees but no less shortage of spectacular views and an incredibly different terrain, it is certainly something that needs to be experienced.
The North Rim is far more rugged and remote than the Grand Canyon South Rim and as it sits at a much higher elevation the views are completely different. Plus it is a lot cooler – perfect to escape those hot summer days! Some of the best viewpoints include Point Imperial, Bright Angel Point, Cape Royal and Dragon Corridor.
If you plan to visit on a day trip from Las Vegas why not make the journey memorable, save time and go there on a helicopter. You can do a ground and air tour of the North Rim from Las Vegas, enabling you to see the canyon from a birds eye view. A 4×4 tour on ground through Lake Mead Conservation Area and Whitmore Canyon to get to the North Rim is also great as you can explore limited access areas of The Grand Canyon!
Do note that the North Rim is closed for half of the year due to snow, so it is only open from May 15th until October 15th!
Catrina from 24 Hours Layover
Conclusion on Road trips from Las Vegas
Thanks for checking out this post on Road trips from Las Vegas, it really should be on your list of worthwhile places to around the state and adventure filled with inspiring places to tour.
Hope that this post has been helpful to planning your visit to the city and if so, please do share it with any of the social media channels and buttons located below.
Disclosure – some of the links above are to affiliate sites that are either reviews or recommendations if you book helps to keep our site running at no additional cost to you. We appreciate your supporting our website meanwhile.
Sharing is caring