Rishi Sunak Backed by Labour's Leader in Wales as He Launches 2 Freeports to 'Turbo Charge' Economy
Prime Minister Rishi Sunak was joined by the Labour Party's Welsh leader, Mark Drakeford, as they announced two new freeports in the principality. The Conservative-run British government and the Welsh government, led by Labour, say the freeports could create 20,000 new jobs by the end of the decade. The winning bids were one from the port of Holyhead in Anglesey, north Wales, and another joint bid by Milford Haven and Port Talbot in south-west Wales which will be known as the Celtic Freeport. A third bid by Newport/Cardiff was rejected. The Conservative Party's manifesto at the December 2019 general election not only promised to deliver Brexit but also included a promise to create 10 new freeports around the country. Rishi Sunak was Chancellor of the Exchequer when he formally announced the policy in February 2020. Sunak told The Sun at the time: "Without Brussels telling us what to do, we can start doing what's best for British businesses. We can set the rules to suit our needs. If we get this right, businesses inside these zones will boom and become magnets for investment." 'Special Economic Zones' The Labour Party leader at the time, Jeremy Corbyn, described freeports as "tax-free zones that allow the super-rich to dodge taxes and give workers fewer protections." Corbyn has since been replaced by Sir Keir Starmer, who has voiced little opposition to freeports. On Wednesday, during a visit to Holyhead, Sunak said: "Now that we've left the EU we can create these turbo-charged freeports across the United Kingdom, they are special economic zones that are designed in a way to attract companies to invest there, to create jobs and opportunities for people." He said: "They're successful all around the world and I'm really delighted we are able to announce not one but two new freeports in Wales today, one in the north, one in the south, good example of us working co-operatively with the Welsh government to deliver for the people of Wales and drive growth, create jobs, spread opportunities." Wales' First Minister Mark Drakeford said the freeports would "transform the Welsh economy, creating a stronger, fairer, and greener future." Drakeford added: "The joint working between governments on the freeport programme should serve as a blueprint for future intergovernmental work on a whole range of issues." Replace EU Funding in Wales Sunak said Wales funding that had been lost from the EU since the UK's withdrawal would be replaced by the British government with "more on top," including £52 million in total for the freeports. Last month a meat processing factory in Anglesey closed with the loss of 750 jobs and Sunak said: "It illustrates why we have to keep investing in this area and other areas to create new jobs and opportunities and that's what this freeport will do." Freeports are special enterprise zones where different economic regulations apply to incentivise investment and create global trading hubs. They are usually at ports or airports. The United States has 293 freeports and foreign trade zones, ranging from Anchorage, Alaska to Tucson, Arizona, which is hundreds of miles inland. Some of them date back to 1934 when President Franklin D. Roosevelt set them up to create jobs during the Great Depression. The government has created freeports at East Midlands Airport, Felixstowe & Harwich, Humber, Liverpool City Region, Plymouth & South Devon, Solent, Teesside, and Thames. Five of these—Plymouth, Solent, Teesside, Felixstowe, and Liverpool—have received final government approval. Two green freeports have been created in Scotland, one at the Firth of Forth and the other at Inverness/Cromarty Firth. So far no freeports have been created in Northern Ireland. Some critics fear freeports will simply displace jobs, rather than creating new jobs. 'Trojan Horse' In 2020 Rosa Crawford, a policy officer at the Trade Union Congress wrote a blog in which she said: "There's no evidence that free ports create jobs or stimulate growth—and they could be a Trojan horse for watering down employment protections after Brexit." Freeports were being promoted by both Sunak and Liz Truss during last summer's Conservative Party leadership contest. But Richard Murphy, professor of accounting practice at Sheffield University, published an article at the time which condemned freeports as a "threat to democracy." He said companies operating within freeports are not only offered tax exemptions but also reduced health and safety standards and environmental standards which, he argued, "put workers at risk." Murphy said freeports were designed to provide a "low regulation environment" but he said: "The bung that freeports provide to the companies that use them has to come from somewhere, and it is from reduced taxation paid to central government. So, the pressures on public services are only made worse by freeports, which are designed to make as little contribution to the common good as they can." In April 2019 the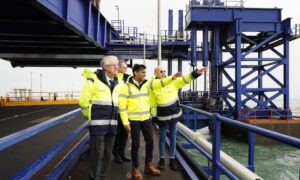 Prime Minister Rishi Sunak was joined by the Labour Party's Welsh leader, Mark Drakeford, as they announced two new freeports in the principality.
The Conservative-run British government and the Welsh government, led by Labour, say the freeports could create 20,000 new jobs by the end of the decade.
The winning bids were one from the port of Holyhead in Anglesey, north Wales, and another joint bid by Milford Haven and Port Talbot in south-west Wales which will be known as the Celtic Freeport.
A third bid by Newport/Cardiff was rejected.
The Conservative Party's manifesto at the December 2019 general election not only promised to deliver Brexit but also included a promise to create 10 new freeports around the country.
Rishi Sunak was Chancellor of the Exchequer when he formally announced the policy in February 2020.
Sunak told The Sun at the time: "Without Brussels telling us what to do, we can start doing what's best for British businesses. We can set the rules to suit our needs. If we get this right, businesses inside these zones will boom and become magnets for investment."
'Special Economic Zones'
The Labour Party leader at the time, Jeremy Corbyn, described freeports as "tax-free zones that allow the super-rich to dodge taxes and give workers fewer protections."
Corbyn has since been replaced by Sir Keir Starmer, who has voiced little opposition to freeports.
On Wednesday, during a visit to Holyhead, Sunak said: "Now that we've left the EU we can create these turbo-charged freeports across the United Kingdom, they are special economic zones that are designed in a way to attract companies to invest there, to create jobs and opportunities for people."
He said: "They're successful all around the world and I'm really delighted we are able to announce not one but two new freeports in Wales today, one in the north, one in the south, good example of us working co-operatively with the Welsh government to deliver for the people of Wales and drive growth, create jobs, spread opportunities."
Wales' First Minister Mark Drakeford said the freeports would "transform the Welsh economy, creating a stronger, fairer, and greener future."
Drakeford added: "The joint working between governments on the freeport programme should serve as a blueprint for future intergovernmental work on a whole range of issues."
Replace EU Funding in Wales
Sunak said Wales funding that had been lost from the EU since the UK's withdrawal would be replaced by the British government with "more on top," including £52 million in total for the freeports.
Last month a meat processing factory in Anglesey closed with the loss of 750 jobs and Sunak said: "It illustrates why we have to keep investing in this area and other areas to create new jobs and opportunities and that's what this freeport will do."
Freeports are special enterprise zones where different economic regulations apply to incentivise investment and create global trading hubs. They are usually at ports or airports.
The United States has 293 freeports and foreign trade zones, ranging from Anchorage, Alaska to Tucson, Arizona, which is hundreds of miles inland.
Some of them date back to 1934 when President Franklin D. Roosevelt set them up to create jobs during the Great Depression.
The government has created freeports at East Midlands Airport, Felixstowe & Harwich, Humber, Liverpool City Region, Plymouth & South Devon, Solent, Teesside, and Thames.
Five of these—Plymouth, Solent, Teesside, Felixstowe, and Liverpool—have received final government approval.
Two green freeports have been created in Scotland, one at the Firth of Forth and the other at Inverness/Cromarty Firth.
So far no freeports have been created in Northern Ireland.
Some critics fear freeports will simply displace jobs, rather than creating new jobs.
'Trojan Horse'
In 2020 Rosa Crawford, a policy officer at the Trade Union Congress wrote a blog in which she said: "There's no evidence that free ports create jobs or stimulate growth—and they could be a Trojan horse for watering down employment protections after Brexit."
Freeports were being promoted by both Sunak and Liz Truss during last summer's Conservative Party leadership contest.
But Richard Murphy, professor of accounting practice at Sheffield University, published an article at the time which condemned freeports as a "threat to democracy."
He said companies operating within freeports are not only offered tax exemptions but also reduced health and safety standards and environmental standards which, he argued, "put workers at risk."
Murphy said freeports were designed to provide a "low regulation environment" but he said: "The bung that freeports provide to the companies that use them has to come from somewhere, and it is from reduced taxation paid to central government. So, the pressures on public services are only made worse by freeports, which are designed to make as little contribution to the common good as they can."
In April 2019 the European Parliament called for freeports to be scrapped in the EU, arguing they enabled tax evasion, money laundering, and trafficking of stolen art.