Rest of Australia to Help Pay for Victorian Government's Debt Disaster
Australians outside of Victoria will be footing some of the state's ballooning debt with Premier Daniel Andrews advising property investors and business owners to use his new taxes in their tax deduction claims to the federal government. "Any land tax is fully tax-deductible depending on the way in which they have their affairs arranged," he told reporters on Wednesday. "I'd encourage anybody who can legally make claims against that federal tax system to do so." Andrews unveiled the new $4.7 billion land tax changes on Tuesday aimed at land and business property owners, which will affect nearly 860,000 Victorians starting from July. Another new tax aimed at business payrolls is expected to raise $3.9 billion (US$2.5 billion) over the forward estimates. BDO tax expert Michelle Bennett told the Australian Financial Review that the federal tax income would suffer up to a $2.6 billion loss over four years as a result of claiming Victoria's new levy as a tax deduction. An estimated $1.4 billion would be the result of Victoria's new land tax, while another $1.2 billion in business claims would be from the payroll tax increase. "It may not only be Victoria that is affected," she said. "Increasing payroll and land taxes for Victorian businesses and property investors will increase income tax deductions, so this will ultimately be subsidised to some extent through a drop in the federal government tax take." Premier Unperturbed When asked in a press conference if he received any blowback from the prime minister or federal treasurer due to the new policies, Andrews immediately said no. The premier has faced massive criticism after the state's 2023-24 budget revealed its debt will skyrocket to $171 billion by 2026-27. But Andrews has dismissed the criticism and defended his "modest additional charges" on Victorians affected by the new COVID debt levies. "I fully acknowledge that there were some very difficult decisions that had to be made in this budget, and I'm not about kicking things down the road," Andrews told the press. "I'm not here to be popular." He defended his COVID levies, which aim to repay the $30 billion that the government forked out during the pandemic, calling the policies the "right thing." "There is borrowing that you simply have no choice but to make to get through the toughest of times, and that's exactly what we did," he said. "The choice that we have made is to pay off the COVID credit card with regard to people's capacity to pay, and the alternative is to cut hospitals and schools, and we simply won't do that." Read MoreCOVID-19 the Scapegoat for Andrews' $171 Billion Debt Victorian Labor MP Sonja Terpstra described the budget as "solid" and filled with "Labor values throughout." "And it might encourage wealthy property Barrons to sell multiple properties, increasing supply. Is that a bad thing? Like how many properties does one need to own….," she commented on Twitter. Controversial Budget Victorian Senator Jane Hume made harsh remarks that Victoria was a failed state, with its citizens being "punished" for the "corruption of this Victorian government and this premier." "Well, let's face it, Victoria is broke," she told Sky News Australia. "If you were a business, why would you set up in Victoria? Why would you set up a business in Victoria if your payroll taxes were higher? "If there is no incentive to employ people if your taxes are going up, if there's a mental health levy, if there's a COVID debt Levy on businesses, why would you set up there? It's going to have profound effects on employment." However, Prime Minister Anthony Albanese has backed up the premier with confidence, refusing to join the chorus of criticism at the Victorian government. "The Victorian economy is growing, the Victorian economy is bouncing back after the pandemic like the Australian economy has done so," he told Seven's Sunrise breakfast program. "We'll always cooperate with all of the state and territory governments right around the country. "But I have every confidence in Premier Andrews and the Victorian government. They have done an enormous amount to invest in infrastructure, the Victorian economy is growing again, and that's a good thing." Meanwhile, Tasmanian Premier Jeremy Rockcliff has taken the opportunity to lure Victorian businesses into his state. "Lower taxes, cheaper power, and a state that backs small business," he wrote on Twitter. "If any Victorian businesses want a better deal, to provide jobs and opportunity to Tasmanians, we'll welcome you with open arms." Lower taxes, cheaper power and a State that backs small business. If any Victorian businesses want a better deal, to provide jobs and opportunity to Tasmanians, we'll welcome you with open arms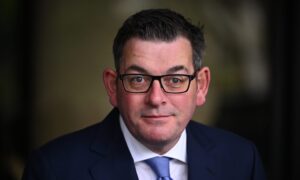 Australians outside of Victoria will be footing some of the state's ballooning debt with Premier Daniel Andrews advising property investors and business owners to use his new taxes in their tax deduction claims to the federal government.
"Any land tax is fully tax-deductible depending on the way in which they have their affairs arranged," he told reporters on Wednesday.
"I'd encourage anybody who can legally make claims against that federal tax system to do so."
Andrews unveiled the new $4.7 billion land tax changes on Tuesday aimed at land and business property owners, which will affect nearly 860,000 Victorians starting from July.
Another new tax aimed at business payrolls is expected to raise $3.9 billion (US$2.5 billion) over the forward estimates.
BDO tax expert Michelle Bennett told the Australian Financial Review that the federal tax income would suffer up to a $2.6 billion loss over four years as a result of claiming Victoria's new levy as a tax deduction.
An estimated $1.4 billion would be the result of Victoria's new land tax, while another $1.2 billion in business claims would be from the payroll tax increase.
"It may not only be Victoria that is affected," she said. "Increasing payroll and land taxes for Victorian businesses and property investors will increase income tax deductions, so this will ultimately be subsidised to some extent through a drop in the federal government tax take."
Premier Unperturbed
When asked in a press conference if he received any blowback from the prime minister or federal treasurer due to the new policies, Andrews immediately said no.
The premier has faced massive criticism after the state's 2023-24 budget revealed its debt will skyrocket to $171 billion by 2026-27.
But Andrews has dismissed the criticism and defended his "modest additional charges" on Victorians affected by the new COVID debt levies.
"I fully acknowledge that there were some very difficult decisions that had to be made in this budget, and I'm not about kicking things down the road," Andrews told the press.
"I'm not here to be popular."
He defended his COVID levies, which aim to repay the $30 billion that the government forked out during the pandemic, calling the policies the "right thing."
"There is borrowing that you simply have no choice but to make to get through the toughest of times, and that's exactly what we did," he said.
"The choice that we have made is to pay off the COVID credit card with regard to people's capacity to pay, and the alternative is to cut hospitals and schools, and we simply won't do that."
Read More
COVID-19 the Scapegoat for Andrews' $171 Billion Debt
Victorian Labor MP Sonja Terpstra described the budget as "solid" and filled with "Labor values throughout."
"And it might encourage wealthy property Barrons to sell multiple properties, increasing supply. Is that a bad thing? Like how many properties does one need to own….," she commented on Twitter.
Controversial Budget
Victorian Senator Jane Hume made harsh remarks that Victoria was a failed state, with its citizens being "punished" for the "corruption of this Victorian government and this premier."
"Well, let's face it, Victoria is broke," she told Sky News Australia.
"If you were a business, why would you set up in Victoria? Why would you set up a business in Victoria if your payroll taxes were higher?
"If there is no incentive to employ people if your taxes are going up, if there's a mental health levy, if there's a COVID debt Levy on businesses, why would you set up there? It's going to have profound effects on employment."
However, Prime Minister Anthony Albanese has backed up the premier with confidence, refusing to join the chorus of criticism at the Victorian government.
"The Victorian economy is growing, the Victorian economy is bouncing back after the pandemic like the Australian economy has done so," he told Seven's Sunrise breakfast program.
"We'll always cooperate with all of the state and territory governments right around the country.
"But I have every confidence in Premier Andrews and the Victorian government. They have done an enormous amount to invest in infrastructure, the Victorian economy is growing again, and that's a good thing."
Meanwhile, Tasmanian Premier Jeremy Rockcliff has taken the opportunity to lure Victorian businesses into his state.
"Lower taxes, cheaper power, and a state that backs small business," he wrote on Twitter.
"If any Victorian businesses want a better deal, to provide jobs and opportunity to Tasmanians, we'll welcome you with open arms."
Lower taxes, cheaper power and a State that backs small business.

If any Victorian businesses want a better deal, to provide jobs and opportunity to Tasmanians, we'll welcome you with open arms