Republican Senator Proposes Plan to Fix Social Security Solvency Crisis
As the United States continues to grapple with an uncertain economic future, Sen. Bill Cassidy (La.) has voiced concerns about the state of the country's financial future, particularly regarding Social Security. In a recent interview with MSNBC, he warned that "a high inflation environment, in which the Fed is trying to raise interest rates to catch up with them, is exposing mismanagement." Cassidy described the country's Social Security program as the "Silicon Valley Bank of retirement systems." He noted that the system is currently projected to run out of money within the next nine years, which could leave millions of Americans without the support they need in their later years. "We've got to step up and make sure that Social Security benefits are there for those who are getting it now and those who are going to be," Cassidy said. Investment Fund To address these concerns, Cassidy has suggested establishing a separate investment fund to bail out Social Security. "The centerpiece is to create a fund—separate from Social Security—to allow an investment strategy which will grow over time and help Social," Cassidy explained. "The main thing we're talking about in our approach is this investment fund that actually bails Social out." This idea is not new. Former President Bill Clinton proposed a similar plan in 1999. Critics at the time were skeptical that such a plan would be sustainable. Cassidy emphasized that this approach would be low-risk for current recipients, as the separate fund would bear the majority of the investment risk. "There is no risk for the person working back home," he noted. "The risk will be borne by the fund." Lawmakers on both sides of the aisle have come forward to support the proposal. Supporters argue that it offers a practical solution to a pressing problem, while opponents find it reckless and irresponsible to gamble with tax dollars in the stock market. 'Details Matter' "An amorphous 'investment fund' investing in what?" asked portfolio manager Michael Green. "Details matter." Green, the chief strategist at Simplify Asset Management, views this as little more than a political stunt. "He's pandering to seniors," Green said. "It's a terrible idea built on a total misunderstanding of the role of Social Security." The fund manager recommended removing the Social Security cap on payroll taxes and using the extra tax revenue to fill the gap. "Remove the limit on payroll taxes, and the problem goes away." Regardless of the outcome, Cassidy is drawing attention to Social Security's solvency crisis, something that could be affecting seniors within the next decade. "We can't just sit back and hope for the best," he said. "We need to take action now to protect the financial security of all Americans, both today and in the future."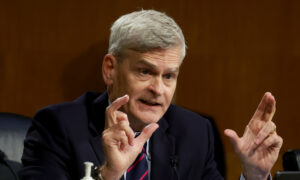 As the United States continues to grapple with an uncertain economic future, Sen. Bill Cassidy (La.) has voiced concerns about the state of the country's financial future, particularly regarding Social Security. In a recent interview with MSNBC, he warned that "a high inflation environment, in which the Fed is trying to raise interest rates to catch up with them, is exposing mismanagement."
Cassidy described the country's Social Security program as the "Silicon Valley Bank of retirement systems." He noted that the system is currently projected to run out of money within the next nine years, which could leave millions of Americans without the support they need in their later years.
"We've got to step up and make sure that Social Security benefits are there for those who are getting it now and those who are going to be," Cassidy said.
Investment Fund
To address these concerns, Cassidy has suggested establishing a separate investment fund to bail out Social Security.
"The centerpiece is to create a fund—separate from Social Security—to allow an investment strategy which will grow over time and help Social," Cassidy explained. "The main thing we're talking about in our approach is this investment fund that actually bails Social out."
This idea is not new. Former President Bill Clinton proposed a similar plan in 1999. Critics at the time were skeptical that such a plan would be sustainable.
Cassidy emphasized that this approach would be low-risk for current recipients, as the separate fund would bear the majority of the investment risk. "There is no risk for the person working back home," he noted.
"The risk will be borne by the fund."
Lawmakers on both sides of the aisle have come forward to support the proposal. Supporters argue that it offers a practical solution to a pressing problem, while opponents find it reckless and irresponsible to gamble with tax dollars in the stock market.
'Details Matter'
"An amorphous 'investment fund' investing in what?" asked portfolio manager Michael Green. "Details matter."
Green, the chief strategist at Simplify Asset Management, views this as little more than a political stunt.
"He's pandering to seniors," Green said. "It's a terrible idea built on a total misunderstanding of the role of Social Security."
The fund manager recommended removing the Social Security cap on payroll taxes and using the extra tax revenue to fill the gap.
"Remove the limit on payroll taxes, and the problem goes away."
Regardless of the outcome, Cassidy is drawing attention to Social Security's solvency crisis, something that could be affecting seniors within the next decade.
"We can't just sit back and hope for the best," he said. "We need to take action now to protect the financial security of all Americans, both today and in the future."