Report mulls major boost to China's nuclear arsenal 
China is aiming to increase the number of its nuclear warheads to 900 by 2035, Chinese sources have told Kyodo news agency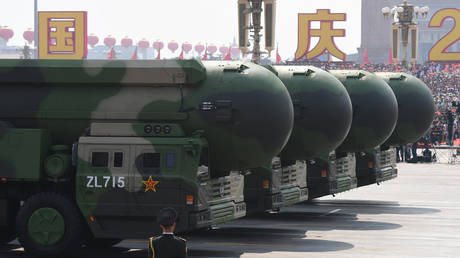 Report mulls major boost to China's nuclear arsenal
The stockpile of warheads possessed by Beijing will more than double in just over a decade, sources told Kyodo news agency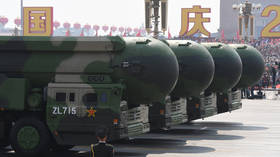 China is aiming to increase the number of its nuclear warheads to 900 by 2035 as a deterrent against the US, Chinese sources have told Kyodo news agency.
According to people familiar with the matter, President Xi Jinping has already approved the plan to double the country's nuclear arsenal, the Korean agency reported on Saturday.
The top brass of the Chinese People's Liberation Army reaffirmed the importance of nuclear deterrence in November, the sources said. According to those, they did so after drawing conclusions from the conflict in Ukraine, where the West, despite providing weapons, funds, training, and intelligence to Kiev, has refrained from a direct confrontation with Russia due to its possession of the world's most nuclear warheads.
The number of China's warheads is likely to grow from around 400 to 550 by 2027 and reach 900 in 2035, Kyodo's interlocutors claimed.
The figure provided by the agency is smaller than the prediction made by the Pentagon in the fall, when it said that it expects Beijing to have 1,500 nuclear warheads by 2035.
In any case, China will still be far behind Russia and the US, which boast 5,977 and 5,428 citizens, respectively, according to estimates by the Stockholm International Peace Research Institute.
Tensions between Beijing and Washington have been mounting in recent months over the self-governed island of Taiwan, which is claimed by China as part of its territory. The US, which sells weapons to Taipei and supports its push for independence, has promised to defend the island if the Chinese government decides to retake it by force.
In late January, the head of US Air Mobility Command, General Mike Minihan, warned his subordinates in a memo that the conflict between Washington and Beijing over Taiwan could break out as early as 2025.