R&B legend sentenced in child porn case
Disgraced R&B singer R. Kelly was sentenced to 20 years in prison by a Chicago federal judge on Thursday following his conviction in September on charges of child pornography and enticing a minor.The Grammy-winning predator will serve 19 years concurrently with the 30-year sentence he is already serving on a 2021 racketeering and sex trafficking conviction in a New York federal court, and the remaining year after that sentence is complete, US District Judge Harry Leinenweber said in court.Kelly was convicted in September on three counts of producing child pornography and three counts of enticing a minor to criminal sexual activity. He was acquitted on seven counts, including conspiracy to obstruct justice. While prosecutors had asked for 25 years to be served after his previous sentence is complete, pointing to Kelly's refusal to "accept responsibility for his crimes," his defense called for his additional time to be served concurrently, countering that the 56-year-old was already serving a "de facto life sentence" and that the chances of him reoffending "as a geriatric in his mid-80s" were nonexistent. Cook County prosecutors dropped charges of aggravated criminal sexual assault and aggravated criminal sexual abuse against Kelly last month, citing the lengthy federal sentence he was already serving and the second federal sentence yet to be pronounced. Acknowledging "how hard it was for these victims to come forward and tell their stories," Cook County State's Attorney Kim Foxx nevertheless insisted that "due to the sentences that Mr. Kelly is facing, we do feel that justice has been served." After setting up a hotline following the broadcast of Lifetime's 'Surviving R. Kelly' documentary, Cook County prosecutors interviewed hundreds of accusers and other witnesses in Chicago, Atlanta and New York.Allegations that Kelly had sexually abused underage girls had dogged the star since the 1990s, particularly after he married the 15-year-old pregnant R&B star Aaliyah. He was indicted in 2002 on child pornography charges after allegedly filming himself having sex with an underage girl, but was acquitted in 2008 after a victim – who in the recent Chicago federal trial acknowledged changing her story out of fear of what Kelly might do to her family – denied the relationship had been sexual. You can share this story on social media: Follow RT on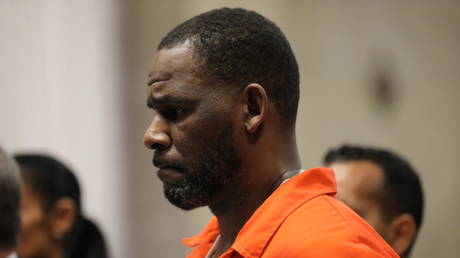 Disgraced R&B singer R. Kelly was sentenced to 20 years in prison by a Chicago federal judge on Thursday following his conviction in September on charges of child pornography and enticing a minor.
The Grammy-winning predator will serve 19 years concurrently with the 30-year sentence he is already serving on a 2021 racketeering and sex trafficking conviction in a New York federal court, and the remaining year after that sentence is complete, US District Judge Harry Leinenweber said in court.
Kelly was convicted in September on three counts of producing child pornography and three counts of enticing a minor to criminal sexual activity. He was acquitted on seven counts, including conspiracy to obstruct justice.
While prosecutors had asked for 25 years to be served after his previous sentence is complete, pointing to Kelly's refusal to "accept responsibility for his crimes," his defense called for his additional time to be served concurrently, countering that the 56-year-old was already serving a "de facto life sentence" and that the chances of him reoffending "as a geriatric in his mid-80s" were nonexistent.
Cook County prosecutors dropped charges of aggravated criminal sexual assault and aggravated criminal sexual abuse against Kelly last month, citing the lengthy federal sentence he was already serving and the second federal sentence yet to be pronounced. Acknowledging "how hard it was for these victims to come forward and tell their stories," Cook County State's Attorney Kim Foxx nevertheless insisted that "due to the sentences that Mr. Kelly is facing, we do feel that justice has been served."
After setting up a hotline following the broadcast of Lifetime's 'Surviving R. Kelly' documentary, Cook County prosecutors interviewed hundreds of accusers and other witnesses in Chicago, Atlanta and New York.
Allegations that Kelly had sexually abused underage girls had dogged the star since the 1990s, particularly after he married the 15-year-old pregnant R&B star Aaliyah. He was indicted in 2002 on child pornography charges after allegedly filming himself having sex with an underage girl, but was acquitted in 2008 after a victim – who in the recent Chicago federal trial acknowledged changing her story out of fear of what Kelly might do to her family – denied the relationship had been sexual.