Putin must turn '360 degrees' – German FM
Russia's former president has ridiculed Annalena Baerbock's grasp of geometry Russian President Vladimir Putin must "change by 360 degrees" in order for Ukraine to be safe, German Foreign Minister Annalena Baerbock told the Munich Security Conference. In other words, former Russian president Dmitry Medvedev pointed out, he must continue doing exactly what he is doing.Appearing alongside American Secretary of State Antony Blinken and Ukrainian Foreign Minister Dmitry Kuleba on Saturday, Baerbock was asked whether there is "any chance of Ukraine being safe in the long term" if Putin remains in office."If he doesn't change by 360 degrees, no," the German FM replied."If Putin doesn't change by 360 degrees, no" German foreign minister Baerbock on the question if Ukraine will be save if Putin stays President 360 degrees…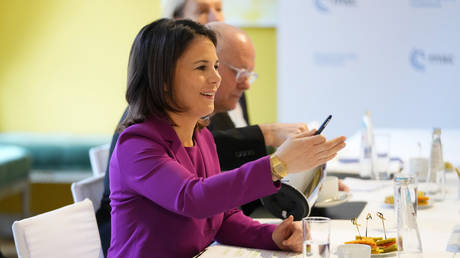 Russia's former president has ridiculed Annalena Baerbock's grasp of geometry
Russian President Vladimir Putin must "change by 360 degrees" in order for Ukraine to be safe, German Foreign Minister Annalena Baerbock told the Munich Security Conference. In other words, former Russian president Dmitry Medvedev pointed out, he must continue doing exactly what he is doing.
Appearing alongside American Secretary of State Antony Blinken and Ukrainian Foreign Minister Dmitry Kuleba on Saturday, Baerbock was asked whether there is "any chance of Ukraine being safe in the long term" if Putin remains in office.
"If he doesn't change by 360 degrees, no," the German FM replied.
"If Putin doesn't change by 360 degrees, no" German foreign minister Baerbock on the question if Ukraine will be save if Putin stays President 360 degrees…