Putin meets with Chinese defense minister
Russian President Vladimir Putin has personally greeted China's State Councilor and Defense Minister Li Shangfu at the Kremlin on Sunday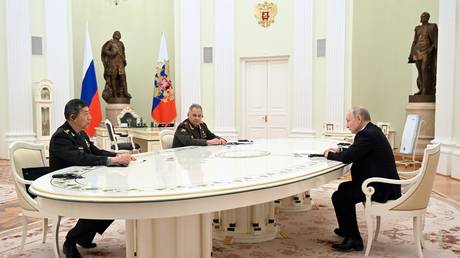 Putin meets with Chinese defense minister
The newly-appointed defense chief comes to Russia to emphasize the "strategic importance" of Moscow-Beijing ties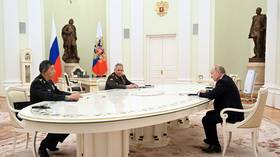 According to the transcript of the meeting shared by the Kremlin, Putin noted the "active" and comprehensive cooperation between Moscow and Beijing in the defense sphere, including constant exchanges of "useful information," military-technical cooperation, and joint military exercises in various domains.
"Undoubtedly, this is another crucial area that strengthens the extremely trusting, strategic nature of our relations," in addition to economic, social, cultural, educational and other spheres, Putin said.
Li's tightly-packed trip comes just weeks after Chinese leader Xi Jinping was in Moscow on his first state visit since re-election, where he and Putin vowed to "further deepen mutual military trust" and signed a joint statement declaring that the friendship between the two nations has "no limits."
The newly-appointed Chinese defense chief noted that it was also his first foreign visit in the capacity, so he came to Russia to further "emphasize the special nature and strategic importance of our bilateral relations." He also expressed gratitude to Putin for finding time to meet him on Easter Sunday.
Li noted that Russia-China relations have "already entered a new era" and "surpass any military-political alliances of the Cold War" and are built on the principles of non-alignment, non-confrontation and non-targeting against third parties.
Russian Defense Minister Sergey Shoigu also attended the meeting, but the Kremlin only revealed the welcoming remarks and shared no details of private discussions. In his remarks Putin noted Li's "quite extensive" plans for the visit, but the Chinese Defense Ministry revealed almost nothing about his schedule, besides confirming that from April 16 to 19 he is expected to hold talks with multiple high-ranked Russian military officials and visit military academies.
China's National People's Congress appointed General Li Shangfu as the country's defense minister last month, at a time of growing confrontation with the US and rising tensions over Taiwan. In 2018, the US blacklisted Li as the then-head of the Equipment Development Department for "engaging in significant transactions with Rosoboronexport, Russia's main arms export entity."
China has remained neutral in the ongoing conflict between Russia and Ukraine and has refused to impose sanctions on Moscow or send weapons to either side, instead calling for a peaceful resolution to the hostilities. Nevertheless, the US has seen the growing relations between Moscow and Beijing as a threat to its geopolitical dominance, as stated last week by CIA director William Burns.