Police fend off worshippers at disputed Kiev monastery
Supporters of the Ukrainian Orthodox Church physically confronted police at the Kiev-Pechersk Lavra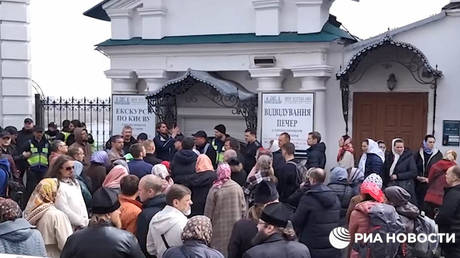 Police fend off worshippers at disputed Kiev monastery
Backed by law enforcement officers, Ukrainian Culture Ministry inspectors "broke into" church buildings on the grounds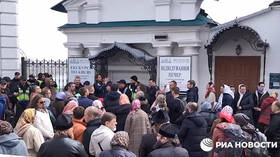 Tempers flared on Wednesday at the Kiev-Pechersk Lavra monastery in the Ukrainian capital as the Culture Ministry pushed forward with efforts to seize the property of the Ukrainian Orthodox Church (UOC). Scuffles broke out between police and believers opposing the government's actions.
A commission tasked with recording the current state of the monastery on behalf of the Ukrainian government arrived on the premises in the morning and were accompanied by police officers, according to local media. The officials were interested in three particular buildings. They placed seals on interior doors and locked the protective metal curtains on entrances.
The UOC described the action as a break-in, since the commission cut off locks to get inside, and complained that the police refused to stop the "illegal action." Supporters of the church present protested, and officers armed with automatic weapons were sent it for reinforcement.
The ensuing confrontation involved angry shouting and some pushing by both sides, but no major violence, according to footage from the scene. A female supporter of the UOC was reportedly punched in her chest. The activists managed to break one of the curtains and enter the building. Some of them and a priest were reportedly locked by the police inside a chapel for some time.
The Culture Ministry rebuked the UOC supporters for a "clear violation of public order." It claimed that inspectors found the property in a state of neglect, with fire safety regulations allegedly not having been adhered to.
The standoff over the ancient monastery started in March, when the department annulled the UOC's lease of the property and ordered the monks living on the premises to vacate it. Culture Minister Aleksandr Tkachenko made it clear that the clerics could stay if they switched their allegiance to the Kiev-supported Orthodox Church of Ukraine (OCU).
President Vladimir Zelensky refused to meet the UOC governing council of bishops to resolve the conflict. Metropolitan Pavel, the head of the monastery, laid personal blame for the crackdown on the Ukrainian leader. He was consequently arrested for alleged incitement of hatred and "justifying and denying Russian military aggression."

Earlier this week, Tkachenko appointed a new caretaker, Maksim Ostapenko, for the government museum that oversees the monastery. Ostapenko is a historian with strong ties to Ukrainian nationalist paramilitaries.