PETA demands stop to 'Havana syndrome' animal testing
The animal rights group claims the US intelligence report proved the tests are not only "cruel and wasteful" but also "futile"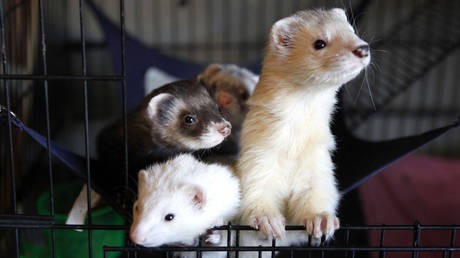 14 Mar, 2023 01:53
HomeWorld News
PETA demands stop to 'Havana syndrome' animal testing
The Pentagon continues its research even after US spies found no signs of foreign high-tech energy weapon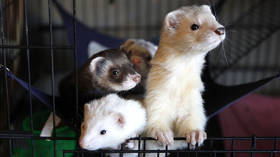 The Pentagon must shut down its animal experimentation using radio frequencies to attempt to determine the cause of the mysterious "Havana Syndrome" illness cropping up in diplomats and other government officials, the animal advocacy group urged Defense Secretary Lloyd Austin in a letter on Monday. Citing a recent report from the US Office of National Intelligence, they pointed out that the experiments are not only "cruel and wasteful but also, frankly, futile."
Citing multiple scientific papers acknowledging the difficulty of translating experimental results from animal models into humans, particularly where the brain is concerned, PETA argued that the Havana Syndrome experiments – involving bombarding ferrets with a radio-frequency directed energy and exposing monkeys to pulsed microwave radiation – serve no medical purpose.
These are just two of what the group claims are more than 2,000 weapon-wounding tests conducted under the authority of the US Army Medical Research and Development Command – tests which were reportedly banned before 2020. After tipping off PETA to the existence of these experiments, the military allegedly declared them classified.
But even if torturing puppies with radio frequency beams mimicked their effect on humans perfectly, such a test would be useless in determining the cause of Havana Syndrome, PETA continued, pointing to the ODNI report published last week that declared it "very unlikely" that either a directed energy weapon or incidental exposure to radio waves had produced the illness. The animal rights group concluded by reiterating its longstanding call for scientists to abandon the animal-testing model altogether as wasteful and unproductive in addition to inhumane.
Hundreds of US government personnel have claimed to be afflicted by the illness of unknown origin whose symptoms include dizziness, ringing ears, memory loss, headaches, and nausea. It first manifested in 2016 at the US' newly-opened diplomatic facility in Cuba but has since been reported by American officials all over the world.
While the seven intelligence agencies that contributed to the ODNI report doubt any foreign adversary could have access to a weapon capable of causing the constellation of symptoms seen in Havana syndrome patients, however, some agencies still think radio frequencies could be the cause.
The Pentagon has thus far refused to abandon its animal research. The Defense Department's "foremost concern remains providing care to affected individuals – since the health and well-being of our personnel are our top priority," the agency told the Hill when asked about PETA's request.