Pentagon leaks won't hurt Ukraine – Wagner boss
Yevgeny Prigozhin argued the West was holding back Kiev from the planned spring offensive, using the leaked documents as a pretext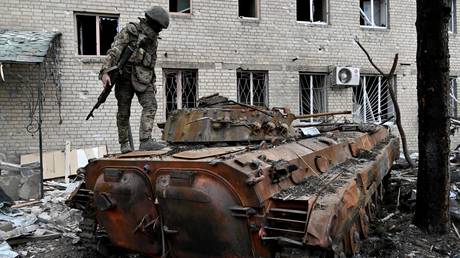 15 Apr, 2023 00:27
HomeRussia & FSU
Pentagon leaks won't hurt Ukraine – Wagner boss
Yevgeny Prigozhin dismissed the documents as a propaganda ploy to delay Kiev's attack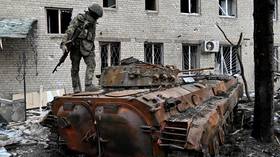 The leaked Pentagon documents contain no strategic revelations that could harm Kiev, and the media attention they received must be an attempt by the West to delay the Ukrainian military's much-announced "spring offensive," Wagner Group head Yevgeny Prigozhin said on Friday.
"The documents by themselves do not pose any strategic danger," Prigozhin said in a statement posted on social media, describing their published contents as mostly being based on open sources. "However, the leak was widely publicized and immediately after it, statements from sources close to the Pentagon began about the need to delay the offensive announced for April 15 until the summer."
Commenting on the arrest of the alleged leaker, a 21-year-old Air National Guard member, Prigozhin said he may have been a fool or a dupe, but "if this leak had not happened, it would certainly have been invented." The documents themselves, he emphasized, contain nothing that would add to the risk of the Ukrainian military should it launch its long-anticipated attack.
"It is clear that the military operations on Ukraine's side are tactically directed by Ukrainian soldiers, but strategically by the so-called Western coalition, run by the UK and the US," said Prigozhin.
He accused the West of "holding back" the Ukrainian military in a "dramatic pause," after it had been assembled for attack, delaying the offensive that might actually inflict reputational harm on Russia with even a symbolic advance on any front ahead of May 9, the anniversary of the great WWII victory over Nazi Germany.
"The Ukrainians are ready to attack. We are ready to repel the blow," Prigozhin summarized. "No negotiations. Only an honorable battle. And the sooner it starts, the better."
Founded as the businessman's side project, Wagner has been involved in heavy fighting in the Donbass, most recently in the storming of Soledar and the battles in and around Artyomovsk, called Bakhmut by the Ukrainians.
As of Friday, Wagner and other Russian troops hold most of Artyomovsk, with an estimated 6,000 battered Ukrainian troops attempting to retreat westward to Chasov Yar. Prigozhin has suggested that Ukrainian President Vladimir Zelensky had thrown his best troops and foreign mercenaries into the battle for the Donbass town after receiving a personal challenge from Wagner in December, losing thousands in the "meat grinder" with nothing to show for it.