OPEC chief calls for pause in climate talks
More investment in oil is needed to meet global demand, the group's top official says Global oil producers should invest much more in the industry to meet the world's future energy needs, the secretary general of the Organization of Petroleum Exporting Countries (OPEC) said on Sunday.Speaking at the Egypt Petroleum Show, Haitham Al-Ghais of Kuwait said climate policies need to be more "balanced and fair." His comments follow a major shift among countries and energy corporations, on moving away from fossil fuels."It is imperative that all parties involved in the ongoing climate negotiations pause for a moment; look at the big picture," Al-Ghais said. He called for joint efforts "towards an energy transition that is orderly, inclusive and helps ensure energy security for all."Global prices of oil, natural gas and coal soared last year following the Ukraine-related sanctions imposed by Western powers on Russia, one of the world's biggest producers and exporters of crude and petroleum products.In March 2022, the industry's main global benchmark – Brent – topped $133 per barrel, surging by over $50 from the start of that year, to reach its highest level since June 2008. Prices then eased, and ended the year at around the same level they started. However, on a yearly basis, oil is being traded 43% higher than in 2021. According to Al-Ghais, the global oil industry needs up to $500 billion of investment annually through 2045, as it has been "plagued by several years of chronic underinvestment."The COP28 climate summit in late 2023, which will be hosted by the United Arab Emirates, an OPEC member, will "serve as a fresh opportunity to explore inclusive, sustainable and consensus-based solutions to climate change," the secretary general said.The top official also said the group expects oil demand to exceed pre-pandemic levels in 2023, reaching almost 102 million barrels a day, and to further increase to 110 million barrels per day by 2025.Al-Ghais reiterated that OPEC and its partners – known as OPEC+, the 23-nation alliance led by Saudi Arabia and Russia – are "committed to supporting oil market stability."For more stories on economy & finance visit RT's business section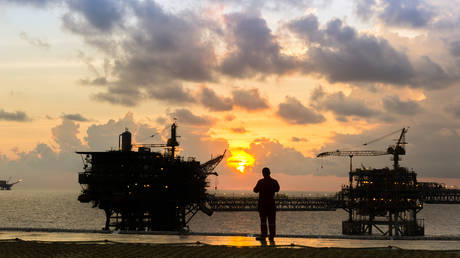 More investment in oil is needed to meet global demand, the group's top official says
Global oil producers should invest much more in the industry to meet the world's future energy needs, the secretary general of the Organization of Petroleum Exporting Countries (OPEC) said on Sunday.
Speaking at the Egypt Petroleum Show, Haitham Al-Ghais of Kuwait said climate policies need to be more "balanced and fair." His comments follow a major shift among countries and energy corporations, on moving away from fossil fuels.
"It is imperative that all parties involved in the ongoing climate negotiations pause for a moment; look at the big picture," Al-Ghais said. He called for joint efforts "towards an energy transition that is orderly, inclusive and helps ensure energy security for all."
Global prices of oil, natural gas and coal soared last year following the Ukraine-related sanctions imposed by Western powers on Russia, one of the world's biggest producers and exporters of crude and petroleum products.
In March 2022, the industry's main global benchmark – Brent – topped $133 per barrel, surging by over $50 from the start of that year, to reach its highest level since June 2008. Prices then eased, and ended the year at around the same level they started. However, on a yearly basis, oil is being traded 43% higher than in 2021.
According to Al-Ghais, the global oil industry needs up to $500 billion of investment annually through 2045, as it has been "plagued by several years of chronic underinvestment."
The COP28 climate summit in late 2023, which will be hosted by the United Arab Emirates, an OPEC member, will "serve as a fresh opportunity to explore inclusive, sustainable and consensus-based solutions to climate change," the secretary general said.
The top official also said the group expects oil demand to exceed pre-pandemic levels in 2023, reaching almost 102 million barrels a day, and to further increase to 110 million barrels per day by 2025.
Al-Ghais reiterated that OPEC and its partners – known as OPEC+, the 23-nation alliance led by Saudi Arabia and Russia – are "committed to supporting oil market stability."
For more stories on economy & finance visit RT's business section