North Korea fires another warning shot
The DPRK test comes ahead of South Korean president's visit to former colonizer Japan and amid wargames with the US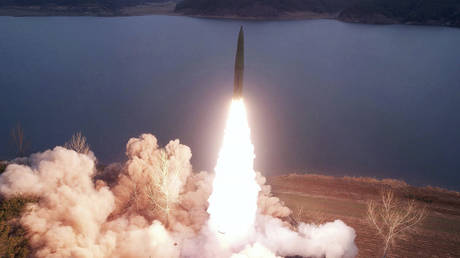 16 Mar, 2023 00:17
HomeWorld News
North Korea fires another warning shot
New missile test comes amid South Korea's drills with the US and a summit with Japan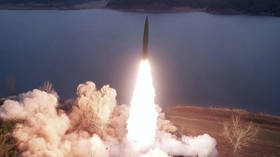 The North Korean military fired another ballistic missile into the sea towards Japan on Thursday, officials in Seoul said. The third launch in five days came as South Korea continued joint military exercises with the US, and just hours before the South Korean president took off for Tokyo.
The Japanese Defense Ministry said the missile was fired from the west coast of DPRK on Thursday morning, and was expected to splash into the sea about 550 kilometers off the east coast, well outside the exclusive economic zone claimed by Japan. The South Korean military did not offer any details about the launch. Pyongyang has yet to issue an official comment.
The North Korean state news agency KCNA said that Tuesday's launch featured two tactical ballistic missiles, which were fired from the South Hwanghae Province and struck the targets on an island in North Hamgyong Province, located 611.4 kilometers away.
Sunday's test involved the launch of two "strategic cruise missiles" from a submarine in Kyongpho Bay, which "precisely" struck their target in the East Sea – known in English as Sea of Japan – after a trajectory of 1,500 kilometers. Pyongyang said the submarine launch was specifically intended as a demonstration of deterrence against the US-South Korean war games that began Monday.
Dubbed 'Freedom Shield,' the joint exercise is the largest of its kind in five years, and is scheduled to run through March 23. The drills involve both computer simulations and live-fire field exercises, one of which includes storming an "enemy" beach.
Meanwhile, South Korean President Yoon Suk Yeol prepared to travel to Japan for a meeting with Prime Minister Fumio Kishida, where they were expected to discuss a security partnership with Washington. The trilateral security pact is aimed at countering "threats" of North Korea and China.
The would-be alliance has to overcome some historical traumas, however, as neither half of Korea has quite forgiven or forgotten decades of Japanese rule. Tokyo took over the peninsula as a protectorate in 1905 and outright annexed Korea in 1910. The current partition is partly a result of Japan's surrender to the Allies in 1945.
The Japanese government that emerged from the US occupation also adopted a policy of keeping only a limited self-defense force – which Tokyo ended up repealing last December, at Washington's urging.