New Vehicles Fall Below Manufacturer Price for First Time in Nearly Two Years
Transaction prices on new vehicles have dropped below the manufacturer sticker price in March 2023 for the first time in 20 months, with the first quarter seeing a downtrend in prices. The average price paid for a new vehicle by Americans fell to $48,008 in March, which is $171 below the average sticker price, according to a press release on April 11 by automotive research firm Kelley Blue Book. This is the first time in almost two years that the average transaction price (ATP) of a new vehicle fell below the average maximum suggested retail price (MSRP). A year back in March 2022, the ATP was almost $1,000 above the MSRP. The $48,008 transaction price in March 2023 was 1.1 percent less than the February 2023 prices and 3.8 percent above the prices in March 2022. "The latest transaction data from March reveals new-vehicle prices continued a downward trend through the first quarter of 2023," said Rebecca Rydzewski, research manager of economic and industry insights for Cox Automotive. "Both luxury and non-luxury prices were down month over month." "We've been anticipating transaction price declines, as inventory has been steadily improving and choice has expanded. More vehicles on dealer lots—and on their competitors' lots—means dealers simply don't have the pricing power they did six months ago." Category Price Variations, Sales The average price paid for new non-luxury vehicles fell $505 month over month to $44,182 in March 2023. The ATP of most non-luxury brands, such as Dodge, Ford, Chevrolet, Chrysler, Nissan, Kia, Volkswagen, and Hyundai, declined between 0.2–3.8 percent month over month. In the luxury segment, prices have remained largely stable, declining by only $9 in March. In the electric vehicle sector, prices for a new electric vehicle (EV) rose by 0.5 percent in March. The average EV was sold for $58,940, which is "well above the industry average," Kelley Blue Book said. Overall sales volume was up 20 percent month over month and 8 percent year over year, which the company attributes to improved supply, strong fleet sales, and a better mix of lower-priced models. An April 6th report by TD Bank puts the total U.S. vehicle sales in March at 14.8 million, declining 1.2 percent on a month-to-month basis. Inventory levels grew by 6.6 percent month over month and 50 percent year over year, but remained 55 percent below the levels hit in March 2019. "As auto production increases this year on the back of easing supply-chain pressures, inventory levels are expected to continue to improve gradually," the report stated. "This should help to offset some of the pent-up demand which has accumulated over the past three years, which is currently being buttressed by a tight labor market." Inventory and Incentives Dealerships are pre-selling a big portion of their inventory allocation, a March 2023 press release by J.D. Power and LMC Automotive states. However, rising supply means more buyers are purchasing vehicles that are in inventory at the dealership. "Retail demand for vehicles remains strong, due primarily to considerable pent-up demand," said Thomas King, president of the data and analytics division at J.D. Power. "The availability of new vehicles in inventory at retailers is improving, resulting in a softening of dealer margins and increased manufacturer incentive spending. But, overall, the industry remains supply constrained, and profitability is well above historical norms." Meanwhile, incentives offered by manufacturers remained at historically low levels. Incentives in March were only at 3.2 percent of the average transaction price, a far cry from the 8.4 percent average two years ago in March 2021. "Incentives and inventory tend to move in tandem—when one moves up, so does the other," said Rydzewski. "Right now, in-market consumers are finding more inventory, more choice, and dealers more willing to deal, at least with some brands."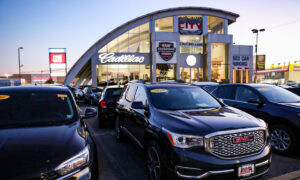 Transaction prices on new vehicles have dropped below the manufacturer sticker price in March 2023 for the first time in 20 months, with the first quarter seeing a downtrend in prices.
The average price paid for a new vehicle by Americans fell to $48,008 in March, which is $171 below the average sticker price, according to a press release on April 11 by automotive research firm Kelley Blue Book. This is the first time in almost two years that the average transaction price (ATP) of a new vehicle fell below the average maximum suggested retail price (MSRP). A year back in March 2022, the ATP was almost $1,000 above the MSRP.
The $48,008 transaction price in March 2023 was 1.1 percent less than the February 2023 prices and 3.8 percent above the prices in March 2022.
"The latest transaction data from March reveals new-vehicle prices continued a downward trend through the first quarter of 2023," said Rebecca Rydzewski, research manager of economic and industry insights for Cox Automotive. "Both luxury and non-luxury prices were down month over month."
"We've been anticipating transaction price declines, as inventory has been steadily improving and choice has expanded. More vehicles on dealer lots—and on their competitors' lots—means dealers simply don't have the pricing power they did six months ago."
Category Price Variations, Sales
The average price paid for new non-luxury vehicles fell $505 month over month to $44,182 in March 2023. The ATP of most non-luxury brands, such as Dodge, Ford, Chevrolet, Chrysler, Nissan, Kia, Volkswagen, and Hyundai, declined between 0.2–3.8 percent month over month.
In the luxury segment, prices have remained largely stable, declining by only $9 in March. In the electric vehicle sector, prices for a new electric vehicle (EV) rose by 0.5 percent in March. The average EV was sold for $58,940, which is "well above the industry average," Kelley Blue Book said.
Overall sales volume was up 20 percent month over month and 8 percent year over year, which the company attributes to improved supply, strong fleet sales, and a better mix of lower-priced models.
An April 6th report by TD Bank puts the total U.S. vehicle sales in March at 14.8 million, declining 1.2 percent on a month-to-month basis.
Inventory levels grew by 6.6 percent month over month and 50 percent year over year, but remained 55 percent below the levels hit in March 2019. "As auto production increases this year on the back of easing supply-chain pressures, inventory levels are expected to continue to improve gradually," the report stated.
"This should help to offset some of the pent-up demand which has accumulated over the past three years, which is currently being buttressed by a tight labor market."
Inventory and Incentives
Dealerships are pre-selling a big portion of their inventory allocation, a March 2023 press release by J.D. Power and LMC Automotive states. However, rising supply means more buyers are purchasing vehicles that are in inventory at the dealership.
"Retail demand for vehicles remains strong, due primarily to considerable pent-up demand," said Thomas King, president of the data and analytics division at J.D. Power.
"The availability of new vehicles in inventory at retailers is improving, resulting in a softening of dealer margins and increased manufacturer incentive spending. But, overall, the industry remains supply constrained, and profitability is well above historical norms."
Meanwhile, incentives offered by manufacturers remained at historically low levels. Incentives in March were only at 3.2 percent of the average transaction price, a far cry from the 8.4 percent average two years ago in March 2021.
"Incentives and inventory tend to move in tandem—when one moves up, so does the other," said Rydzewski. "Right now, in-market consumers are finding more inventory, more choice, and dealers more willing to deal, at least with some brands."