NATO chief reveals size of Ukraine funding
The West has given $120 billion worth of aid to Ukraine over the past year, NATO chief Jens Stoltenberg said in Washington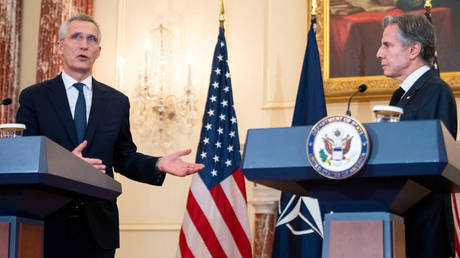 NATO chief reveals size of Ukraine funding
Jens Stoltenberg said Kiev has received $120 billion from the West so far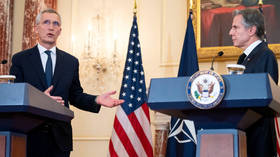 The US-led military bloc has sent the government in Kiev over a hundred billion dollars over the past year, NATO Secretary-General Jens Stoltenberg said on Wednesday in a joint press conference with US Secretary of State Antony Blinken in Washington.
"unprecedented support to Ukraine, around 120 billion dollars in military, humanitarian and financial assistance," Stoltenberg told reporters at the State Department.
"indispensable role," Canada and the European members have contributed "over half" of the overall assistance, "including tanks, advanced air defense systems" and other weapons, he added.
"nearly $30 billion" worth of military aid, while other NATO members gave $13 billion, as well as "tens of billions more in humanitarian and economic support."
Blinken also said that "tilting the battlefield in Ukraine's favor" is the key to the eventual diplomatic solution of the conflict.
In December, the Russian Defense Ministry estimated that the collective West had provided Ukraine with $97 billion worth of weapons, ammunition and supplies. Moscow has repeatedly warned the West that arming Ukraine only prolongs the conflict and risks a direct confrontation.
"values" and world order, and Ukraine's own defense minister said Kiev is carrying out a NATO mission, the US and NATO maintain they are technically not participants in the conflict.