Multinational Companies Accelerate Moving Production Out of China, Reshaping Global Supply Chains
News AnalysisCommunist China's two extreme ways of handling the pandemic—from implementing the previous zero-COVID policy to the current lifting of restrictions without a plan—pose major challenges to the global supply chains. Multinational companies have made concerted efforts to reduce reliance on China's parts network. They now consider supply chain reliability and flexibility more significant than cost and efficiency. Global outsourcing of European and American manufacturing began in the early 1960s. European and American companies took control of marketing and innovation functions and gradually moved away from the upstream industry segments of raw material extraction and processing. With its large and inexpensive labor force, cheap land, and huge market, China received capital, technology, and management support from developed companies and opened its economy to foreign trade. Especially since China joined the World Trade Organization (WTO) in 2001, it has become the "world's factory" of traditional manufacturing and an integral part of the global supply network due to its demographic dividend and cheap labor. However, the impact of COVID-19 and the changes in the geopolitical situation, such as the Russia-Ukraine war, have brought major challenges to the global supply chain. Security and risk prevention has become increasingly important to businesses. Today, the global supply chain is moving toward regionalization, localization, and diversification at an accelerated pace. Multinational companies are proactively adjusting their supply chains and implementing diversification strategies to balance safety and efficiency. CCP's Draconian Zero-COVID Policy The CCP's handling of the COVID-19 pandemic has exposed the dangers of overreliance on China as the "world's factory," causing Western countries and multinational corporations to consider restructuring the global supply chains. Fortune magazine reported that 94 percent of the Fortune 1000 companies worldwide experienced supply chain disruptions in the early stages of the pandemic. The three-year-long so-called dynamic zero-COVID policy led to more chaos and uncertainty. Two months ago, Apple's largest supplier, Foxconn, saw a wave of employee departures, protests, and conflicts with police due to COVID measures at its factory in Zhengzhou city, in China's Henan Province. Consequently, Apple's iPhone 14 Pro and iPhone 14 Pro Max experienced disruptions in shipment. Usually, the fourth quarter of each year is the busiest production season, as Foxconn's Zhengzhou plant must speed up production and delivery before the Christmas and New Year holidays. Unrest erupted at Foxconn's plant in Zhengzhou, China, on Nov. 23, 2022. (Screenshot of Stephen McDonell's Twitter account via The Epoch Times) The company assembles more than 90 percent of its iPhones in China, while its smartphone rival Samsung exited China in 2019 and has diversified its assembly in at least four countries. COVID Wreaks Havoc Global supply chains will be devastated again due to the current wave of COVID infections in China. Many enterprises and logistics companies in the country are shutting down production, as most workers are infected with the disease. Factory workers in Zhejiang, for example, were told to take an early vacation ahead of the Chinese New Year and return to work after two months. At the APEC SME Business Forum 2022 held in Shenzhen on Dec. 22, BYD Executive VP Lian Yubo said that 20–30 percent of the company's employees had COVID and were quarantined at home, resulting in a reduction in BYD's vehicle production capacity, with an average daily production cut of 2,000–3,000 units. On Dec. 24, Tesla suspended production at its Shanghai plant. According to Reuters, many workers and suppliers at the plant were infected with COVID. Patients on stretchers are seen at Tongren hospital in Shanghai on Jan. 3, 2023. (Hector Retamal/AFP via Getty Images) Peter Lindstrom, head of research at Norwegian shipping company Torvald Klaveness, posted on Twitter on Dec. 21 that the outbreak was "out of control" in China and that 90 percent of the Chinese agents employed by the company were ill, according to The Telegraph. These agents reside in Beijing, Tianjin, Shanghai, Ningbo, and Guangzhou. "We should be seeing a lot of operations get impacted by absenteeism, not just at factories, but warehouse, distribution, logistic and transportation facilities as well," Bindiya Vakil, CEO of supply chain mapping firm Resilinc, told the Financial Times. Decoupling From China Accelerates The Chinese regime's monopoly of key medical equipment during the early stages of the pandemic exposed the vulnerability of the global supply chain, which was a big wake-up call to the international community. At the start of his term in 2021, President Joe Biden called for a 100-day review of U.S. supply chain dependence on China and proposed working closely with like-minded allies and partners on a resilient supply chai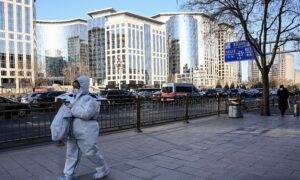 News Analysis
Communist China's two extreme ways of handling the pandemic—from implementing the previous zero-COVID policy to the current lifting of restrictions without a plan—pose major challenges to the global supply chains.
Multinational companies have made concerted efforts to reduce reliance on China's parts network. They now consider supply chain reliability and flexibility more significant than cost and efficiency.
Global outsourcing of European and American manufacturing began in the early 1960s. European and American companies took control of marketing and innovation functions and gradually moved away from the upstream industry segments of raw material extraction and processing. With its large and inexpensive labor force, cheap land, and huge market, China received capital, technology, and management support from developed companies and opened its economy to foreign trade.
Especially since China joined the World Trade Organization (WTO) in 2001, it has become the "world's factory" of traditional manufacturing and an integral part of the global supply network due to its demographic dividend and cheap labor.
However, the impact of COVID-19 and the changes in the geopolitical situation, such as the Russia-Ukraine war, have brought major challenges to the global supply chain. Security and risk prevention has become increasingly important to businesses.
Today, the global supply chain is moving toward regionalization, localization, and diversification at an accelerated pace. Multinational companies are proactively adjusting their supply chains and implementing diversification strategies to balance safety and efficiency.
CCP's Draconian Zero-COVID Policy
The CCP's handling of the COVID-19 pandemic has exposed the dangers of overreliance on China as the "world's factory," causing Western countries and multinational corporations to consider restructuring the global supply chains.
Fortune magazine reported that 94 percent of the Fortune 1000 companies worldwide experienced supply chain disruptions in the early stages of the pandemic.
The three-year-long so-called dynamic zero-COVID policy led to more chaos and uncertainty.
Two months ago, Apple's largest supplier, Foxconn, saw a wave of employee departures, protests, and conflicts with police due to COVID measures at its factory in Zhengzhou city, in China's Henan Province. Consequently, Apple's iPhone 14 Pro and iPhone 14 Pro Max experienced disruptions in shipment. Usually, the fourth quarter of each year is the busiest production season, as Foxconn's Zhengzhou plant must speed up production and delivery before the Christmas and New Year holidays.

The company assembles more than 90 percent of its iPhones in China, while its smartphone rival Samsung exited China in 2019 and has diversified its assembly in at least four countries.
COVID Wreaks Havoc
Global supply chains will be devastated again due to the current wave of COVID infections in China. Many enterprises and logistics companies in the country are shutting down production, as most workers are infected with the disease. Factory workers in Zhejiang, for example, were told to take an early vacation ahead of the Chinese New Year and return to work after two months.
At the APEC SME Business Forum 2022 held in Shenzhen on Dec. 22, BYD Executive VP Lian Yubo said that 20–30 percent of the company's employees had COVID and were quarantined at home, resulting in a reduction in BYD's vehicle production capacity, with an average daily production cut of 2,000–3,000 units.
On Dec. 24, Tesla suspended production at its Shanghai plant. According to Reuters, many workers and suppliers at the plant were infected with COVID.

Peter Lindstrom, head of research at Norwegian shipping company Torvald Klaveness, posted on Twitter on Dec. 21 that the outbreak was "out of control" in China and that 90 percent of the Chinese agents employed by the company were ill, according to The Telegraph. These agents reside in Beijing, Tianjin, Shanghai, Ningbo, and Guangzhou.
"We should be seeing a lot of operations get impacted by absenteeism, not just at factories, but warehouse, distribution, logistic and transportation facilities as well," Bindiya Vakil, CEO of supply chain mapping firm Resilinc, told the Financial Times.
Decoupling From China Accelerates
The Chinese regime's monopoly of key medical equipment during the early stages of the pandemic exposed the vulnerability of the global supply chain, which was a big wake-up call to the international community.
At the start of his term in 2021, President Joe Biden called for a 100-day review of U.S. supply chain dependence on China and proposed working closely with like-minded allies and partners on a resilient supply chain.
After the Russia-Ukraine war prompted the West to "friend-shoring," shifting manufacturing away from authoritarian states and toward allies, the European Union has also joined the camp of decoupling from the Chinese supply chain.
The Wall Street Journal reported on Dec. 3 that Apple is accelerating its plans to move production out of China. The company plans to increase its iPhone production in India by 45 percent, while Vietnam will focus more on the assembly of the Apple Watch, MacBook, and other products.
Similarly, several automakers are accelerating their supply chain reorganization. Mazda is shifting production of some parts previously made in China to its home market in Japan. Ford and GM have been moving parts production to U.S. plants for more than a year. Mercedes is considering shifting its parts purchases to suppliers in Europe, the United States, or Mexico.
"It is no longer an era where cost is the major driving factor," Masahiro Moro, senior managing executive officer at Mazda, told Financial Times. "Right now, [the] robustness of our supply chain also needs to be considered to ensure the stable procurement of parts."
Chinese authorities rarely admit their failures. When they occasionally do, it implies the situation is already catastrophic.
Wang Shouyang, director of the Chinese Academy of Sciences, said at a global industrial chain forum held on Dec. 4, 2022, that "the main problems facing China's industrial chain security are the rupture of the industrial chain affects economic security, the high dependence of core technologies on foreign countries, and the obvious trend of industry transfer to foreign countries."