Moscow set to deploy 'tank hunters' to Ukraine conflict zone – official
Russia is training special groups to fight armor supplied to Kiev by the West, a senior defense official has said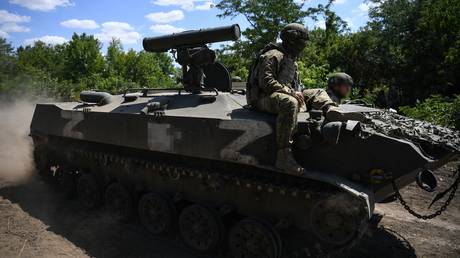 Moscow set to deploy 'tank hunters' to Ukraine conflict zone – official
The specially designated and trained groups would tackle armor received by Kiev from the West, a defense official said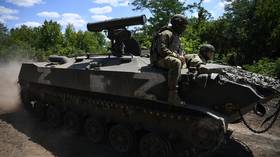 Russia is putting together tank-killer groups that will fight modern armor provided to Kiev by its Western backers, a senior defense official said in an interview released on Sunday.
Speaking to Zvezda TV channel, Evgeny Arifulin, who heads a military training center located not far from Nizhny Novgorod in central Russia, said the order to create the units had been issued by Russian Deputy Defense Minister Yunus-Bek Yevkurov. The Russian military then developed "instructional guidelines" to achieve that goal, which are being implemented on the training ground, he added.
"This is large-scale, systemic work which is being carried out at state level," the military official said.
Apart from 'tank hunters', the facility is also training service members in several fields, teaching them how to fire from artillery or operate various missile systems, Arifulin added. The facility could instruct as many as 700 soldiers at a time, the official stated.
With the focus being put on tackling Western armor, Arifulin noted that the Russian military had studied all these tanks, including American M1 Abrams, German Leopards, British Challengers and French Leclercs. "We know all their strengths and weaknesses and train the personnel [to fight them]," he said.
The members of 'tank-hunter' groups are being trained by veteran instructors, who have seen action in several conflicts in recent decades, including the ongoing military campaign in Ukraine, Zvezda reported. It added that these groups comprise only a small number of soldiers, who are mostly armed with anti-tank guided missile launchers and predominantly use reconnaissance drones.
In late March, Russian President Vladimir Putin estimated that Ukraine would receive over 400 Western-made tanks. The armor has already started to arrive in the country, with the German Ministry of Defense stating last month that 18 Leopard 2 A6 tanks as well as ammunition and spare parts had reached their destination.
Earlier this year, some Russian businesses and officials offered cash bounties for the destruction of Western military equipment in Ukraine. In January, for instance, Aleksandr Osipov, the governor of Russia's Zabaikalsky Region, signed an order promising local soldiers three million rubles ($37,000) for capturing an operational Leopard 2 tank, or one million rubles ($12,000) for destroying one.

Moscow has repeatedly warned the West that arms shipments to Kiev make it a direct participant in the conflict. Commenting on tank deliveries to Ukraine, Kremlin Press Secretary Dmitry Peskov said this armor "would burn as the rest of it," and would not change the eventual outcome of the hostilities.