Mortgage Insurance Costs Being Cut by $800 for 850,000 Americans
U.S. mortgage insurance costs are being cut by $800 for 850,000 Americans. Families buying their first home will be eligible to receive some relief from mortgage insurance payments, following an announcement by the White House on Feb. 23. Vice President Kamala Harris announced the new program during an event in Maryland on Feb. 23 along with Department of Housing and Urban Development (HUD) secretary Marcia Fudge. The FHA, which is under HUD, insures more than $1.4 trillion in mortgages, including single-family and multi-family properties. The Biden administration will allow homeowners to save an average of $800 per year, or a 0.3 percent reduction from annual mortgage insurance premiums charged on loans via the Federal Housing Administration (FHA). The FHA will reduce its annual mortgage insurance premium from 0.85 to 0.55 percent for most new borrowers under the plan. Although the insurance relief plan does not have a stated income threshold, it was clearly crafted for lower-income and middle-class families who purchase mortgages through the FHA. "This cost-lowering measure will make buying a home more attainable and affordable for more low- and middle-income borrowers," said the White House in an online fact sheet. Biden Administration Moves to Address Rising Mortgage Rates The White House's move is meant to address rising borrowing costs that have caused housing demand to tumble and has put downward pressure on the U.S. economic growth. The Federal Reserve's raising of interest rates to fight inflation has made home loans more expensive for millions of Americans. U.S. sales of previously owned homes have tumbled for a twelfth-straight month last month, according to the National Association of Realtors on Tuesday. First-timebuyers only made up 31 percent of purchases in January. However, mortgage rates have been dropping after skyrocketing to an historical high last year, providing some relief for homebuyers. Housing is now sitting on the market for longer, forcing some sellers to accept lower purchasing bids. Mortgage Insurance Relief to Assist Low- to Middle-Income Homebuyers FHA-insured mortgages accounted for 7.5 percent of home sales in the third quarter of 2022, and are normally targeted at buyers who are unable to afford to purchase a home. Homeowners with FHA-insured mortgages pay their mortgage insurance premiums on a monthly basis, on top of their monthly principal and interest payments, to insure their state backed mortgages. The program will lower housing costs for an estimated 850,000 homebuyers and homeowners in 2023. "More than 80 percent of FHA borrowers are first-time homebuyers, and over 25 percent are homebuyers of color," said the White House. "The average home purchased with FHA-insured mortgages costs around half the price of the overall national median home and have an average mortgage amount of less than $270,000." The total cost of the insurance relief program is expected to be about $678 million in the first year the new rates come into effect. The FHA mortgage fund "has accumulated reserves at a level that is more than five times the required threshold set by Congress," read the fact sheet. This gives HUD the opportunity to "calibrate premiums more appropriately to the performance of the loans FHA insures" and pass the savings on to potential homeowners. The administration said that the premium reduction will take effect on Mar. 20, and will be reflected in the White House's Fiscal Year 2024 Budget. Mortgage Bankers Association President and CEO Bob Broeksmit approved the White House announcement, calling it "a move we have strongly encouraged since 2021." "The lower premiums will expand homeownership opportunities by lowering mortgage payments for qualified FHA borrowers, providing critical relief from the steep rise in mortgage rates and home prices just in time for the spring buying season," he said. "Ensuring a robust FHA program that protects taxpayers and offers affordable homeownership opportunities for families in underserved communities is important," added Broeksmit, "and we will work with the Biden administration and Congress on policies that have the greatest impact on borrower affordability and sustainability."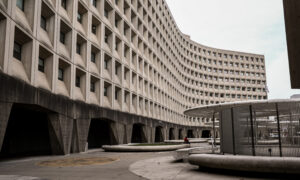 U.S. mortgage insurance costs are being cut by $800 for 850,000 Americans.
Families buying their first home will be eligible to receive some relief from mortgage insurance payments, following an announcement by the White House on Feb. 23.
Vice President Kamala Harris announced the new program during an event in Maryland on Feb. 23 along with Department of Housing and Urban Development (HUD) secretary Marcia Fudge.
The FHA, which is under HUD, insures more than $1.4 trillion in mortgages, including single-family and multi-family properties.
The Biden administration will allow homeowners to save an average of $800 per year, or a 0.3 percent reduction from annual mortgage insurance premiums charged on loans via the Federal Housing Administration (FHA).
The FHA will reduce its annual mortgage insurance premium from 0.85 to 0.55 percent for most new borrowers under the plan.
Although the insurance relief plan does not have a stated income threshold, it was clearly crafted for lower-income and middle-class families who purchase mortgages through the FHA.
"This cost-lowering measure will make buying a home more attainable and affordable for more low- and middle-income borrowers," said the White House in an online fact sheet.
Biden Administration Moves to Address Rising Mortgage Rates
The White House's move is meant to address rising borrowing costs that have caused housing demand to tumble and has put downward pressure on the U.S. economic growth.
The Federal Reserve's raising of interest rates to fight inflation has made home loans more expensive for millions of Americans.
U.S. sales of previously owned homes have tumbled for a twelfth-straight month last month, according to the National Association of Realtors on Tuesday. First-timebuyers only made up 31 percent of purchases in January.
However, mortgage rates have been dropping after skyrocketing to an historical high last year, providing some relief for homebuyers.
Housing is now sitting on the market for longer, forcing some sellers to accept lower purchasing bids.
Mortgage Insurance Relief to Assist Low- to Middle-Income Homebuyers
FHA-insured mortgages accounted for 7.5 percent of home sales in the third quarter of 2022, and are normally targeted at buyers who are unable to afford to purchase a home.
Homeowners with FHA-insured mortgages pay their mortgage insurance premiums on a monthly basis, on top of their monthly principal and interest payments, to insure their state backed mortgages.
The program will lower housing costs for an estimated 850,000 homebuyers and homeowners in 2023.
"More than 80 percent of FHA borrowers are first-time homebuyers, and over 25 percent are homebuyers of color," said the White House.
"The average home purchased with FHA-insured mortgages costs around half the price of the overall national median home and have an average mortgage amount of less than $270,000."
The total cost of the insurance relief program is expected to be about $678 million in the first year the new rates come into effect.
The FHA mortgage fund "has accumulated reserves at a level that is more than five times the required threshold set by Congress," read the fact sheet. This gives HUD the opportunity to "calibrate premiums more appropriately to the performance of the loans FHA insures" and pass the savings on to potential homeowners.
The administration said that the premium reduction will take effect on Mar. 20, and will be reflected in the White House's Fiscal Year 2024 Budget.
Mortgage Bankers Association President and CEO Bob Broeksmit approved the White House announcement, calling it "a move we have strongly encouraged since 2021."
"The lower premiums will expand homeownership opportunities by lowering mortgage payments for qualified FHA borrowers, providing critical relief from the steep rise in mortgage rates and home prices just in time for the spring buying season," he said.
"Ensuring a robust FHA program that protects taxpayers and offers affordable homeownership opportunities for families in underserved communities is important," added Broeksmit, "and we will work with the Biden administration and Congress on policies that have the greatest impact on borrower affordability and sustainability."