Morrissey still a hot ticket despite lack of industry support
Artist Morrissey recently announced a string of UK dates for this coming Summer. Venues include Portsmouth Guildhall 8th July, Royal Nottingham Concert Hall 9th July and London Troxy 22nd July. Going on sale on 6th April, two of the dates immediately sold out, but there are still some tickets available for some shows. Just last week, the Brit legend gave an interview to Gabfest, in which he spoke of his frustrations at his latest albums remaining unsigned. "One prominent label said 'Yes, it's a masterpiece … but we don't sign anyone over 26,'… but I thought it was all about diversity now, and open borders? How selective these words are in reality! I know of two well-connected CEOs in London who go to great lengths to stop my career." Morrissey then went on to state, "I don't think any artist has ever faced this. Some industry heavyweights also believe that the quickest way to a Smiths reunion is to block every availability off to Morrissey, and you can now see evidence of this everywhere." Morrissey has been performing several songs from his two unreleased albums - Bonfire of Teenagers and Without Music The World Dies - in recent live gigs to a hugely positive reception. With the artist's fanbase eager for the albums to be released and his concerts selling out rapidly, many have been left bewildered at the record industry reluctance to sign up the projects.In a recent post on Morrissey's own website, Central, the singer stated that even without management, label support and promotion, his live dates sell out rapidly the world over. A sign that despite the temperature of the mainstream press and cancel culture, the singer's audience is still as dedicated as ever to their idol. Still as inspired and as innovative as ever, Morrissey perhaps said the most poignant truth at the end of his recent Gabfest interview: "The songs I sing have absolute relevance to the world as it now is … and I just don't think anyone else can match them."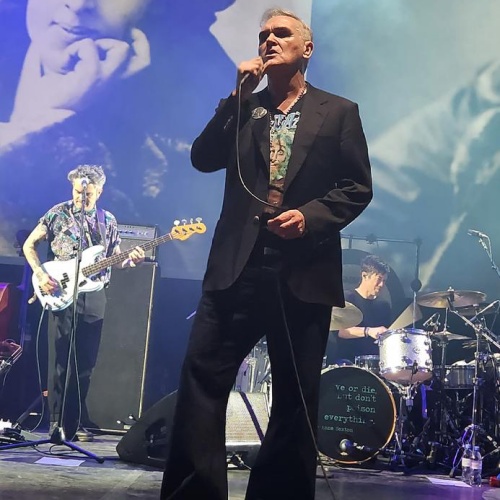 Artist Morrissey recently announced a string of UK dates for this coming Summer. Venues include Portsmouth Guildhall 8th July, Royal Nottingham Concert Hall 9th July and London Troxy 22nd July.
Going on sale on 6th April, two of the dates immediately sold out, but there are still some tickets available for some shows.
Just last week, the Brit legend gave an interview to Gabfest, in which he spoke of his frustrations at his latest albums remaining unsigned. "One prominent label said 'Yes, it's a masterpiece … but we don't sign anyone over 26,'… but I thought it was all about diversity now, and open borders? How selective these words are in reality! I know of two well-connected CEOs in London who go to great lengths to stop my career." Morrissey then went on to state, "I don't think any artist has ever faced this. Some industry heavyweights also believe that the quickest way to a Smiths reunion is to block every availability off to Morrissey, and you can now see evidence of this everywhere."
Morrissey has been performing several songs from his two unreleased albums - Bonfire of Teenagers and Without Music The World Dies - in recent live gigs to a hugely positive reception. With the artist's fanbase eager for the albums to be released and his concerts selling out rapidly, many have been left bewildered at the record industry reluctance to sign up the projects.
In a recent post on Morrissey's own website, Central, the singer stated that even without management, label support and promotion, his live dates sell out rapidly the world over. A sign that despite the temperature of the mainstream press and cancel culture, the singer's audience is still as dedicated as ever to their idol.
Still as inspired and as innovative as ever, Morrissey perhaps said the most poignant truth at the end of his recent Gabfest interview: "The songs I sing have absolute relevance to the world as it now is … and I just don't think anyone else can match them."