Metallica's latest album 72 Seasons was their 'most friction-free' to make
Metallica's latest album '72 Seasons' was their "most friction-free record" to make. The legendary heavy metal group have come a long way since the turbulent period documented in their 2004 movie 'Some Kind Of Monster', which saw the band members barely on speaking terms. Drummer Lars Ulrich, 59, told The Sun newspaper: "We can be in a room, we can make music, we can have conversations and there won't be a tense, crazy, rolling boulders up hills atmosphere. "Looking back, there were times when s*** got intense but this is the most friction-free record we've ever made." The candid film followed the band from 2001 to 2003, which saw frontman James Hetfield, 59, enter rehab for alcoholism and the departure of bassist Jason Newsted, 60, and arrival of his replacement Robert Trujillo, 58. The 'Enter Sandman' rockers are preparing for their mammoth 'M72 World Tour', which kicks off on April 27 in Amsterdam. Metallica will play two concerts with differing setlists in each city on the ambitious jaunt. But vegetarian and Peloton-obsessed Lars insists he's as fit as ever as he approaches his 60th birthday. He said: "Every day I'm in that gym, well at least 13 out of 14 days in a fortnight. "I do a lot of cardio and have some core workout routines. "I grew up in an athletic family and have always appreciated sport, so keeping fit has become a way of life." On his clean diet, he continued: "I'm vegetarian and eat a lot of plant-based food but get my protein from egg whites." And the band get plenty more hours of shut-eye these days with their "crazy shenanigans" mostly behind them. He said: "Sleep is a much bigger thing than it used to be. None of this s*** gets any easier as you get older! "When you get to my age, the effort you put into staying fit doesn't make you fitter, it just keeps you at the same level. "What you're really doing is preventing the curve from pointing south." And even though the tour will be a f***ing slog", Lars will still get a buzz from it. He added: "The late nights and crazy shenanigans of the past have become few and far between. "When we start touring again, we're playing two shows in every city with a completely different setlist for each night. "Every day will be a f***ing slog but I actually quite like it. I'm stronger than I've been in many years."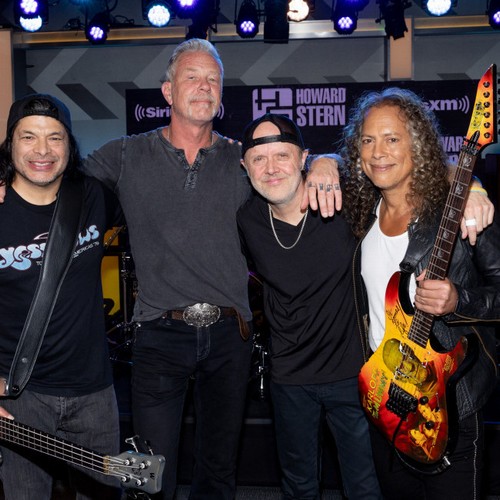 Metallica's latest album '72 Seasons' was their "most friction-free record" to make.
The legendary heavy metal group have come a long way since the turbulent period documented in their 2004 movie 'Some Kind Of Monster', which saw the band members barely on speaking terms.
Drummer Lars Ulrich, 59, told The Sun newspaper: "We can be in a room, we can make music, we can have conversations and there won't be a tense, crazy, rolling boulders up hills atmosphere.
"Looking back, there were times when s*** got intense but this is the most friction-free record we've ever made."
The candid film followed the band from 2001 to 2003, which saw frontman James Hetfield, 59, enter rehab for alcoholism and the departure of bassist Jason Newsted, 60, and arrival of his replacement Robert Trujillo, 58.
The 'Enter Sandman' rockers are preparing for their mammoth 'M72 World Tour', which kicks off on April 27 in Amsterdam.
Metallica will play two concerts with differing setlists in each city on the ambitious jaunt.
But vegetarian and Peloton-obsessed Lars insists he's as fit as ever as he approaches his 60th birthday.
He said: "Every day I'm in that gym, well at least 13 out of 14 days in a fortnight.
"I do a lot of cardio and have some core workout routines.
"I grew up in an athletic family and have always appreciated sport, so keeping fit has become a way of life."
On his clean diet, he continued: "I'm vegetarian and eat a lot of plant-based food but get my protein from egg whites."
And the band get plenty more hours of shut-eye these days with their "crazy shenanigans" mostly behind them.
He said: "Sleep is a much bigger thing than it used to be. None of this s*** gets any easier as you get older!
"When you get to my age, the effort you put into staying fit doesn't make you fitter, it just keeps you at the same level.
"What you're really doing is preventing the curve from pointing south."
And even though the tour will be a f***ing slog", Lars will still get a buzz from it.
He added: "The late nights and crazy shenanigans of the past have become few and far between.
"When we start touring again, we're playing two shows in every city with a completely different setlist for each night.
"Every day will be a f***ing slog but I actually quite like it. I'm stronger than I've been in many years."