Mental Health Guide for International Students
How studying abroad can impact your mental health? Moving abroad, studying, making a career and establishing yourself could be your childhood dream and from distance, it all appears so blingy and glittery. But what many don't understand is the struggle and challenges one has to go through in the process of establishment. In this blog post, I am sharing a complete mental health guide for international students moving to the UK, the US or any other country. I am personally located in the UK, pursuing my second master's degree at the age of 36. What made me take this plunge? There are many reasons but I was prepared to face all the consequences of my decision.What goes wrong with the international students? All they focus on is getting there, and don't prepare themselves to cook, clean and survive in a new environment. Most of the time this lack of self-awareness leads to a lot of mental stress and affects their overall daily life.Major factors affecting the Mental Health of International StudentsThere could be different factors affecting one's mental health, and mental health deterioration does not only means having depression or anxiety. No, people face panic attacks, and nervous breakdowns and are not aware of what is happening to them.So awareness is very important in order to sustain happiness and just so the one could seek timely help for themselves and take control of their lives.External factors impacting international students' mental health1.) Cultural difference2.) Language barriers3.) Skin Color4.) Competency5.) Financial crunchInternal factors impacting international students' mental health1.) Homesickness2.) Isolation3.) Lack of social life4.) Any prolonged physical illness5.) Relationship stress Signs of deteriorating mental health as an international studentIf you are an international student and feel that you are not doing enough, you are not fitting well with the new environment, have a self-check-in. If this feeling is persistent and you feel sad and lonely for a long time, you might need to observe the signs and speak to someone.1.) LonelinessYou are feeling that persistent loneliness, something just doesn't feel right.2.) IsolationYou start cancelling plans, and meetups with friends, you prefer staying home alone.3.) ProductivityYour mental state has started to impact your day to day productivity level, as you lack focus and attention.4.) Performance academicAs you are an international student your prime concern is to study, but due to that feeling of sadness and loneliness, you don't feel like doing anything and are having a hard time performing well in your academics.5.) Feeling left outIt happens with us even in our own country and homely environment. So it is obvious to feel left out in a new country among new people, but if this feeling has occupied a strong space in your mind, you need to work on it.Tips to take care of your mental health as an international studentWhile there are problems, there are always some solutions. I know sometimes you don't even need a solution, all you need is a little reminder to help yourself, and consider these basic tips as reminders that help is always there and you can still sort out things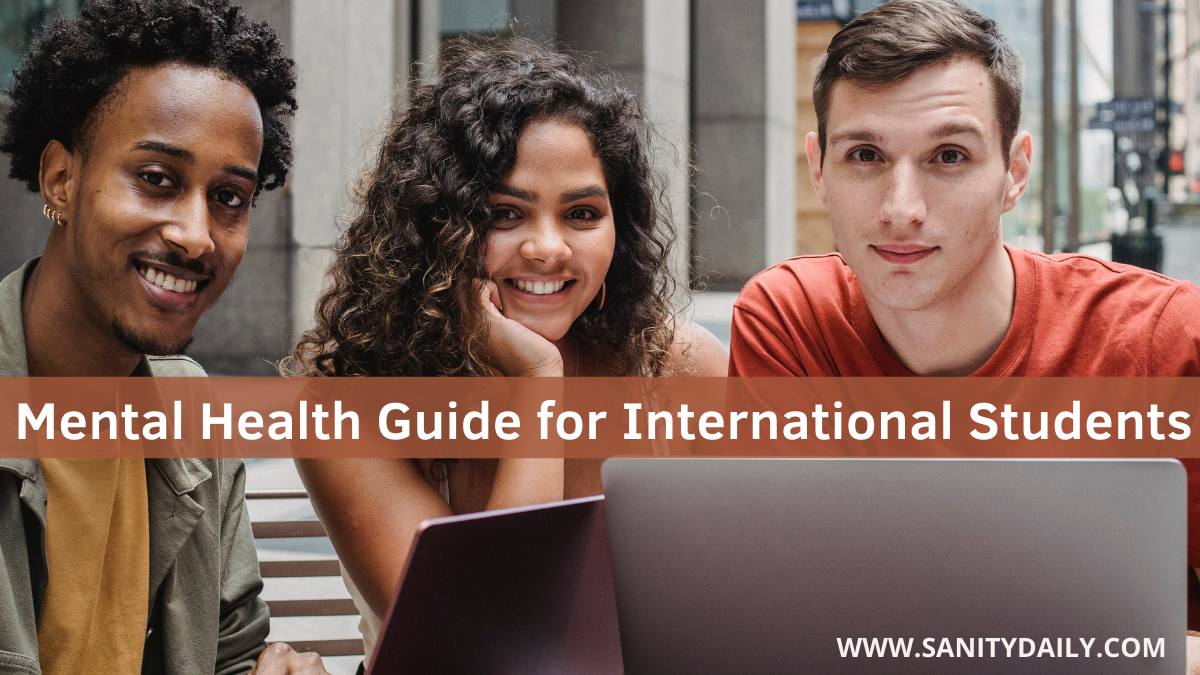 How studying abroad can impact your mental health? Moving abroad, studying, making a career and establishing yourself could be your childhood dream and from distance, it all appears so blingy and glittery. But what many don't understand is the struggle and challenges one has to go through in the process of establishment.
In this blog post, I am sharing a complete mental health guide for international students moving to the UK, the US or any other country. I am personally located in the UK, pursuing my second master's degree at the age of 36. What made me take this plunge? There are many reasons but I was prepared to face all the consequences of my decision.
What goes wrong with the international students? All they focus on is getting there, and don't prepare themselves to cook, clean and survive in a new environment. Most of the time this lack of self-awareness leads to a lot of mental stress and affects their overall daily life.
Major factors affecting the Mental Health of International Students
There could be different factors affecting one's mental health, and mental health deterioration does not only means having depression or anxiety. No, people face panic attacks, and nervous breakdowns and are not aware of what is happening to them.
So awareness is very important in order to sustain happiness and just so the one could seek timely help for themselves and take control of their lives.
External factors impacting international students' mental health
1.) Cultural difference
2.) Language barriers
3.) Skin Color
4.) Competency
5.) Financial crunch
Internal factors impacting international students' mental health
1.) Homesickness
2.) Isolation
3.) Lack of social life
4.) Any prolonged physical illness
5.) Relationship stress
Signs of deteriorating mental health as an international student
If you are an international student and feel that you are not doing enough, you are not fitting well with the new environment, have a self-check-in. If this feeling is persistent and you feel sad and lonely for a long time, you might need to observe the signs and speak to someone.
1.) Loneliness
You are feeling that persistent loneliness, something just doesn't feel right.
2.) Isolation
You start cancelling plans, and meetups with friends, you prefer staying home alone.
3.) Productivity
Your mental state has started to impact your day to day productivity level, as you lack focus and attention.
4.) Performance academic
As you are an international student your prime concern is to study, but due to that feeling of sadness and loneliness, you don't feel like doing anything and are having a hard time performing well in your academics.
5.) Feeling left out
It happens with us even in our own country and homely environment. So it is obvious to feel left out in a new country among new people, but if this feeling has occupied a strong space in your mind, you need to work on it.
Tips to take care of your mental health as an international student
While there are problems, there are always some solutions. I know sometimes you don't even need a solution, all you need is a little reminder to help yourself, and consider these basic tips as reminders that help is always there and you can still sort out things