Matar Mushroom
Matar Mushroom is a one pot curried side dish made with mushrooms, green peas, onions, tomatoes, spices and herbs. This flavorsome and delicious curry gets done under 30 minutes and makes for a great weeknight dinner option. Serve it with plain rice, flavored rice, Chapati, Plain Paratha, roti or with your favorite bread. This Matar Mushroom is warming, tasty and uses simple pantry staples. Like many other Indian veggie dishes this Mutter Mushroom can be made to a semi-dry dish or to a gravy that has more sauce. Matar Mushroom 'Matar' also spelled as 'Mutter' is a Hindi word for green peas. So Matar Mushroom literally translates to peas mushroom. As the name says, these 2 ingredients are the star of this dish. The sweet aroma of green peas perfectly compliment the earthy flavor of mushrooms, making this curry the best!  Matar and mushrooms simmered with onions, tomatoes and lots of spices is what this dish is about.  If you love cooking simple dishes then you will most likely make this often just like the way I do. If you have the rotis or rice ready, you won't require more than 30 minutes for this healthy and delicious meal. This curry also goes well in office and school lunch boxes. This matar mushroom is made the same way like any other Indian curry. First a base of onion and tomato masala is made and then mushrooms are sautéed to bring out the aroma. Later peas and mushrooms are simmered on a low heat so the mushrooms absorb all of the flavors from the spices. In this post I have shown a semi-dry curry because that's what we eat most often. No blending, no cream, no coconut milk is what our everyday homemade Indian foods are. A typical regular home cooked Indian meal is simple and we don't blend the ingredients every time to make the gravy nor do we add cream and coconut milk to every curry. So our homemade Indian foods are not creamy with loaded fats like what you get to see in the restaurants. This matar mushroom is a typical dish from the Indian households. If you love to make a gravy version of this, follow my pro tips section below. For more Mushroom recipes You may checkMushroom masalaKadai mushroomMushroom pepper frySimple Mushroom Stir FryMushroom pasta How to Make Matar Mushroom (Stepwise photos) Make Onion Tomato Masala 1. Pour 1½ tablespoon oil to a hot pan. Once the oil turns hot, add ½ teaspoon cumin seeds. 2. Soon the cumin seeds will sizzle and splutter, then add ¾ to 1 cup fine chopped onions. On a medium heat, fry the onions stirring often until golden. 3. Reduce the heat. Next add 1 teaspoon garlic ginger paste. 4. Fry until the raw smell of the garlic goes away. 5. Add ¾ cup chopped tomatoes (or tomato puree) and sprinkle ¼ teaspoon salt. On a medium flame fry until the tomatoes turn mushy. While the tomatoes cook, wash and chop the mushrooms. Slice them and halve if they are large. 6. Add ½ to ¾ teaspoon red chili powder,1/8 teaspoon turmeric, ¾ teaspoon garam masala or meat masala and ¾ teaspoon coriander powder. 7. Saute onion tomato masala until you see traces of oil separate from the mixture. Make Matar Mushroom 8. Add ½ to ¾ cup peas and 200 grams mushrooms. I forgot to add turmeric at the earlier step so I used it here. 9. Saute on a medium flame for 4 to 5 mins, until you begin to smell the mushrooms. 10. Cover and cook on a low flame until the mushrooms are done to your liking. I generally cook until they are tender but not mushy and soggy. 11. After a few minutes, mushrooms let out some moisture. 12. Stir well and saute for a minute on a slightly high heat. Taste test and adjust salt at this stage. If you prefer you may also add 1 teaspoon crushed kasuri methi at this stage, before turning off the heat. Add chopped coriander leaves & ginger juliennes if you like. Enjoy matar mushroom with rice or roti. Pro Tips Creamy curry: Blend the onion tomato masala to a smooth paste. Simmer it with ¾ to 1 cup water until thick. Meanwhile saute the mushrooms separately in a pan for 4 to 5 mins and then add them to the slightly thick curry along with peas. Cook until the curry becomes thick. Take care not to overcook the mushrooms. Lastly pour ¼ to ½ cup thick coconut milk or cream. Cashew nuts: You can also add some cashewnuts or almond meal while you blend the onion tomato masala. The nuts will provide a thick and creamy texture to your curry so you may skip the coconut milk and cream in this gravy version. Peas: I prefer to use the frozen peas. You may also use the fresh peas from the pods. If they are not tender, boil them separately in water and use in the recipe. Tomatoes: I have used fresh tomatoes here. Feel free to replace it with half cup of bottled tomato puree. Related Recipes Recipe Card Matar Mushroom | Mutter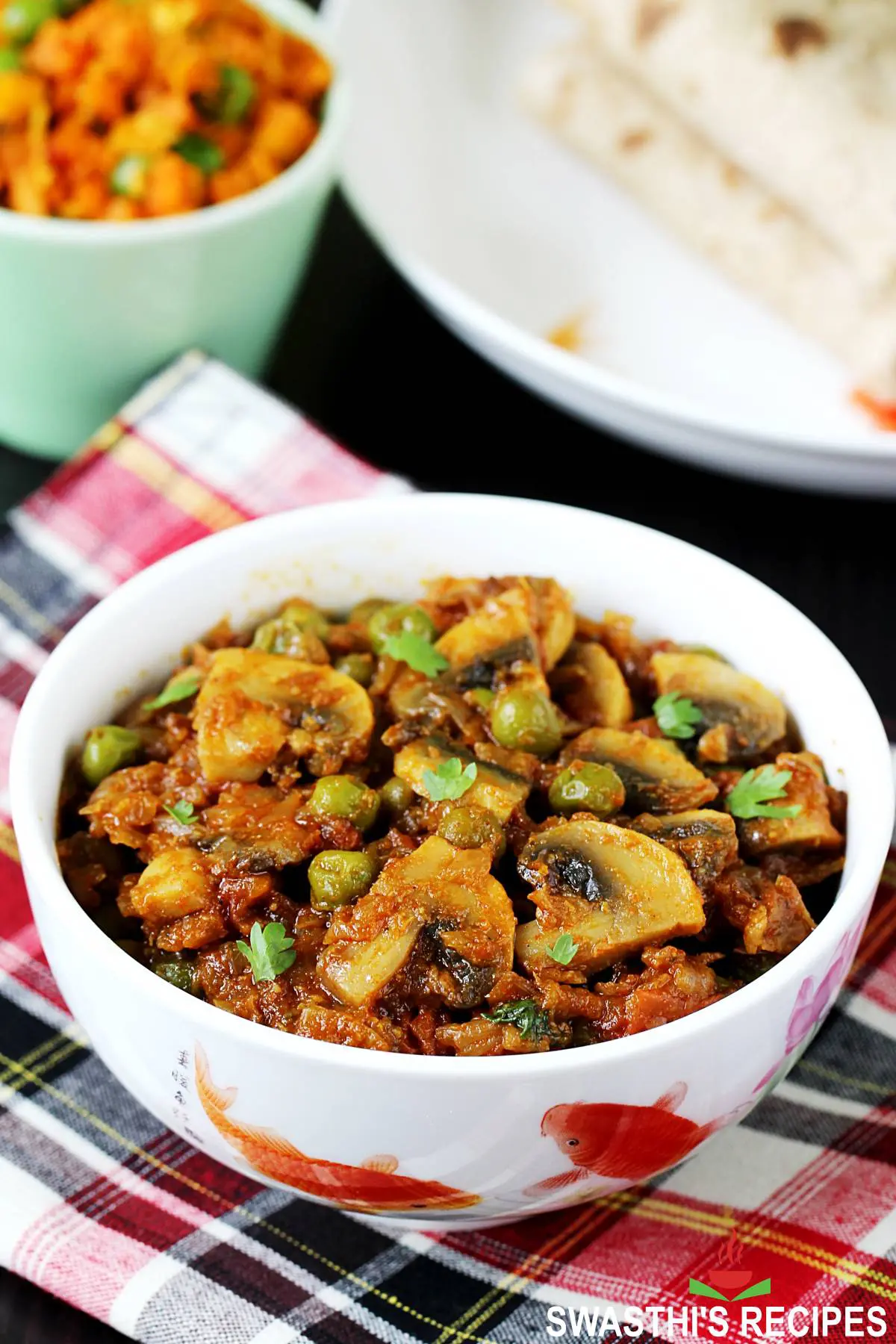 Matar Mushroom is a one pot curried side dish made with mushrooms, green peas, onions, tomatoes, spices and herbs. This flavorsome and delicious curry gets done under 30 minutes and makes for a great weeknight dinner option. Serve it with plain rice, flavored rice, Chapati, Plain Paratha, roti or with your favorite bread. This Matar Mushroom is warming, tasty and uses simple pantry staples. Like many other Indian veggie dishes this Mutter Mushroom can be made to a semi-dry dish or to a gravy that has more sauce.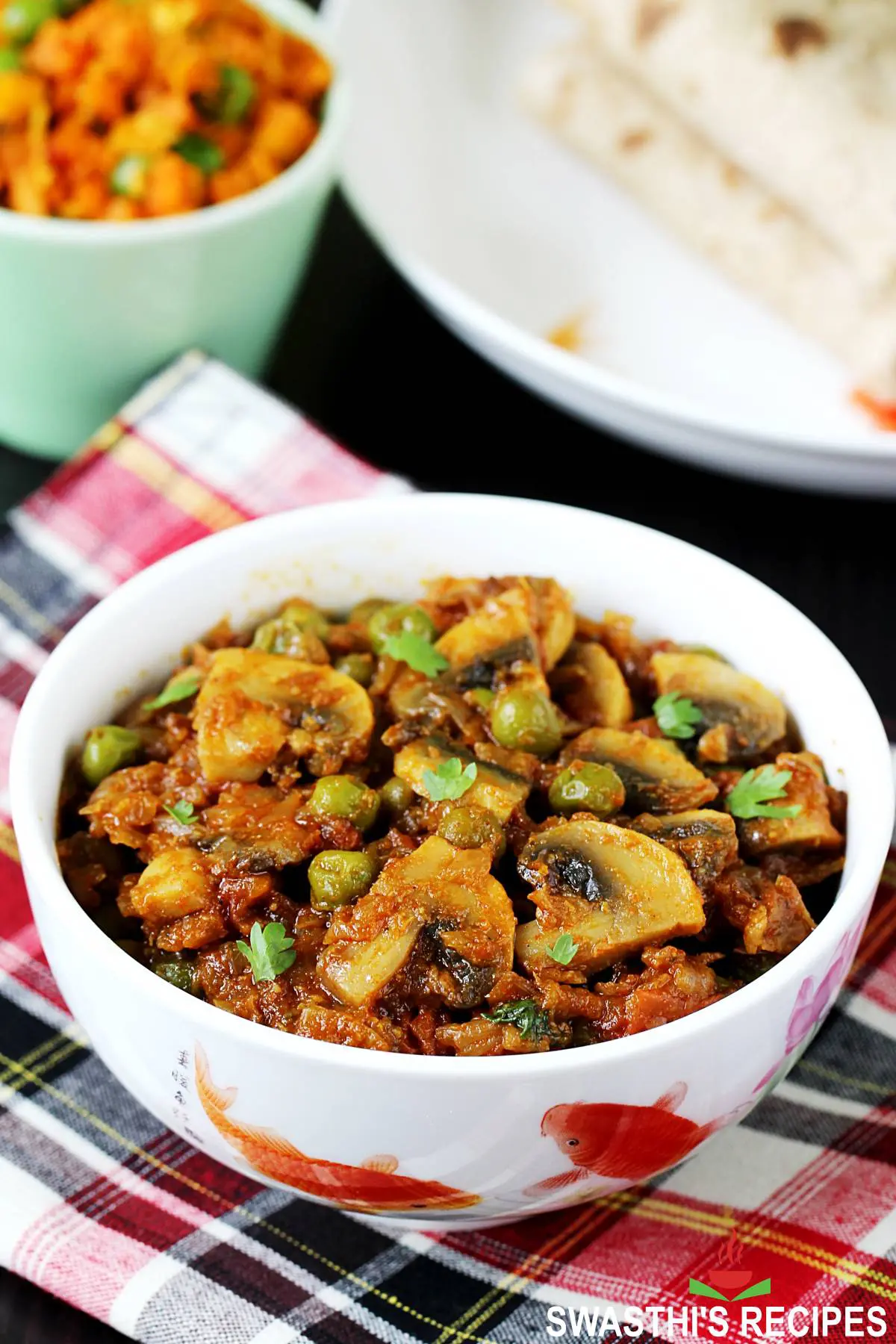 Matar Mushroom
'Matar' also spelled as 'Mutter' is a Hindi word for green peas. So Matar Mushroom literally translates to peas mushroom. As the name says, these 2 ingredients are the star of this dish. The sweet aroma of green peas perfectly compliment the earthy flavor of mushrooms, making this curry the best! Matar and mushrooms simmered with onions, tomatoes and lots of spices is what this dish is about.
If you love cooking simple dishes then you will most likely make this often just like the way I do. If you have the rotis or rice ready, you won't require more than 30 minutes for this healthy and delicious meal. This curry also goes well in office and school lunch boxes.
This matar mushroom is made the same way like any other Indian curry. First a base of onion and tomato masala is made and then mushrooms are sautéed to bring out the aroma. Later peas and mushrooms are simmered on a low heat so the mushrooms absorb all of the flavors from the spices.
In this post I have shown a semi-dry curry because that's what we eat most often. No blending, no cream, no coconut milk is what our everyday homemade Indian foods are. A typical regular home cooked Indian meal is simple and we don't blend the ingredients every time to make the gravy nor do we add cream and coconut milk to every curry.
So our homemade Indian foods are not creamy with loaded fats like what you get to see in the restaurants. This matar mushroom is a typical dish from the Indian households. If you love to make a gravy version of this, follow my pro tips section below.
For more Mushroom recipes You may check
Mushroom masala
Kadai mushroom
Mushroom pepper fry
Simple Mushroom Stir Fry
Mushroom pasta
How to Make Matar Mushroom (Stepwise photos)
Make Onion Tomato Masala
1. Pour 1½ tablespoon oil to a hot pan. Once the oil turns hot, add ½ teaspoon cumin seeds.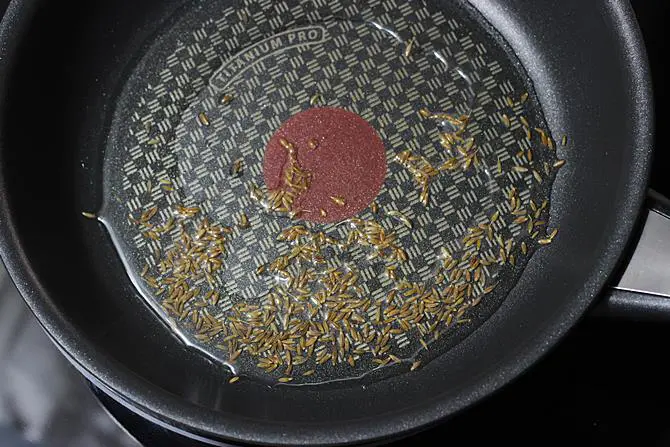 2. Soon the cumin seeds will sizzle and splutter, then add ¾ to 1 cup fine chopped onions. On a medium heat, fry the onions stirring often until golden.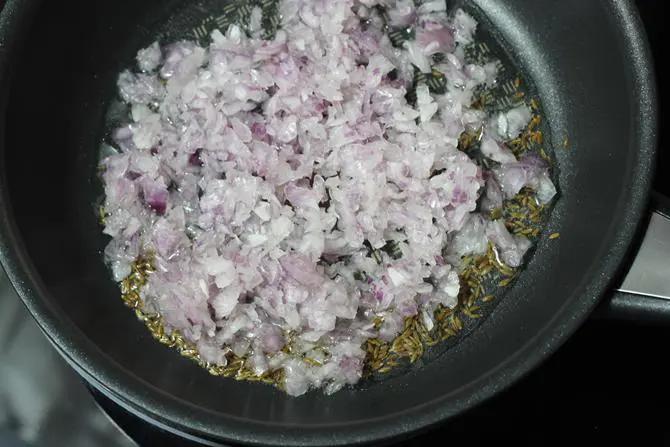 3. Reduce the heat. Next add 1 teaspoon garlic ginger paste.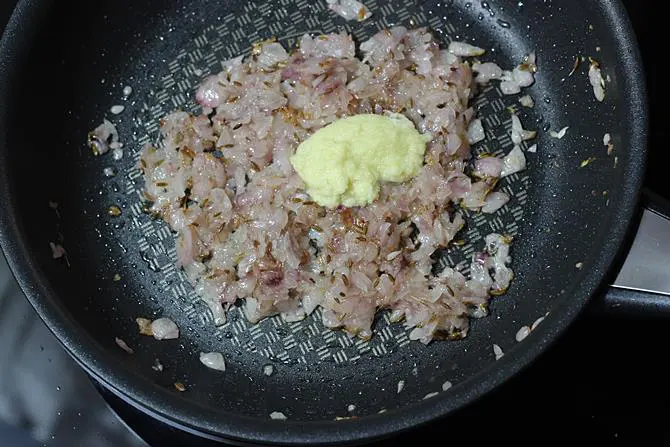 4. Fry until the raw smell of the garlic goes away.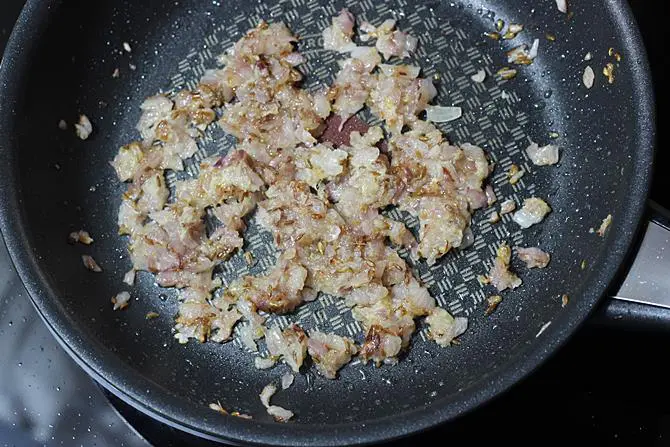 5. Add ¾ cup chopped tomatoes (or tomato puree) and sprinkle ¼ teaspoon salt. On a medium flame fry until the tomatoes turn mushy. While the tomatoes cook, wash and chop the mushrooms. Slice them and halve if they are large.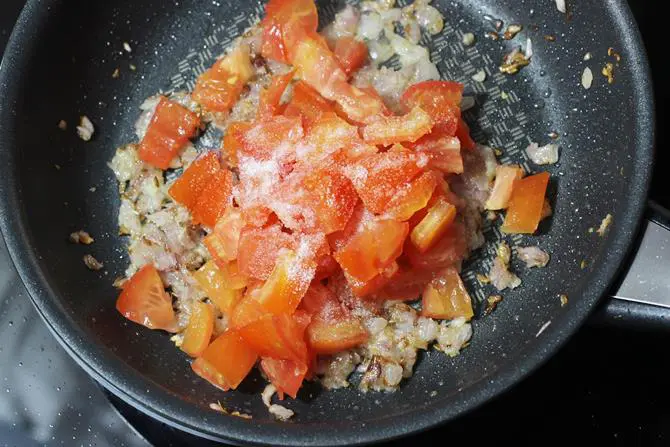 6. Add ½ to ¾ teaspoon red chili powder,1/8 teaspoon turmeric, ¾ teaspoon garam masala or meat masala and ¾ teaspoon coriander powder.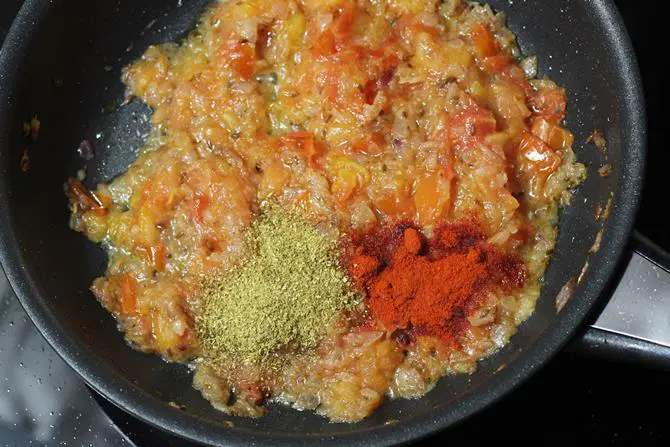 7. Saute onion tomato masala until you see traces of oil separate from the mixture.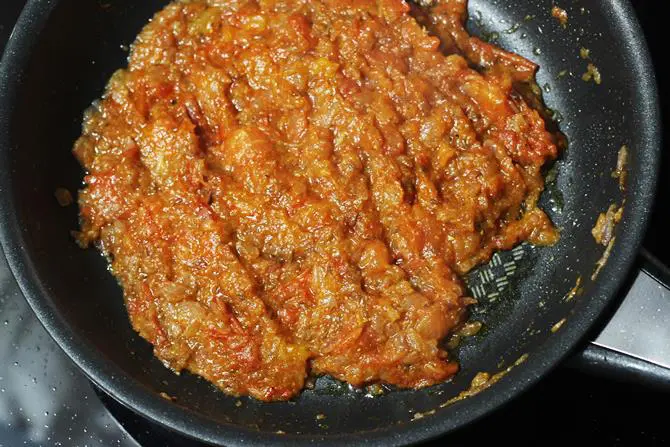 Make Matar Mushroom
8. Add ½ to ¾ cup peas and 200 grams mushrooms. I forgot to add turmeric at the earlier step so I used it here.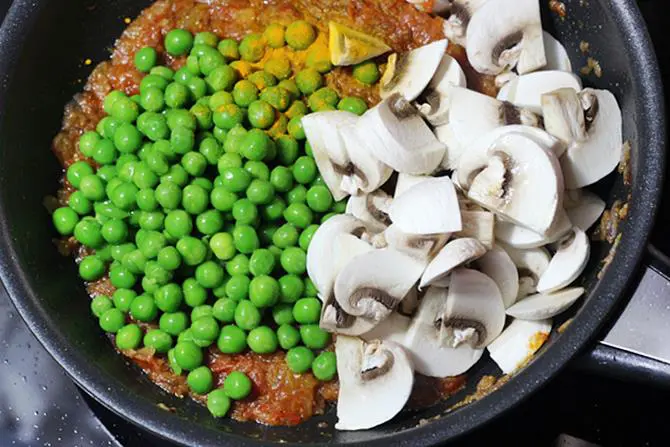 9. Saute on a medium flame for 4 to 5 mins, until you begin to smell the mushrooms.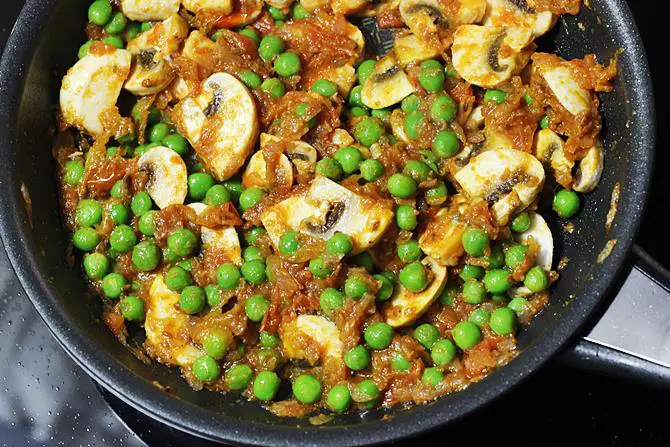 10. Cover and cook on a low flame until the mushrooms are done to your liking. I generally cook until they are tender but not mushy and soggy.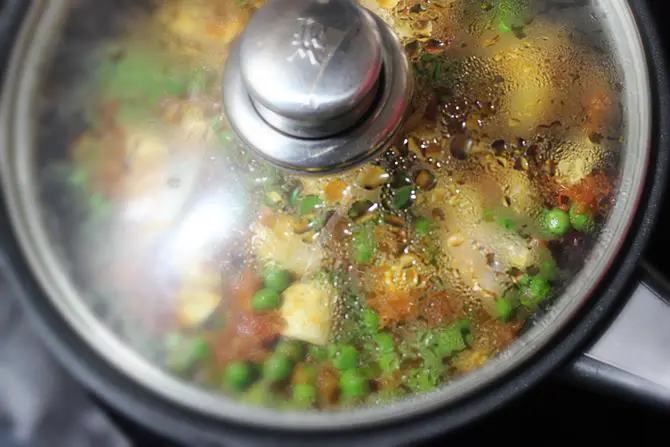 11. After a few minutes, mushrooms let out some moisture.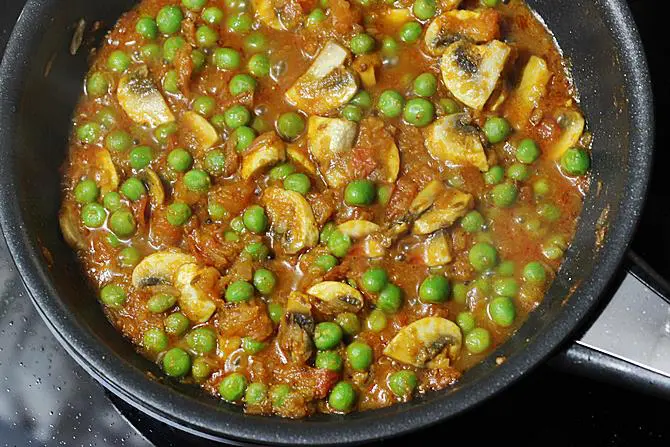 12. Stir well and saute for a minute on a slightly high heat. Taste test and adjust salt at this stage. If you prefer you may also add 1 teaspoon crushed kasuri methi at this stage, before turning off the heat. Add chopped coriander leaves & ginger juliennes if you like.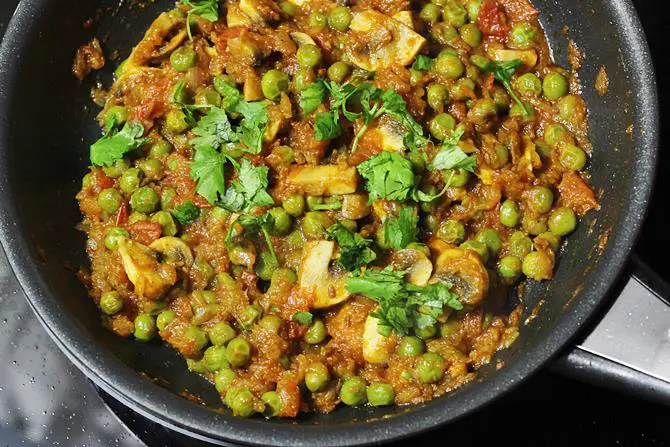 Enjoy matar mushroom with rice or roti.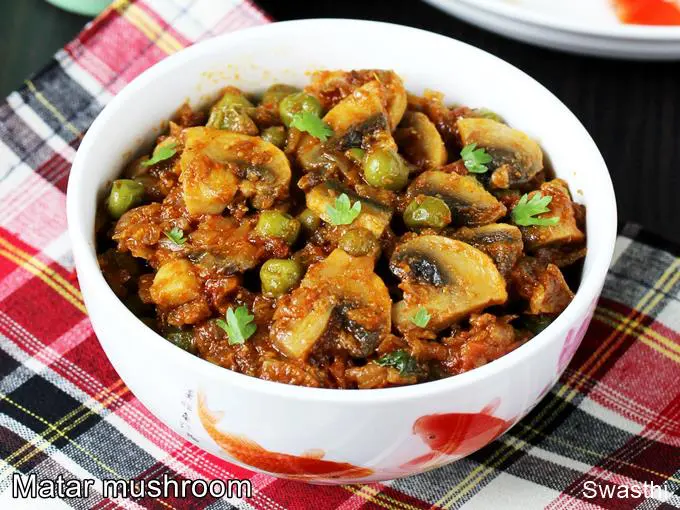 Pro Tips
Creamy curry: Blend the onion tomato masala to a smooth paste. Simmer it with ¾ to 1 cup water until thick. Meanwhile saute the mushrooms separately in a pan for 4 to 5 mins and then add them to the slightly thick curry along with peas. Cook until the curry becomes thick. Take care not to overcook the mushrooms. Lastly pour ¼ to ½ cup thick coconut milk or cream.
Cashew nuts: You can also add some cashewnuts or almond meal while you blend the onion tomato masala. The nuts will provide a thick and creamy texture to your curry so you may skip the coconut milk and cream in this gravy version.
Peas: I prefer to use the frozen peas. You may also use the fresh peas from the pods. If they are not tender, boil them separately in water and use in the recipe.
Tomatoes: I have used fresh tomatoes here. Feel free to replace it with half cup of bottled tomato puree.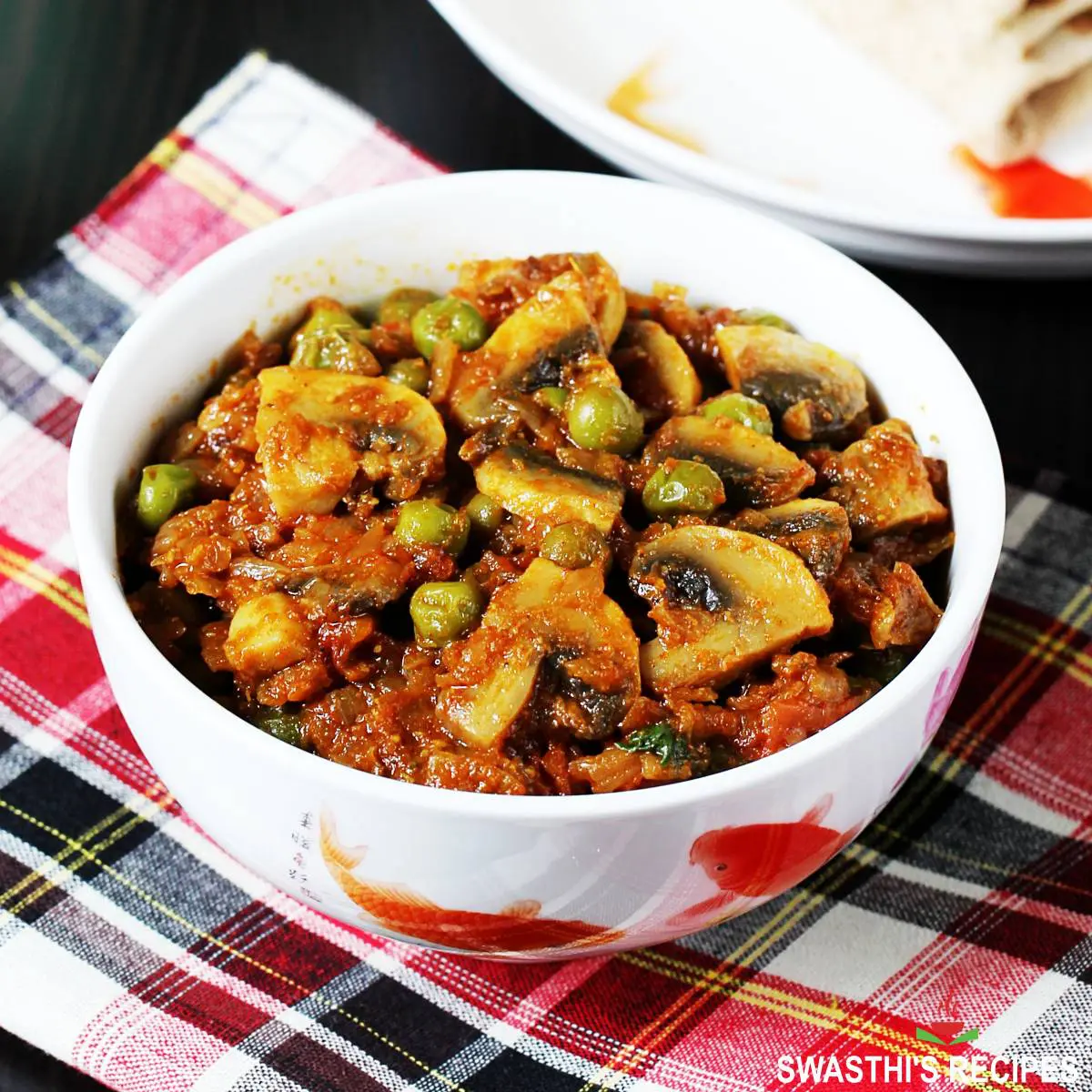 Related Recipes
Recipe Card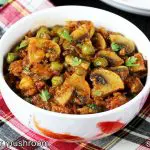 Matar Mushroom | Mutter Mushroom
Matar mushroom is a simple, healthy and delicious Indian curried dish of mushrooms and peas. Serve it with plain rice, roti or bread.
For best results follow the step-by-step photos above the recipe card
Ingredients (US cup = 240ml )
Instructions
Preparation
How to make Matar Mushroom
Alternative quantities provided in the recipe card are for 1x only, original recipe.
For best results follow my detailed step-by-step photo instructions and tips above the recipe card.
NUTRITION INFO (estimation only)
Nutrition Facts
Matar Mushroom | Mutter Mushroom
Amount Per Serving
Calories 126 Calories from Fat 63
% Daily Value*
Sodium 341mg15%
Potassium 510mg15%
Carbohydrates 12g4%
Fiber 3g13%
Sugar 6g7%
Protein 4g8%
Vitamin A 400IU8%
Vitamin C 19.2mg23%
Calcium 44mg4%
Iron 2.1mg12%
* Percent Daily Values are based on a 2000 calorie diet.
This post was first published in December 2015. Updated and republished in December 2022.