Major Retailer to Invest $2.2 Billion in US, Add Over 2,000 Jobs
IKEA announced on Thursday that it will invest more than $2.2 billion in the U.S. market over the next three years to further expand its omnichannel fulfillment network. In a statement, Ingka Group, which owns most IKEA stores, said it plans to bring eight new big stores and add nine "plan and order points"—smaller stores where customers can get advice and order furniture for delivery—across the United States. The expansion marks the ready-to-assemble furniture chain's most significant investment in one country ever. The company opened its first U.S. store nearly four decades ago in the Philadelphia suburb of Plymouth Meeting. IKEA has yet to announce specific locations for the eight new stores. However, the company did say the project is expected to create over 2,000 new jobs. Tolga Öncü, head of IKEA Retail at Ingka Group, said the retailer sees opportunities in the entire country but will primarily focus on the South "where we see big demand that we have not so far been able to respond to." "The U.S. is one of our most important markets, and we see endless opportunities to grow there and get closer to the many Americans with affordable products and services," Öncü said. "More than ever before, we want to increase the density of our presence in the U.S., ramp up our fulfillment capacities, and make our range even more relevant to local customers' needs and dreams," he continued. The Ingka holding company said the multi-billion dollar project is in addition to the already scheduled openings of stores in downtown San Francisco, California, and Arlington, Virginia, which are expected this summer. The U.S. expansion would increase the number of IKEA locations nationwide by around one-third—from 51 stores and two "plan and order points." Struggling Economy The United States is IKEA's second-biggest market by sales after Germany. The Swedish company seeks to win market share in the country as cash-strapped consumers look for more affordable products. "We know U.S. customers have a strong desire for more ways to shop and experience IKEA, and this growth plan will allow us to meet that need," said Javier Quiñones, IKEA U.S. CEO and chief sustainability officer. "Our priority is to become more accessible while staying as affordable as possible for the many people, which is especially important given the increasing costs of living." As elevated inflation rates have reduced consumer spending, big-box retailers Walmart, Wayfair, and others recently announced significant job cuts and have closed stores, creating an opportunity for IKEA to pick up lower-priced store and warehouse space. "There are locations available that have not been available before, there are opportunities for us to speed up investments in acquiring land and existing locations to bring IKEA closer to the many people," Öncü said. IKEA's growth plan comes as a growing list of U.S. retailers and many tech giants, such as Microsoft Corp., Google parent Alphabet Inc., and Facebook owner Meta, have recently slashed their workforces to rein in costs and ride out the economic downturn. In January, Wayfair, a Boston-based e-commerce company that sells furniture internationally, announced it would cut 1,750 jobs, representing roughly 10 percent of its entire global workforce, as part of a cost-saving plan. Reuters contributed to this report. From NTD News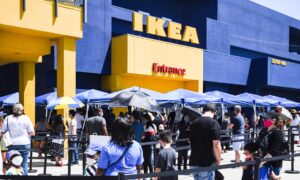 IKEA announced on Thursday that it will invest more than $2.2 billion in the U.S. market over the next three years to further expand its omnichannel fulfillment network.
In a statement, Ingka Group, which owns most IKEA stores, said it plans to bring eight new big stores and add nine "plan and order points"—smaller stores where customers can get advice and order furniture for delivery—across the United States.
The expansion marks the ready-to-assemble furniture chain's most significant investment in one country ever. The company opened its first U.S. store nearly four decades ago in the Philadelphia suburb of Plymouth Meeting.
IKEA has yet to announce specific locations for the eight new stores. However, the company did say the project is expected to create over 2,000 new jobs.
Tolga Öncü, head of IKEA Retail at Ingka Group, said the retailer sees opportunities in the entire country but will primarily focus on the South "where we see big demand that we have not so far been able to respond to."
"The U.S. is one of our most important markets, and we see endless opportunities to grow there and get closer to the many Americans with affordable products and services," Öncü said.
"More than ever before, we want to increase the density of our presence in the U.S., ramp up our fulfillment capacities, and make our range even more relevant to local customers' needs and dreams," he continued.
The Ingka holding company said the multi-billion dollar project is in addition to the already scheduled openings of stores in downtown San Francisco, California, and Arlington, Virginia, which are expected this summer.
The U.S. expansion would increase the number of IKEA locations nationwide by around one-third—from 51 stores and two "plan and order points."
Struggling Economy
The United States is IKEA's second-biggest market by sales after Germany. The Swedish company seeks to win market share in the country as cash-strapped consumers look for more affordable products.
"We know U.S. customers have a strong desire for more ways to shop and experience IKEA, and this growth plan will allow us to meet that need," said Javier Quiñones, IKEA U.S. CEO and chief sustainability officer. "Our priority is to become more accessible while staying as affordable as possible for the many people, which is especially important given the increasing costs of living."
As elevated inflation rates have reduced consumer spending, big-box retailers Walmart, Wayfair, and others recently announced significant job cuts and have closed stores, creating an opportunity for IKEA to pick up lower-priced store and warehouse space.
"There are locations available that have not been available before, there are opportunities for us to speed up investments in acquiring land and existing locations to bring IKEA closer to the many people," Öncü said.
IKEA's growth plan comes as a growing list of U.S. retailers and many tech giants, such as Microsoft Corp., Google parent Alphabet Inc., and Facebook owner Meta, have recently slashed their workforces to rein in costs and ride out the economic downturn.
In January, Wayfair, a Boston-based e-commerce company that sells furniture internationally, announced it would cut 1,750 jobs, representing roughly 10 percent of its entire global workforce, as part of a cost-saving plan.