Lil B Death-Ritual Potlatch: A Week in Austin, Texas
Day One Productivity experts say that people shouldn't sleep in the same area they work in, but what is bad for productivity is good for me. I wake up on the cheap, stained mattress I have next to my work area. To the right of the mattress are a lamp I bought because it looked like it belonged in a private investigator's office, six guitar pedals, my guitar, and my laptop. There's also my wooden desk, the drawers of which are filled with guitar picks and bug spray. I usually spend all day here drawing, playing with Photoshop, recording music, podcasting, watching stuff on YouTube, and staring off into space. I've lived in this apartment for four months, and in Austin for twenty, but I feel like I've lost track of time. In Austin, it's easy to do that. On the mattress I watch Lawrence of Belgravia, a documentary I've been avoiding because I don't want the images of people I admire tarnished by knowing too much about them. It's about Lawrence Hayward, the front man for the English eighties and nineties bands Felt, Denim, and Go-Kart Mozart. Lawrence (who goes by just his first name) never did anything not great, but at what cost! The doc shows him burning through bandmates and spiraling into homelessness and addiction before ending up, in his fifties, in a London council flat designed by Ernö Goldfinger. There's a wonderfully OCD quality to Lawrence, who at one point explains his preference for white shirt buttons and at another specifies the only kind of guitar pick his band members are permitted to use. In the film, he intently studies the books and LPs that have inspired his songwriting: we see him examine the bindings, the liner notes, an image of Lou Reed. Why, he wonders, hasn't he achieved stardom? It's clear that some personal idiosyncrasies have hindered his progress. He talks about how great it would be to have his own private jet, but he refuses to own a phone or a computer. "Nobody has ever made any money on the internet," he says, which makes me respect him even more. Out-of-touch people are the people I respect most these days. Day Two Today is the publication day of a book I wrote with my friend. I can hardly keep my eyes open; I've been working nonstop. I have a podcast episode to release about the history of American utopian experiments, and I have no idea how I'm going to ship all these books. I haven't bought any shipping supplies because I didn't think I would sell any copies. When you don't live in a major-market city, it can be difficult to gauge public interest in what you're doing. I celebrate by going to the Raising Cane's by UT Austin. This is a fried-chicken chain that exists primarily in the Southwest. I come here today because I have a fond memory of eating here with my friends after a cryptocurrency convention. I eat an entire The Box Combo—four chicken tenders, Texas toast, crinkle-cut fries, coleslaw, and a fountain drink—in ten minutes, then go smoke outside. I watch the gradient sky shift to pink in the fast-food parking lot. Day Three I go to the Austin Film Society to see Fire of Love, a new documentary about the volcanologist couple Maurice and Katia Krafft. It's the best thing I've seen in ages. I've developed a recent fascination with islands, volcanoes, and exotica, and the film's archival footage is right up my alley: analog shots of molten lava, flame-resistant silver suits, and dances with annihilation. The beauty and power of volcanoes lie in their inhuman, grandiose capacity for eruption, their indifference to culture. My Twitter mutuals the philosophers Thomas Murphy and Ed Berger have used plate tectonics as an analogy for what they see as a much-needed strategy of cultural "defluencing."  Defluencing is a tactic designed to introduce evidence of slow, imperceptible "macrotrends" into discourse, which essentially means jamming Twitter feeds by sharing floods of historical documents or pictures of mountains. I think, with exhaustion, of the countless shortwave cultural developments of the past year, some of which I myself have been swept up in. I imagine the waves of discursivity that are constantly washing over me being replaced by something slower. In Austin, I can sometimes simulate living in a kind of eternal, psychedelic seventies, or at least how I imagine that decade to have been: a hazier, slower period of time. I order one of the Kraffts' books from my phone and swear off reading about particulars, namely contemporary figures or celebrities. Instead, I imagine bubbles of molten BBQ sauce and the upwelling of hot continental rock. After the movie my friend Anson and I go to the Yellow Jacket where all the chain-punks hang out doing blow. After we get some food, we walk over to see the band Boris play a show off of 7th Street and since we shown up late, they let us watch the end of the set for free. Nice thing about Austin is they still let you do that. Day Four Austin is characterized by a humid subtropical climate, according to the Köppen climate classif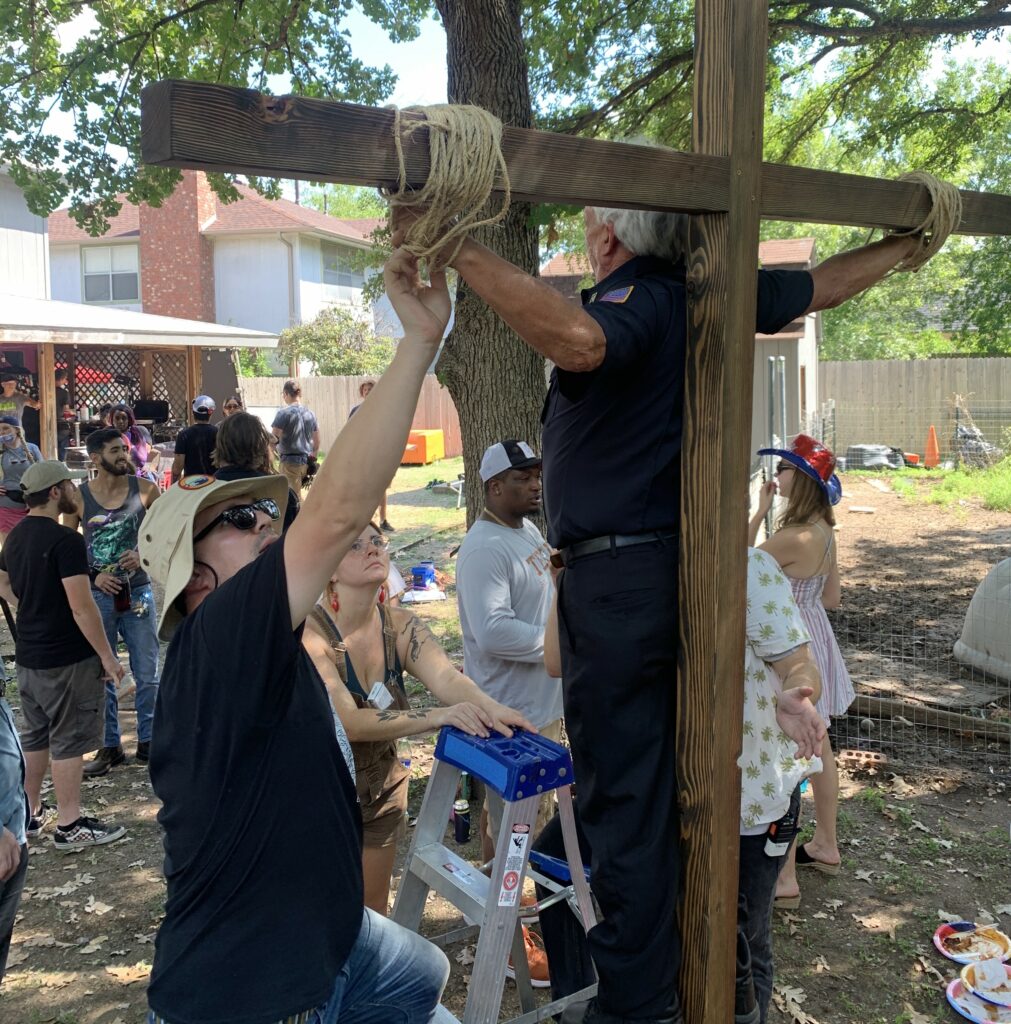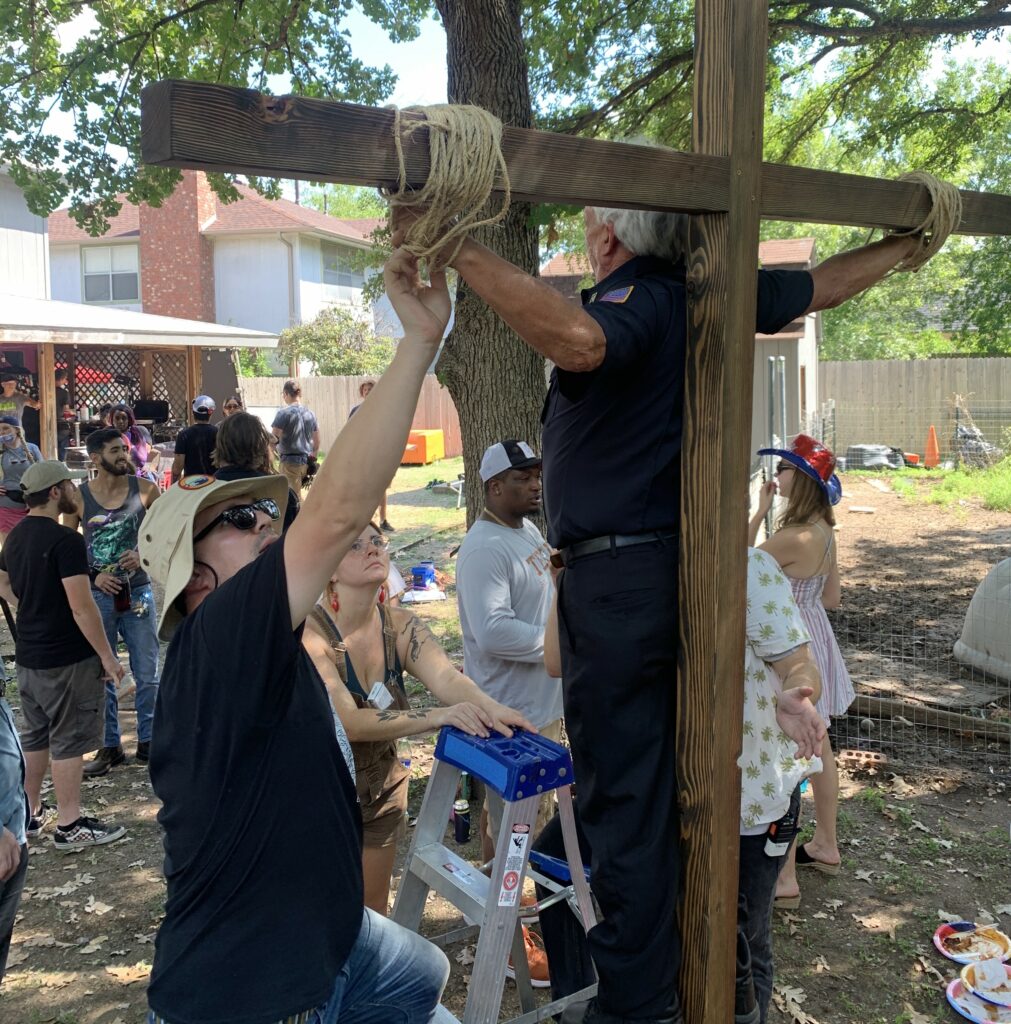 Day One
Productivity experts say that people shouldn't sleep in the same area they work in, but what is bad for productivity is good for me. I wake up on the cheap, stained mattress I have next to my work area. To the right of the mattress are a lamp I bought because it looked like it belonged in a private investigator's office, six guitar pedals, my guitar, and my laptop. There's also my wooden desk, the drawers of which are filled with guitar picks and bug spray. I usually spend all day here drawing, playing with Photoshop, recording music, podcasting, watching stuff on YouTube, and staring off into space. I've lived in this apartment for four months, and in Austin for twenty, but I feel like I've lost track of time. In Austin, it's easy to do that.
On the mattress I watch Lawrence of Belgravia, a documentary I've been avoiding because I don't want the images of people I admire tarnished by knowing too much about them. It's about Lawrence Hayward, the front man for the English eighties and nineties bands Felt, Denim, and Go-Kart Mozart. Lawrence (who goes by just his first name) never did anything not great, but at what cost! The doc shows him burning through bandmates and spiraling into homelessness and addiction before ending up, in his fifties, in a London council flat designed by Ernö Goldfinger. There's a wonderfully OCD quality to Lawrence, who at one point explains his preference for white shirt buttons and at another specifies the only kind of guitar pick his band members are permitted to use. In the film, he intently studies the books and LPs that have inspired his songwriting: we see him examine the bindings, the liner notes, an image of Lou Reed. Why, he wonders, hasn't he achieved stardom? It's clear that some personal idiosyncrasies have hindered his progress. He talks about how great it would be to have his own private jet, but he refuses to own a phone or a computer. "Nobody has ever made any money on the internet," he says, which makes me respect him even more. Out-of-touch people are the people I respect most these days.
Day Two
Today is the publication day of a book I wrote with my friend. I can hardly keep my eyes open; I've been working nonstop. I have a podcast episode to release about the history of American utopian experiments, and I have no idea how I'm going to ship all these books. I haven't bought any shipping supplies because I didn't think I would sell any copies. When you don't live in a major-market city, it can be difficult to gauge public interest in what you're doing.
I celebrate by going to the Raising Cane's by UT Austin. This is a fried-chicken chain that exists primarily in the Southwest. I come here today because I have a fond memory of eating here with my friends after a cryptocurrency convention. I eat an entire The Box Combo—four chicken tenders, Texas toast, crinkle-cut fries, coleslaw, and a fountain drink—in ten minutes, then go smoke outside. I watch the gradient sky shift to pink in the fast-food parking lot.
Day Three
I go to the Austin Film Society to see Fire of Love, a new documentary about the volcanologist couple Maurice and Katia Krafft. It's the best thing I've seen in ages. I've developed a recent fascination with islands, volcanoes, and exotica, and the film's archival footage is right up my alley: analog shots of molten lava, flame-resistant silver suits, and dances with annihilation.
The beauty and power of volcanoes lie in their inhuman, grandiose capacity for eruption, their indifference to culture. My Twitter mutuals the philosophers Thomas Murphy and Ed Berger have used plate tectonics as an analogy for what they see as a much-needed strategy of cultural "defluencing."  Defluencing is a tactic designed to introduce evidence of slow, imperceptible "macrotrends" into discourse, which essentially means jamming Twitter feeds by sharing floods of historical documents or pictures of mountains. I think, with exhaustion, of the countless shortwave cultural developments of the past year, some of which I myself have been swept up in. I imagine the waves of discursivity that are constantly washing over me being replaced by something slower. In Austin, I can sometimes simulate living in a kind of eternal, psychedelic seventies, or at least how I imagine that decade to have been: a hazier, slower period of time. I order one of the Kraffts' books from my phone and swear off reading about particulars, namely contemporary figures or celebrities. Instead, I imagine bubbles of molten BBQ sauce and the upwelling of hot continental rock.
After the movie my friend Anson and I go to the Yellow Jacket where all the chain-punks hang out doing blow. After we get some food, we walk over to see the band Boris play a show off of 7th Street and since we shown up late, they let us watch the end of the set for free. Nice thing about Austin is they still let you do that.
Day Four
Austin is characterized by a humid subtropical climate, according to the Köppen climate classification. I believe that this contributes to its lack of exportable culture: the climate contradicts the Texan geography, which makes strong local branding impossible. Today it rains; I walk to the park multiple times.
Day Five
Some friends of mine are making a feature-length movie called "Rats." Supposedly the rapper Lil B will be in it, and from what I gather the setting is central Texas circa 2009—strip-mall youth culture and puffy skate shoes. I am to be an extra, so my girlfriend and I drive out to Pflugerville.
Lil B doesn't show, so he is replaced by a Soundcloud-type guy I've seen once before. The set has been painted bright pink; the actors and extras are in Day-Glo patent leather, sweating out of the edges of their clothes in the sweltering heat. Apparently one of the extras is a guy they found working at a head shop who was willing to smoke meth on camera. I get into position and have to pretend like I'm talking to my girlfriend; nearby, another couple breaks up and two elderly women eat snow cones.
The event has BBQ catering. I pile it on high because I love BBQ. I sit down at a table with two of the actors. One is a minor league baseball player and the other is a character actor in his sixties who used to be a sportswriter for the San Antonio Express–News. We talk about football, and then how pitchers used to get Tommy John surgery and it would end their careers. A guy at the table next to us is apparently a local Texas legend: an electric-blues guitar player who won a Grammy in the early nineties and keeps boasting about how great his body is for his age. He snaps at the costumers whenever his hair isn't perfect. He's super fried, very out of touch. He has his eyebrow pierced.
The party scene involves the crucifixion of the sportswriter. He has gashes all over his face and is dressed as a cop. People are playing Nerf ball, chasing each other around with super-soakers. The sportswriter is helped up on top of a large wooden cross. Everyone plays and dances around the actor on the cross while he howls and moans. It's giving Texas Chainsaw Massacre death-ritual potlatch. I wander around on a 2000's silver Motorola flip phone.
After the scene ends, I smash a watermelon and feed it to Larry, the pig who lives on the property where we're shooting. Then we head home, driving by flat yellow fields and listening to Terry Allen.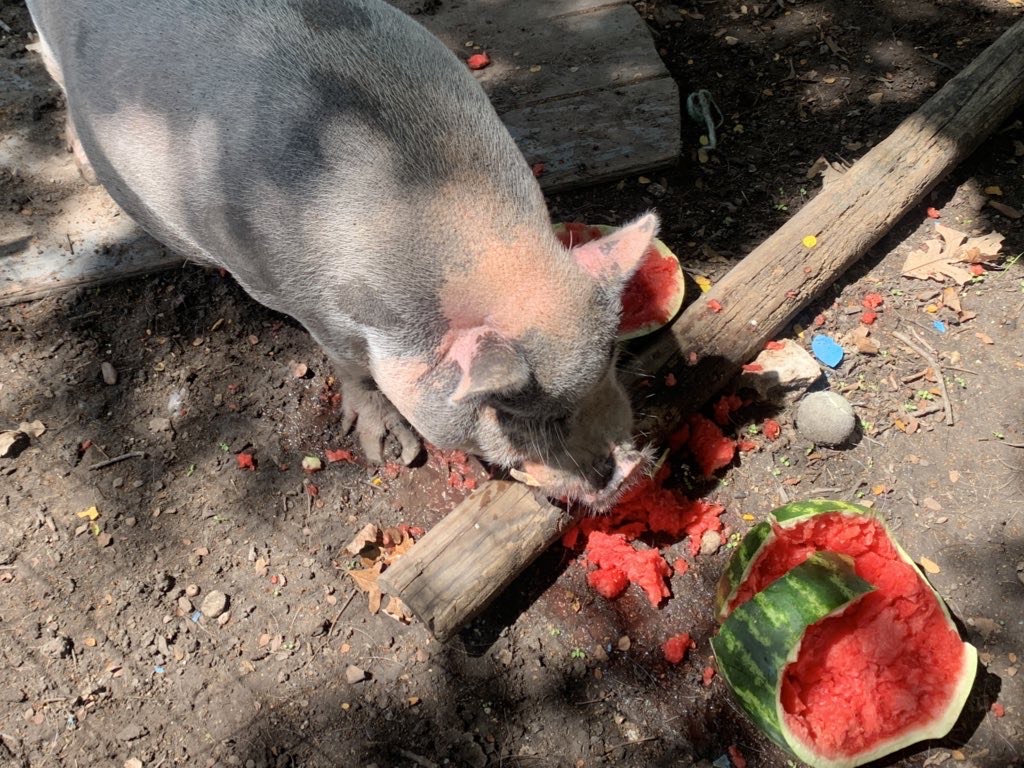 Barrett Avner is a musician and the host of the podcast Contain. He is a coauthor of The Spectre of Finance Punk, a burnout philosophy-fiction inspired by the works of Leibniz, Laruelle, Seth Putnam of Anal Cunt, and Vito Acconci, mixed with buddy humor. It also includes a DVD.