Life After Lockdown in Nanjing
By Shawn Wright, Teacher in Nanjing 2019 – 2020 It's been around 6 weeks since I was released from quarantine. When I first got out, the schools were all still closed. So, I had around a month of extra holiday since I wasn't required to teach online. None of the teachers at my school were allowed to leave Nanjing without having to go through quarantine again, so I decided to take this time to explore new areas of the city and make plans for next year. The majority of other businesses were back open by this point. All of the bars, shops, restaurants, cafés and parks were open with minimal or no restrictions. The main requirement was that you had to wear a face mask whilst out in public and a lot of places asked for a health code that you could get online which basically said that you were virus-free. The only things that were still closed were schools and cinemas. After spending 2 weeks stuck inside the same room it was a bit of a relief to be able to go out and about. One of the first places I visited was a small park that was situated along the main river in Nanjing and beside part of the old city wall. I went for a stroll along the river and through the park and I managed to get up onto part of the wall. The view from the top of the wall looking down into the park was amazing. The area was pretty busy with lots of families out enjoying the warm weather, kids were running around playing in the sun, people were out jogging and everyone was just relaxing as if nothing had ever happened. It was refreshing to see that a bit of normality had returned to Nanjing. On one of the weekends I decided to go and visit the main section of the Nanjing City Wall. The City Wall used to be the longest city wall in the world and the inner part of it is probably one of the best-preserved historical sites in China. The top of the inner wall is around 65ft tall so you can get a pretty impressive view of Nanjing when walking along it. Since it is so well preserved, you can walk along the top for a pretty long time. They even still had their New Year's decorations up (yup, in April), so it was interesting to see those. With its construction being completed around 600 years ago it might not be as old as some of the other historical sites in China, but it is still impressive to see nonetheless. Next to one of the entrances, there was an area called Old Gate East (老门东) which was basically a small district that had been built and housed lots of traditional style buildings. Here there were lots of shops selling handmade crafts, a couple of museums documenting the history of Nanjing and the Jiangsu province and there were also a few restaurants dotted around. Walking through this area was a nice experience since all of the buildings were a more traditional-style rather than the usual high-rise buildings that you often see. It seemed relatively popular for some of the locals to visit here dressed in traditional Chinese clothing which was pretty cool to see and added to the whole experience. Even though I'm not sure how many of the buildings were actually authentic, it was still a really lovely area to visit and explore. Another really cool place I managed to visit was Niushou Mountain Park. This was a fairly modern park which contained some beautiful scenery and the amazing Usnisa Pagoda and Usnisa Palace. The park is located maybe a 30-minute taxi ride from downtown Nanjing, so it's pretty easy to get to. One of the things I really enjoyed about visiting here was that there were very few crowds, which is quite uncommon in China. I would even say that this is potentially one of Nanjing's hidden gems. You could easily spend all day walking through the park and admiring all the wonderful scenery. There are countless little gardens and a few small lakes as well. Along with the pagoda and palace, the park also has a temple and the remains of an old defensive fort that was built well over 1,000 years ago. After I walked around the gardens and the lake, I made my way up one of the mountains towards the Usnisa Palace. There are shuttle buses that can take you to all of the major sites around the park if you're feeling lazy or are pressed for time, but I decided to walk. It was extremely hot which made the trek up a little bit more taxing. However, once I made it to the top, I realised that it was totally worth it. The palace was probably one of the most beautiful sites I've ever seen. It had a giant arch covering it and the golden rooftop was shimmering in the sun. The palace was built as a place of worship for Buddhism but unfortunately nobody was allowed inside yet due to the restrictions imposed during the pandemic. A few weeks ago, my school campus opened back up and some of the older grades were allowed to go back to class. Since the majority of the other primary school teachers didn't make it back to China, I was moved up to teach grade 7 at the middle school and the primary school won't have oral English this semester. So far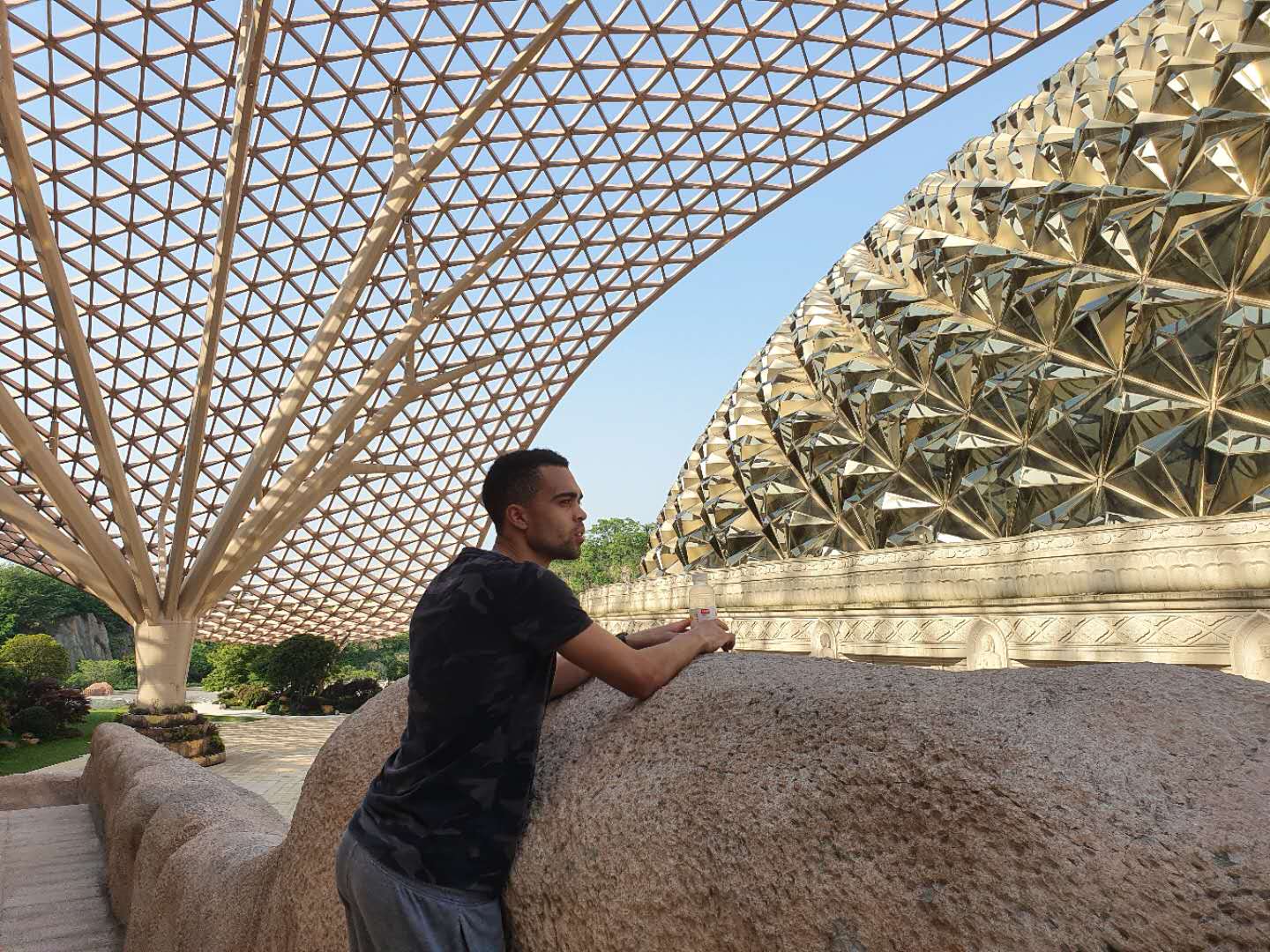 It's been around 6 weeks since I was released from quarantine. When I first got out, the schools were all still closed. So, I had around a month of extra holiday since I wasn't required to teach online. None of the teachers at my school were allowed to leave Nanjing without having to go through quarantine again, so I decided to take this time to explore new areas of the city and make plans for next year.
The majority of other businesses were back open by this point. All of the bars, shops, restaurants, cafés and parks were open with minimal or no restrictions. The main requirement was that you had to wear a face mask whilst out in public and a lot of places asked for a health code that you could get online which basically said that you were virus-free. The only things that were still closed were schools and cinemas. After spending 2 weeks stuck inside the same room it was a bit of a relief to be able to go out and about. One of the first places I visited was a small park that was situated along the main river in Nanjing and beside part of the old city wall. I went for a stroll along the river and through the park and I managed to get up onto part of the wall. The view from the top of the wall looking down into the park was amazing. The area was pretty busy with lots of families out enjoying the warm weather, kids were running around playing in the sun, people were out jogging and everyone was just relaxing as if nothing had ever happened. It was refreshing to see that a bit of normality had returned to Nanjing.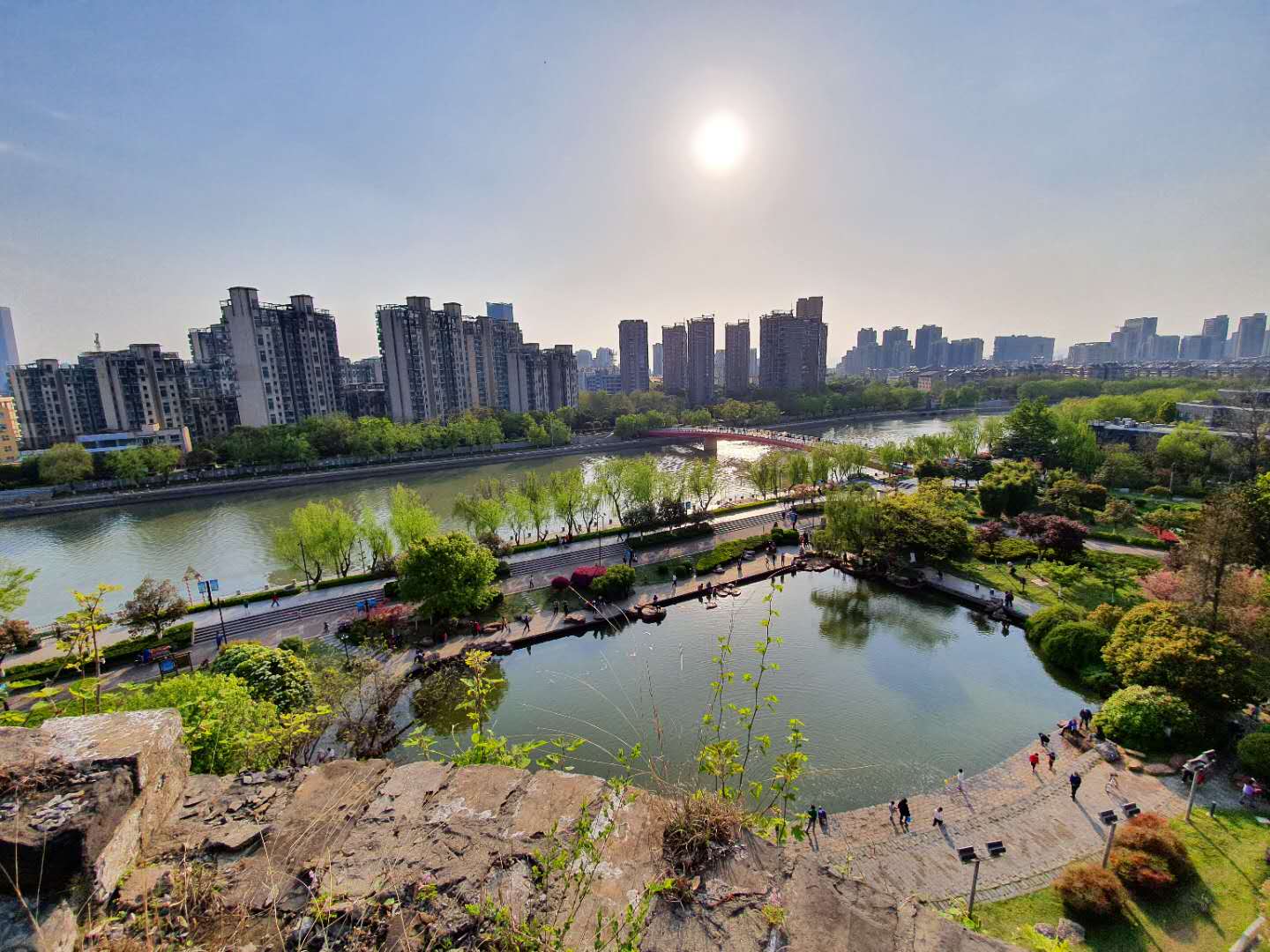 On one of the weekends I decided to go and visit the main section of the Nanjing City Wall. The City Wall used to be the longest city wall in the world and the inner part of it is probably one of the best-preserved historical sites in China. The top of the inner wall is around 65ft tall so you can get a pretty impressive view of Nanjing when walking along it. Since it is so well preserved, you can walk along the top for a pretty long time. They even still had their New Year's decorations up (yup, in April), so it was interesting to see those. With its construction being completed around 600 years ago it might not be as old as some of the other historical sites in China, but it is still impressive to see nonetheless. Next to one of the entrances, there was an area called Old Gate East (老门东) which was basically a small district that had been built and housed lots of traditional style buildings. Here there were lots of shops selling handmade crafts, a couple of museums documenting the history of Nanjing and the Jiangsu province and there were also a few restaurants dotted around. Walking through this area was a nice experience since all of the buildings were a more traditional-style rather than the usual high-rise buildings that you often see. It seemed relatively popular for some of the locals to visit here dressed in traditional Chinese clothing which was pretty cool to see and added to the whole experience. Even though I'm not sure how many of the buildings were actually authentic, it was still a really lovely area to visit and explore.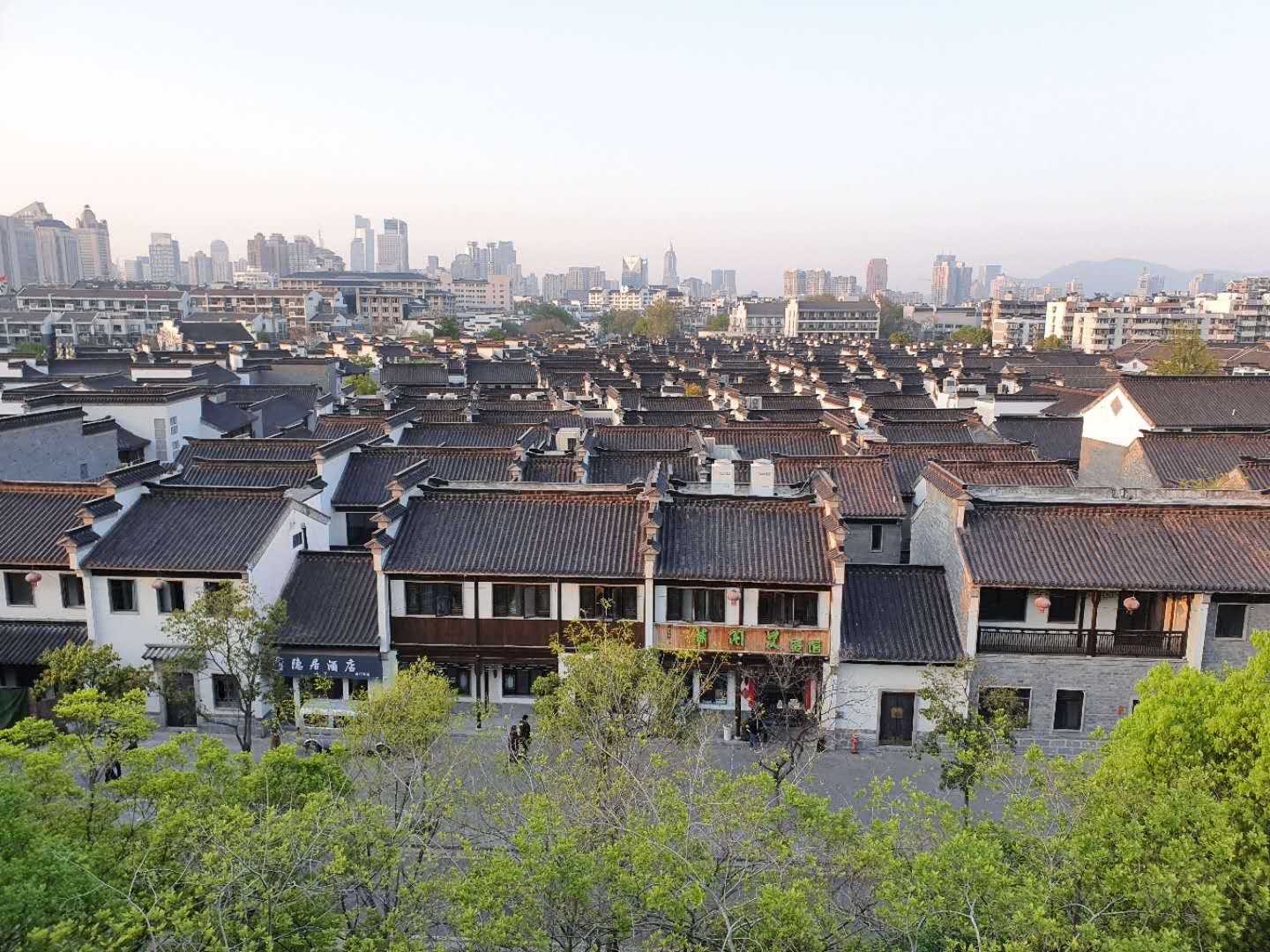 Another really cool place I managed to visit was Niushou Mountain Park. This was a fairly modern park which contained some beautiful scenery and the amazing Usnisa Pagoda and Usnisa Palace. The park is located maybe a 30-minute taxi ride from downtown Nanjing, so it's pretty easy to get to. One of the things I really enjoyed about visiting here was that there were very few crowds, which is quite uncommon in China. I would even say that this is potentially one of Nanjing's hidden gems. You could easily spend all day walking through the park and admiring all the wonderful scenery. There are countless little gardens and a few small lakes as well. Along with the pagoda and palace, the park also has a temple and the remains of an old defensive fort that was built well over 1,000 years ago. After I walked around the gardens and the lake, I made my way up one of the mountains towards the Usnisa Palace. There are shuttle buses that can take you to all of the major sites around the park if you're feeling lazy or are pressed for time, but I decided to walk. It was extremely hot which made the trek up a little bit more taxing. However, once I made it to the top, I realised that it was totally worth it. The palace was probably one of the most beautiful sites I've ever seen. It had a giant arch covering it and the golden rooftop was shimmering in the sun. The palace was built as a place of worship for Buddhism but unfortunately nobody was allowed inside yet due to the restrictions imposed during the pandemic.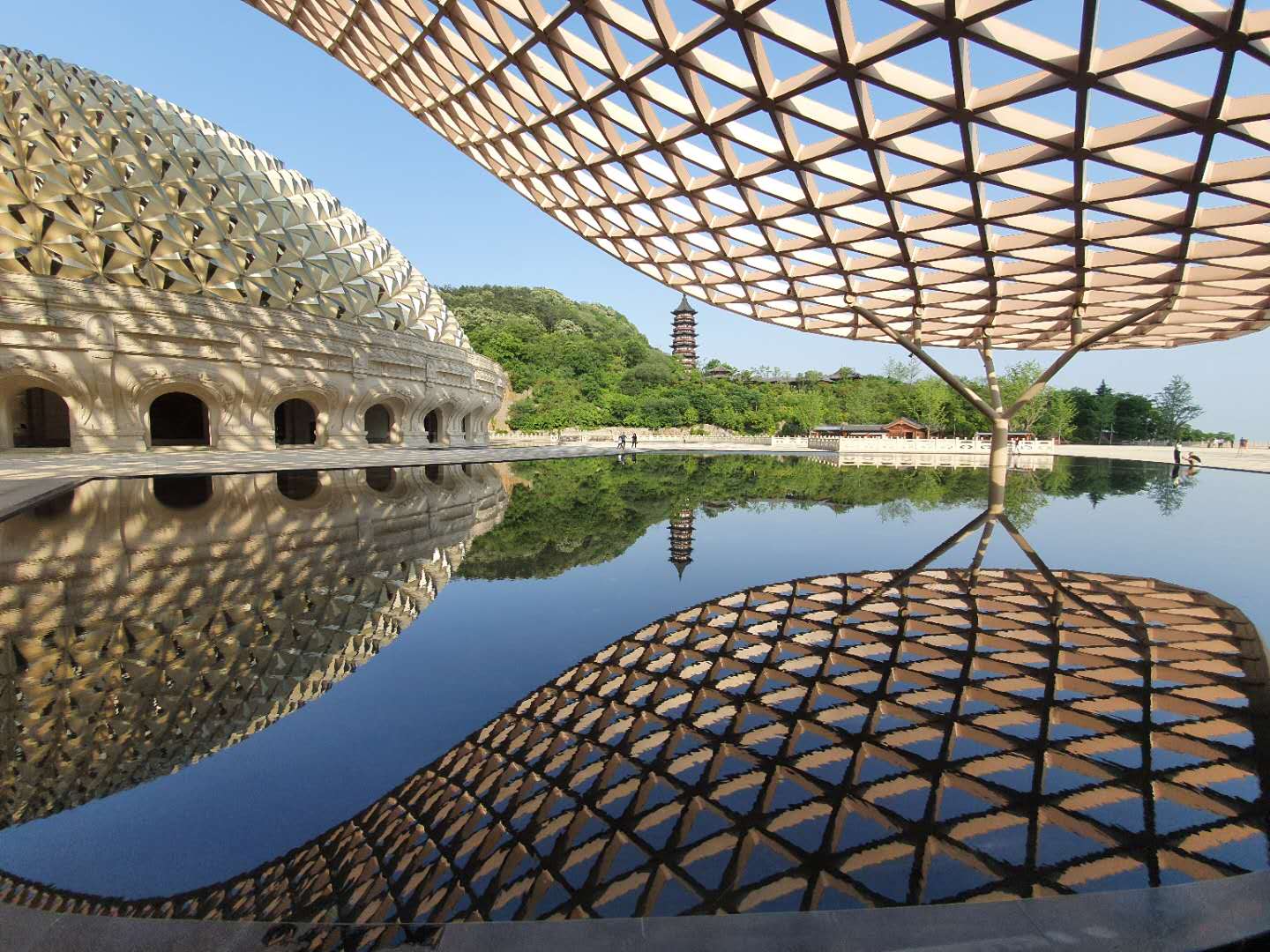 A few weeks ago, my school campus opened back up and some of the older grades were allowed to go back to class. Since the majority of the other primary school teachers didn't make it back to China, I was moved up to teach grade 7 at the middle school and the primary school won't have oral English this semester. So far, I've really enjoyed teaching the older age group. They are a similar age to the kids I taught at the summer camp and their English is good enough that you can have a proper conversation with them. There aren't really many restrictions to follow in the classroom either. All of the desks are separated and everyone was required to wear a face mask in class (although that rule has just been relaxed as of this week), but apart from that it's pretty much back to business as normal. The only downside is that I now teach 22 different classes and only see each class once every 2 weeks, so remembering all of their names will be impossible. But overall, it's been a very nice change. Especially only having to teach 11 periods per week.
I feel like I've been very lucky during this whole pandemic. I was leaving China for Spring Festival just as the restrictions were being imposed here and then I managed to leave the UK a few days before our lockdown began. So, apart from quarantine I've pretty much managed to avoid lockdown. Seeing how greatly things have improved here in Nanjing has given me hope for the rest of the world. With any luck, life will begin to go back some sort of normality shortly and this will be just a bad memory for everyone.
Colloquial Chinese (Colloquial Series)