Kosovo wants to start NATO-Serbia war – Belgrade
Kosovo Albanian leaders are channeling Ukraine's Vladimir Zelensky in trying to provoke a NATO-Serbia war, said Aleksandar Vucic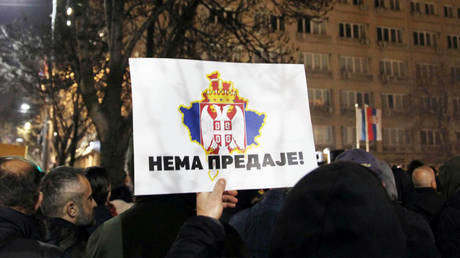 Kosovo wants to start NATO-Serbia war – Belgrade
The Serbian president compared the breakaway province's leader to Ukraine's Zelensky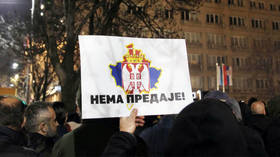 Serbian President Aleksandar Vucic accused on Friday the ethnic Albanian authorities in the breakaway province of Kosovo of attempting to provoke a war in which NATO would once again take their side.
"They want to drag Serbia into a conflict with NATO. Kurti wants to be like [Vladimir] Zelensky, and I would be some kind of [Vladimir] Putin," Vucic said, referring to the presidents of Ukraine and Russia. "It's what they're after, what they've been doing all along. And in this, they have the support of a significant part of the international community, because [Kosovo] is their child."
"war crimes" dating back to the 1998-99 conflict, which ended with NATO bombing Serbia on behalf of the ethnic Albanian separatists. The provisional government in Pristina declared independence in 2008, with Western support, which Belgrade has refused to recognize.
"They don't want normalization, they want to humiliate Serbia," said Vucic. "But I'm telling you, that won't happen. There will be no humiliation, no capitulation."
The proposal for "normalization of relations" between Pristina and Belgrade, made public last month by the EU, amounts to a de facto recognition of the breakaway province, which would have the right to join NATO, the EU and the UN. Vucic insists he did not sign anything and will never agree to those terms.
"We are preparing for talks on Monday or Tuesday," he said, referring to the EU-sponsored talks in neighboring North Macedonia. "But it's not clear to me why. They said they wouldn't agree to a deal. Well, why are you coming then? For us to recognize Kosovo?"
visa-free travel to the bloc, while threatening an economic boycott against Serbia unless it joined the Western sanctions against Russia.