Knowadays Editor Course: Complete Review and Guide
If you're interested in snagging some freelance editing work, taking the Knowadays editor course is an excellent way to help you get started. I've just completed their editing course and, in this post, I'll be sharing a comprehensive review of it with you.Knowadays (formerly called Proofreading Academy) is an industry-leading provider of online proofreading and editing courses. Their Becoming an Editor course is fantastic and I'd definitely recommend it to any prospective editors out there. Table of Contents Whether you're a digital nomad, a stay-at-home parent, or are simply looking for a side hustle, editing is an excellent way to earn money online. It's very flexible, you work for yourself, from anywhere, and are in total control over your hours and workload. Sounds good, right? I just took the Editor course with Knowadays while working remotely in Asia! The course can be done from anywhere in the world Knowadays Editor Course: Quick Look Here are a few of the key takeaways to note about the editor course with Knowadays. The course takes 15-25 hours: this depends on how fast you read, how much time you take on the sample exercises, and whether you choose to complete each module of the course. Learn at your own pace: all of the course materials are online and there's no time limit on completing the course, so you can learn in your own time and at your own pace. Comprehensive modules on academic, creative, and business writing: you can either work through each of these modules in turn or—if you're more interested in working in one of these specific fields—focus your efforts on the one that appeals most. Quizzes to test your understanding: to help solidify your understanding of the material, there are quizzes at the end of each module and lesson. These don't count toward your overall grade, but I found them very helpful when revising for the final assessment. You choose the topic of your final assignment: once you have completed the course, you do a final assignment in the form of an assessed proofreading exercise. There are three different tasks (academic, creative, and business writing), and you get to choose which one to do, depending on the type of editing work you are most interested in. Pass grade: the pass grade is 56%. If you get 70-79%, you are awarded a merit grade, and 80% or above earns you a distinction. One-on-one feedback: after your final assessment has been marked, you can schedule a call with one of the Knowadays tutors for feedback on your results. Course cost: the course costs $499. Right now, there's a 15% discount when you bundle the Proofreading and Editing Course (more on this below). Free trial: a small sample of the Becoming an Editor course is available as a free trial, so you can try it before you commit to spending any money. Learn more: you can find out more information about the course here. What is Knowadays? Knowadays is one of the most highly-regarded providers of online proofreading courses and editing courses. It was founded in 2017 (under the former name of Proofreading Academy) and quickly became known for the excellence and comprehensiveness of its online courses. The company has a 4.8/5 score on Trustpilot and its two main courses (Becoming a Proofreader and Becoming an Editor) are accredited for Continuing Professional Development (CPD) in many countries. Although Knowadays' courses are all 100% online (meaning you can do them from anywhere), the company has several highly-qualified tutors who can help you if you get stuck at any point. One of these tutors will mark your final assessment and will offer you a feedback session once you've completed the course. Who is the Becoming an Editor Course For? Whether you are a remote worker, a digital nomad, a van lifer, or even a stay-at-home parent, Becoming an Editor is an excellent course for any aspiring freelance editor. The Editor Course is great for digital nomads and remote workers, or if you want to make money from home Although it's not strictly a prerequisite to scoring editing work, taking this course is a great way to improve your skillset and make your resume more attractive to prospective clients. Even if you've done editing work before, you will almost certainly find the course beneficial. It doesn't matter whether you have relevant qualifications or prior editing experience though, anybody over the age of 18 can take this course. You don't need to be a native English speaker, and there are no country requirements, although you do need to be fluent in the English language. If you visit the testimonials page on Knowadays' website, you'll see that the company has successfully taught students from a wide range of different professional backgrounds. As long as you have a computer or laptop, Microsoft Word (y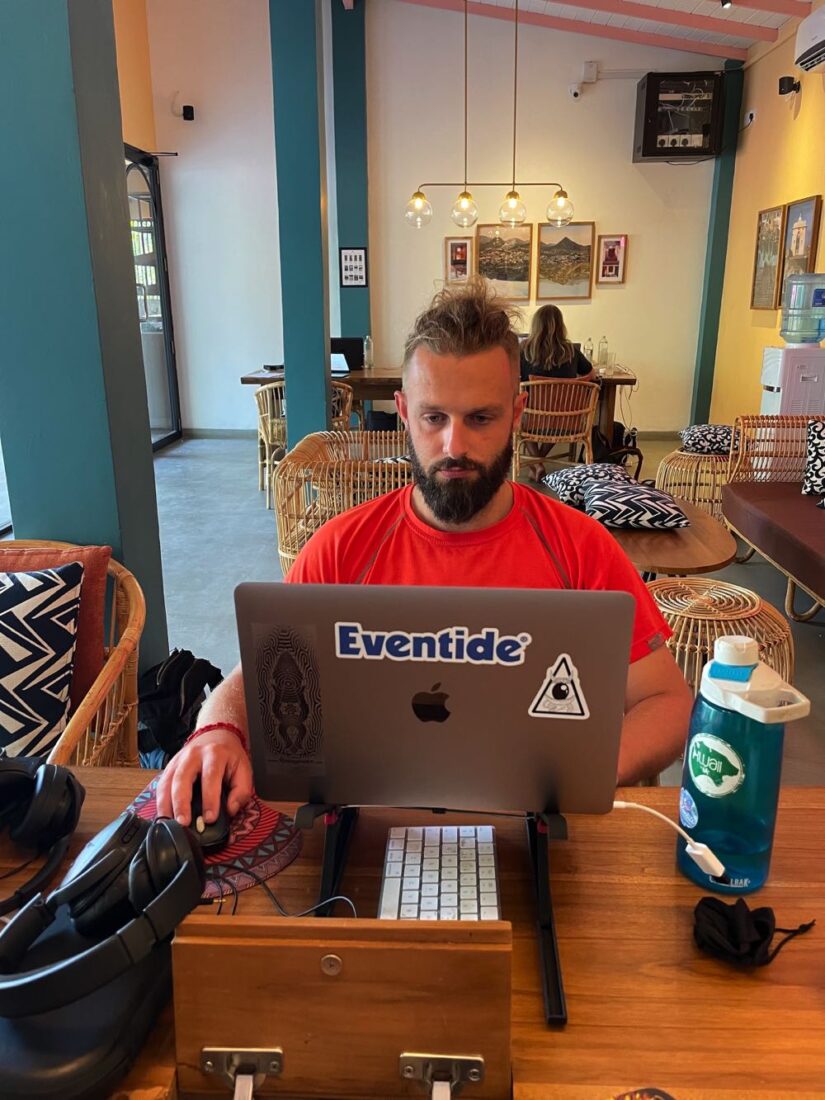 If you're interested in snagging some freelance editing work, taking the Knowadays editor course is an excellent way to help you get started. I've just completed their editing course and, in this post, I'll be sharing a comprehensive review of it with you.
Knowadays (formerly called Proofreading Academy) is an industry-leading provider of online proofreading and editing courses. Their Becoming an Editor course is fantastic and I'd definitely recommend it to any prospective editors out there.
Whether you're a digital nomad, a stay-at-home parent, or are simply looking for a side hustle, editing is an excellent way to earn money online.
It's very flexible, you work for yourself, from anywhere, and are in total control over your hours and workload. Sounds good, right?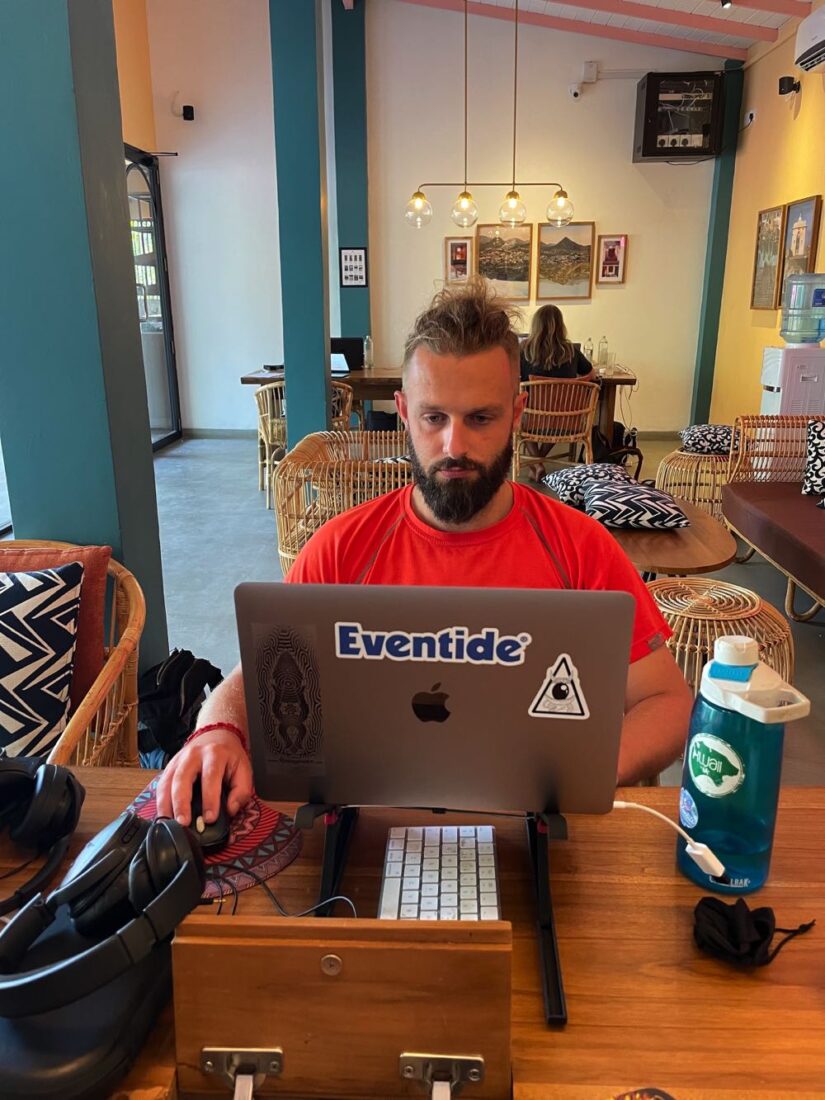 Knowadays Editor Course: Quick Look
Here are a few of the key takeaways to note about the editor course with Knowadays.
The course takes 15-25 hours: this depends on how fast you read, how much time you take on the sample exercises, and whether you choose to complete each module of the course.
Learn at your own pace: all of the course materials are online and there's no time limit on completing the course, so you can learn in your own time and at your own pace.
Comprehensive modules on academic, creative, and business writing: you can either work through each of these modules in turn or—if you're more interested in working in one of these specific fields—focus your efforts on the one that appeals most.
Quizzes to test your understanding: to help solidify your understanding of the material, there are quizzes at the end of each module and lesson. These don't count toward your overall grade, but I found them very helpful when revising for the final assessment.
You choose the topic of your final assignment: once you have completed the course, you do a final assignment in the form of an assessed proofreading exercise. There are three different tasks (academic, creative, and business writing), and you get to choose which one to do, depending on the type of editing work you are most interested in.
Pass grade: the pass grade is 56%. If you get 70-79%, you are awarded a merit grade, and 80% or above earns you a distinction.
One-on-one feedback: after your final assessment has been marked, you can schedule a call with one of the Knowadays tutors for feedback on your results.
Course cost: the course costs $499. Right now, there's a 15% discount when you bundle the Proofreading and Editing Course (more on this below).
Free trial: a small sample of the Becoming an Editor course is available as a free trial, so you can try it before you commit to spending any money.
Learn more: you can find out more information about the course here.
What is Knowadays?
Knowadays is one of the most highly-regarded providers of online proofreading courses and editing courses. It was founded in 2017 (under the former name of Proofreading Academy) and quickly became known for the excellence and comprehensiveness of its online courses.
The company has a 4.8/5 score on Trustpilot and its two main courses (Becoming a Proofreader and Becoming an Editor) are accredited for Continuing Professional Development (CPD) in many countries.
Although Knowadays' courses are all 100% online (meaning you can do them from anywhere), the company has several highly-qualified tutors who can help you if you get stuck at any point.
One of these tutors will mark your final assessment and will offer you a feedback session once you've completed the course.
Who is the Becoming an Editor Course For?
Whether you are a remote worker, a digital nomad, a van lifer, or even a stay-at-home parent, Becoming an Editor is an excellent course for any aspiring freelance editor.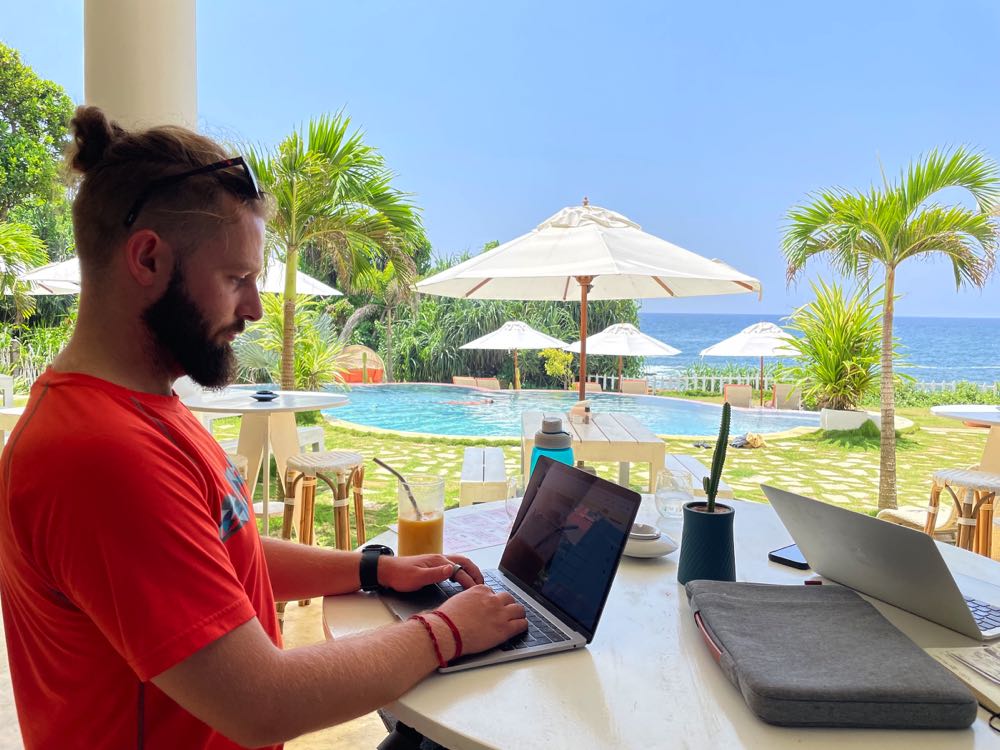 Although it's not strictly a prerequisite to scoring editing work, taking this course is a great way to improve your skillset and make your resume more attractive to prospective clients. Even if you've done editing work before, you will almost certainly find the course beneficial.
It doesn't matter whether you have relevant qualifications or prior editing experience though, anybody over the age of 18 can take this course.
You don't need to be a native English speaker, and there are no country requirements, although you do need to be fluent in the English language.
If you visit the testimonials page on Knowadays' website, you'll see that the company has successfully taught students from a wide range of different professional backgrounds.
As long as you have a computer or laptop, Microsoft Word (you can get a free 1-month trial here), and a semi-decent internet connection, you can get started right away!
What Kind of Editing Jobs Can I Get?
"Editing" is a catch-all term for a wide range of different jobs. You can choose to specialize in developmental editing, structural editing, substantive (or content) editing, copy editing, or line editing. These are all quite different (the differences are explained in detail in the course!).
There's also a significant difference in the sort of work you will need to do depending on the sector and the intended audience. As you can probably imagine, editing formal business documents is very different from editing children's books.
The majority of editing jobs cover either academic, creative, or business writing. And the Knowadays editor course contains detailed modules on editing each of these different types of writing, so you'll be well-equipped for whatever type of work you want to pursue.
The qualification you gain after completing the course doesn't specify what types of editing work you can (or should) take on. But, it does provide guidance on the sorts of things you need to bear in mind for each.
You don't need to take Knowadays' Becoming a Proofreader course to do the editing course. However, you can increase the scope of freelance work available to you by purchasing both courses as a "bundle", which also gives you a 15% discount on both. Click here for details.
To find editing jobs, have a look at Upwork or FlexJobs (use promo code NOMAD to receive 30% off). You'll get guaranteed work with Knowadays when you take their Proofreading course.
☞ SEE ALSO: How to Find Proofreading Jobs Online (Earn $45 per Hour)
Taking the Knowadays Editing Course
In this section of my Knowadays editing course review, I'll discuss the course's main features, what's included, and my personal feelings about it.
It's a comprehensive course that covers a wide range of topics, from the fundamentals of editing to in-depth advice on how to tackle specific types of work (e.g. how to edit marketing materials and PR copy).
My Personal Experience with the Editing Course
This is the second Knowadays course I've taken. As with the proofreading course, I was very impressed by the Becoming an Editor course.
It took me about 15 hours to complete. The materials are comprehensive, each topic is explained well, and the course is structured in a helpful way that's easy to follow.
I especially liked the fact that you can tailor the course to your personal preferences, and choose what type of documents you work on for the final assessment.
Because I'm more interested in finding editing work with business clients, I spent the majority of my time on the course focusing on the business writing modules and skimmed over the academic and creative writing modules.
I also liked the worked examples (mostly documents in Word with tracked changes and comments) to show you the sorts of edits that you'd be expected to make on a real-life editing job.
What's Included in the Course?
Here are the key features of the Knowadays editor course.
7 modules, each broken down into lessons and sub-units.
Most of the course material is written, with examples throughout to demonstrate how the theory translates into practice.
Detailed modules focusing on the skills required for editing academic, creative writing, and business texts, and key issues to look out for with each.
Realistic case studies for you to practice on. These are great for showing what real-life editing work involves, and are also helpful to use when revising for the final assessment.
Quizzes at the end of each lesson, plus end-of-module tests. None of these count toward your final grade, but are helpful for testing your understanding and reinforcing your knowledge.
A dedicated team that can help you with any area(s) of the course that you find difficult.
A final assessment where you can choose to edit a selection of business, academic, or creative writing texts. You can take as long as you want to complete this and have full access to your notes and the course materials throughout.
Once you've submitted your final assessment and it's been graded, you get a 1-on-1 feedback session with one of the Knowadays tutors.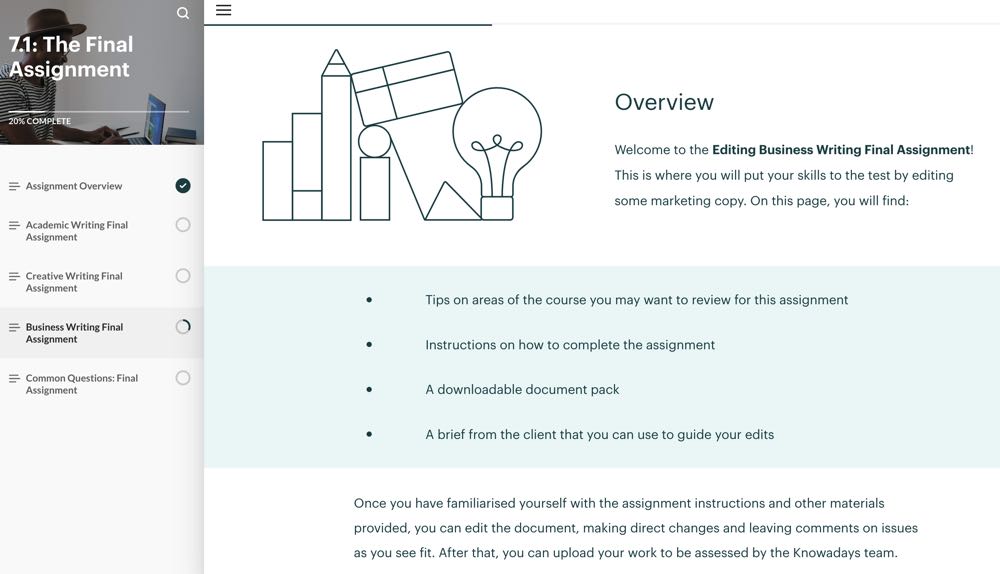 Topics Covered in the Editing Course
The topics covered in the course are as follows.
An introduction to editing and the different types of work available.
The differences between editing and proofreading.
Key features of developmental editing, comprehensive editing, and line editing.
Academic proofreading, including ethics and how to avoid plagiarism.
Creative writing (fiction and non-fiction) and working with the publishing industry.
Editing the various forms of business writing (company documents, PR copy, marketing materials, etc.).
Information, advice, and other tips on how to find work as a freelance editor.
Guidance on how to manage relationships with clients.
Course Outline
Here's an outline of the content of the course and what you will learn throughout the process.
Module 1 (Introduction): An initial walkthrough of the course, how to access and use the materials, and other preliminary information.
Module 2 (Understanding Editing): an introduction to editing, and the various different types of editing projects you are likely to encounter.
Module 3 (Line and Comprehensive Editing): this module provides a detailed explanation of the different types of editing tasks.

The differences between developmental editing, line editing, and comprehensive editing.
How to tackle each of the above as effectively as possible, and what to look out for with each.
Editing for structure, content, and style.

Module 4 (Editing Academic Writing): a deep dive into the world of editing academic writing.

Working with academic writers and publishers.
The typical structure of academic writing.

How to edit academic content effectively and professionally.
Issues to consider when editing academic texts, including how to avoid academic plagiarism.
Editing for style.
An academic editing case study and a final (unassessed) exercise to test your skills.

Module 5 (Editing Creative Writing): this is a lengthy module covering the various different types of creative writing, including fiction and non-fiction.

The differences between editing for authors vs. publishers.
How to edit manuscripts.

Understanding narrative, genre, structure, voice, settings, and characters.

Literary devices, and appropriate use of non-standard English.
Editing fiction vs. non-fiction.
Children's literature and other forms of creative writing.
Case studies on editing narrative fiction and non-fiction, plus a final (unassessed) exercise.

Module 6 (Editing Business Writing): business writing covers a broad range of material and this module covers the skills you'll need to be able to edit different types of business writing.

Best practices when working with business clients.
Different types of commercial copy (formal corporate documents, PR materials, sales copy, blog posts, user manuals, etc.).
How to edit formal and technical business writing.
Editing for structure, content, and style in a business context.
Case studies covering formal business writing and commercial copy, plus a final (unassessed) exercise.

Module 7 (The Final Assignment): here you can choose to edit a selection of either business, academic, or creative writing texts.

Make your choice based on which of these fields interests you the most.
Then you perform a practical markup of your chosen selection of texts using Microsoft Word's track changes function.

After you submit the final assessment, you wait for the work to be marked (the company says that this can take up to seven days).
Then, you are given your final score and have an opportunity to schedule a call with one of the Knowadays tutors to go through your work.
Cost of the Course
The Knowadays editor course currently costs $499. You can pay for this with a credit or debit card. If you're based in the United States or the UK, the company also offers a payment plan (via Klarna) that allows you to split the cost over several monthly installments.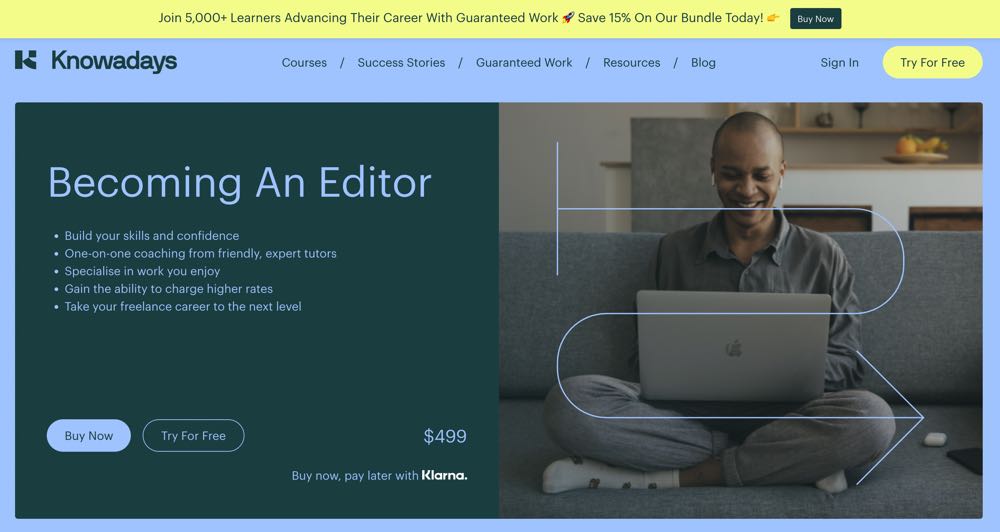 Once the payment is confirmed, the course is added to your profile, and you get access to all of the materials immediately. You can access this from any device by logging in with your username and password.
You don't need to also take Knowadays' Becoming a Proofreader course to do the editor course. However, the company is currently offering a "bundle" deal where you can purchase both at the same time with a 15% discount on both courses.
Click here to learn more about this bundle option, and click here to learn more about just the Editor course.
Knowadays Editing Course: Pros and Cons
Overall, I think this is a really excellent course and definitely worth the money if you are serious about getting high-quality freelance editing work.
Here's a summary of the key pros and cons to help you decide whether this is a good course for you to invest in.
Pros
The quality of the materials is excellent—this is a really detailed and comprehensive course and equips you with a strong arsenal of skills.
It goes into considerable depth on a range of different topics, providing you with comprehensive knowledge, plus lots of useful hints and tips to help you excel as an editor.
There are numerous worked examples to show you exactly what sort of amendments you should be making (and the sorts of changes you should not make) in various different contexts.
The course structure is laid out clearly and is easy to follow.
Quizzes at the end of each lesson help to test your understanding of the course content and are great for revision.
As well as materials showing you how to edit the various documents, the course also provides you with guidance on how to manage relationships with clients.
There's no time limit for completing the course—or the final assessment—so you can complete everything in your own time.
It's 100% online, so you can access the materials and complete the course from anywhere.
You can choose what type of documents you work on for the final assessment. (This was one of my favorite things about the course.)
The free trial means that you can try before you buy!
Cons
At $499, it's a fairly expensive course. (Although, when you consider how this investment will help you find higher quality—and higher paying—work, I'd say it's well worth the investment!)
Some of the material is a little dense and dry (especially in relation to editing academic texts), although this is probably unavoidable given the subject matter.
Virtually all of the course material is in the form of written material. This is fine if you're happy to absorb written content and learn easily by reading. But it may not be so good for people who prefer different learning styles (e.g. auditory or visual learners).
Knowadays FAQs
Here are answers to some frequently asked questions about taking the editing course with Knowadays.
Is the Knowadays editing course legit?
Yes! The Knowadays editing course is definitely legit. It's a very comprehensive and well-designed course that covers a wide range of useful materials. Knowadays is one of the most highly-regarded providers of online editing and proofreading courses, so you'll be in good hands.
Are Proofreading Academy and Knowadays the same?
Knowadays used to be called Proofreading Academy. You'll probably come across Proofreading Academy reviews online and, while these reviews are now a little out of date, it's effectively the same company.
How much does the editor course with Knowadays cost?
The editor course with Knowadays costs $499. However, if you purchase it as a bundle with the Proofreading course, you'll get a 15% discount on both courses.
Why should I take an editing course?
There are many reasons why you should take an editing course. It will help to improve your editing skills, enhance your resume, boost your confidence, help you negotiate relationships with clients as a freelancer, and help you find high-quality editing work online.
Does Knowadays provide guaranteed work?
Knowadays only guarantees you work with their partner agency, Proofed, if you pass the Becoming a Proofreader course with 80% or higher (i.e. a distinction). The Becoming an Editor course doesn't come with the same guarantee by itself.
However, on the Guaranteed Work page of Knowadays' website, the company says that earning a distinction in Becoming a Proofreader and passing Becoming an Editor "expands your opportunities with Proofed."
In practice, this means that you will have access to a broader range of work assignments and will be paid more for working on certain documents.
What's the difference between the proofreading and editing courses with Knowadays?
While there is a degree of overlap between proofreading and editing, the two disciplines are quite distinct.
Knowadays' proofreading course largely covers topics that are relevant to that field, such as spelling, grammar, punctuation, and regional differences in the use of language (e.g. British English vs. US English).
Editing can require more significant changes to the content of a document, and the editing course focuses on issues like improving a text's flow, readability, structure, tone, and overall quality.
In Conclusion
I hope this Knowadays editor course review has been useful and informative. Overall, I think the course would be an excellent investment for anybody who is interested in a flexible career (or a side hustle) in editing.
I especially liked the fact that the course has a range of detailed materials covering the different types of editing work you might want to pursue.
Whether you're interested in editing business, academic, or creative writing, this course contains a wealth of useful information that will help you score top-quality editing work.
You'll learn a range of editing techniques—from basic to advanced—and the added boost the course will give your resume will make it easier for you to find work, especially if you combine it with the proofreading course.
If you're on the fence about this one, I'd say go for it!