Kiev outlines proposal for tougher sanctions on Moscow
Russian gas should only be transported to the EU through Ukraine, the president's office has suggested The office of Ukrainian President Vladimir Zelensky has proposed a new plan aimed at tightening sanctions on Moscow. It includes the restriction of all direct gas supplies from Russia to the European Union except those delivered via the Ukrainian gas transportation system.Kiev has also recommended that the TurkStream pipeline, which delivers Russian gas to Türkiye, should be shut down.The plan was reportedly developed by an international expert group led by the head of the presidential administration, Andrey Yermak, and former US ambassador to Russia Michael McFaul."End the direct supplies of Russian gas to the European Union, aside from the flows directed via the Ukrainian gas transmission system, which has ample transit capacity," the presidential administration urged.Kiev's plan also proposes the imposition of a ban on imports of Russian liquified natural gas to the EU. Brussels has introduced ten packages of sanctions targeting Russia over its military operation in Ukraine. The penalties were initially aimed at weakening the Russian economy but have resulted in major disruption to global supply chains, throwing the European energy market into turmoil.Prior to the conflict in Ukraine, Russia supplied nearly 40% of the gas consumed by EU countries, mostly through pipeline networks. While the bloc has not banned Russian pipeline gas imports, their flows dwindled significantly after Ukraine-related sanctions were imposed.   Deliveries were also affected by the sabotage of the Nord Stream pipeline, one of the main routes for Russian gas to Europe. Russian gas supplies currently cover about 10% of the bloc's entire consumption, according to Brussels.For more stories on economy & finance visit RT's business section You can share this story on social media: Follow RT on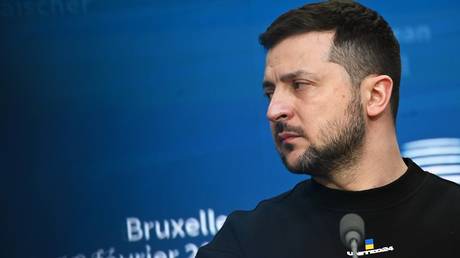 Russian gas should only be transported to the EU through Ukraine, the president's office has suggested
The office of Ukrainian President Vladimir Zelensky has proposed a new plan aimed at tightening sanctions on Moscow. It includes the restriction of all direct gas supplies from Russia to the European Union except those delivered via the Ukrainian gas transportation system.
Kiev has also recommended that the TurkStream pipeline, which delivers Russian gas to Türkiye, should be shut down.
The plan was reportedly developed by an international expert group led by the head of the presidential administration, Andrey Yermak, and former US ambassador to Russia Michael McFaul.
"End the direct supplies of Russian gas to the European Union, aside from the flows directed via the Ukrainian gas transmission system, which has ample transit capacity," the presidential administration urged.
Kiev's plan also proposes the imposition of a ban on imports of Russian liquified natural gas to the EU.
Brussels has introduced ten packages of sanctions targeting Russia over its military operation in Ukraine. The penalties were initially aimed at weakening the Russian economy but have resulted in major disruption to global supply chains, throwing the European energy market into turmoil.
Prior to the conflict in Ukraine, Russia supplied nearly 40% of the gas consumed by EU countries, mostly through pipeline networks. While the bloc has not banned Russian pipeline gas imports, their flows dwindled significantly after Ukraine-related sanctions were imposed.   
Deliveries were also affected by the sabotage of the Nord Stream pipeline, one of the main routes for Russian gas to Europe. Russian gas supplies currently cover about 10% of the bloc's entire consumption, according to Brussels.
For more stories on economy & finance visit RT's business section
You can share this story on social media: