Key Ways to Reduce Hip Pain When Sitting or Traveling
How to limit hip pain when seated During certain times of the year, like the holiday season or summer vacation, travel exposes many people to conditions where they are sitting for long periods of time in cars, trains, or planes. If you suffer from hip problems, this can cause you a lot of pain. In this article, you can learn some easy ways to limit your hip pain while traveling or sitting for long periods in social gatherings. 1.      Adjust the angle of your hip Maintaining a 90-degree angle in your hip position will help you to prevent and limit hip pain. Sitting with your hips at awkward angles can contribute to or worsen conditions like femoroacetabular impingement syndrome, osteoarthritis, or labral tears. These conditions affect the tendons and muscles surrounding the pelvis and hip, and can include: Proximal hamstring tendinopathy Trochanteric bursitis Gluteal tendinopathy Greater trochanteric pain syndrome  They can also affect the nerves that pass through the gluteal muscles, and include: Piriformis syndrome Hip-Related sciatica Deep gluteal syndrome There are several ways that you can adjust your seated position to reduce hip pain: Avoid sitting on chairs or cushions that are low to the ground Sit with a pressure relief cushion to reduce hip compression Use a quality ergonomic chair to assist with maintaining proper posture Sit with a wedge cushion  2.      Limit Compression Here are three easy methods for limiting compression in your hip joint Pain that is concentrated on the ischial tuberosities, or the sit bones, may be related to proximal hamstring tendinopathy or ischiogluteal bursitis. Your goal should be to alleviate the pressure on each of these bones as you sit. A pressure relief cushion constructed of foam in an egg carton-like arrangement can significantly reduce the pressure in your hip and pelvic region. You can also simply use any soft pillow to cushion the surface you're sitting on. If you need something firmer, follow this quick hack: take a piece of dense foam and cut out holes for your sit bones. If your pain is concentrated on the bones at the sides of your hips, it may be related to gluteal tendinopathy or trochanteric bursitis. You may experience discomfort in chairs that hug the sides of your hips and thighs. Bucket seats in your vehicles may apply some pressure to the outer hips. Raising your hips slightly above the seat, away from its edges, may reduce your discomfort. You can use a folded towel in the middle of the seat or a wedge cushion to make a flatter surface for sitting. If you suffer from pain in the tailbone, or coccydynia, sitting in positions that apply pressure directly to the coccyx can be problematic. You can relieve pressure by using a cushion where this area is cut out. If you are unable to find a pre-made cushion prior to travel, this hack can help you sit comfortably: eliminate tailbone pressure using two towels folded lengthwise, one placed under each thigh and buttock, to lift the tailbone above your seat. 3.      Exercise Regularly Exercise stimulates joint lubrication and increases blood flow, to keep muscles and joints supple. Movement is a great way to relieve hip pressure from sitting, even if you are confined to a chair for a long time. Try these exercises while sitting: Gently arch and bend your lower back, tilting your pelvis forward and back. Do this slowly, and within a range of motion that feels comfortable for you Alternately squeeze and release your gluteal muscles, to improve blood flow and ease pressure on your joints Get your legs moving by pumping your ankles upward than downward. Alternate your feet and extend your leg at the knee as far as possible Even if you are on a train or plane, get up and move a little in the aisle whenever you get the chance. If you're taking a road trip in a car, stop at least once per hour and get out to stretch your legs. Factor these rest times into your travel itinerary, so you don't feel rushed. Taking breaks to refresh can also help you avoid fatigue while driving, especially during the holiday season when stress is already running high. If you're at a gathering of family and friends, what better way to mingle and catch up with everyone than to get up and mingle? Your action may even encourage others to get moving with you! Consult a Hip Pain Professional to: Teach you new exercises to reduce your pain Provide an accurate diagnosis for your problem and prescribe the best cushion for support Troubleshoot for the best solutions when self-treatment fails to get the results you want  A hip pain specialist, like those at NYDNRehab, will help you determine the specific cause of your pain and develop a treatment plan to eliminate hip pain and dysfunction, without drugs or surgery.  We use motion and gait analysis technology and diagnostic ultrasonography to pinpoint your pain source. Your personalized treatment plan may include ultrasound-gui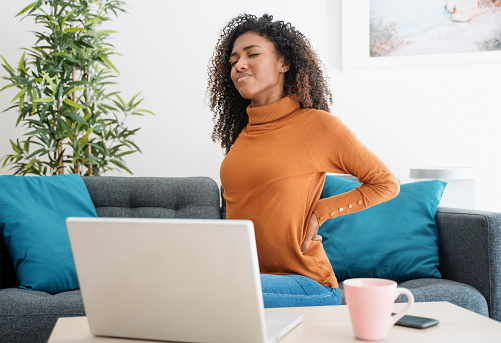 How to limit hip pain when seated
During certain times of the year, like the holiday season or summer vacation, travel exposes many people to conditions where they are sitting for long periods of time in cars, trains, or planes. If you suffer from hip problems, this can cause you a lot of pain. In this article, you can learn some easy ways to limit your hip pain while traveling or sitting for long periods in social gatherings.
1. Adjust the angle of your hip
Maintaining a 90-degree angle in your hip position will help you to prevent and limit hip pain. Sitting with your hips at awkward angles can contribute to or worsen conditions like femoroacetabular impingement syndrome, osteoarthritis, or labral tears.
These conditions affect the tendons and muscles surrounding the pelvis and hip, and can include:
Proximal hamstring tendinopathy
Trochanteric bursitis
Gluteal tendinopathy
Greater trochanteric pain syndrome
They can also affect the nerves that pass through the gluteal muscles, and include:
Piriformis syndrome
Hip-Related sciatica
Deep gluteal syndrome
There are several ways that you can adjust your seated position to reduce hip pain:
Avoid sitting on chairs or cushions that are low to the ground
Sit with a pressure relief cushion to reduce hip compression
Use a quality ergonomic chair to assist with maintaining proper posture
Sit with a wedge cushion
2. Limit Compression
Here are three easy methods for limiting compression in your hip joint
Pain that is concentrated on the ischial tuberosities, or the sit bones, may be related to proximal hamstring tendinopathy or ischiogluteal bursitis. Your goal should be to alleviate the pressure on each of these bones as you sit. A pressure relief cushion constructed of foam in an egg carton-like arrangement can significantly reduce the pressure in your hip and pelvic region.
You can also simply use any soft pillow to cushion the surface you're sitting on. If you need something firmer, follow this quick hack: take a piece of dense foam and cut out holes for your sit bones.
If your pain is concentrated on the bones at the sides of your hips, it may be related to gluteal tendinopathy or trochanteric bursitis. You may experience discomfort in chairs that hug the sides of your hips and thighs. Bucket seats in your vehicles may apply some pressure to the outer hips.
Raising your hips slightly above the seat, away from its edges, may reduce your discomfort. You can use a folded towel in the middle of the seat or a wedge cushion to make a flatter surface for sitting.
If you suffer from pain in the tailbone, or coccydynia, sitting in positions that apply pressure directly to the coccyx can be problematic. You can relieve pressure by using a cushion where this area is cut out. If you are unable to find a pre-made cushion prior to travel, this hack can help you sit comfortably: eliminate tailbone pressure using two towels folded lengthwise, one placed under each thigh and buttock, to lift the tailbone above your seat.
3. Exercise Regularly
Exercise stimulates joint lubrication and increases blood flow, to keep muscles and joints supple. Movement is a great way to relieve hip pressure from sitting, even if you are confined to a chair for a long time. Try these exercises while sitting:
Gently arch and bend your lower back, tilting your pelvis forward and back. Do this slowly, and within a range of motion that feels comfortable for you
Alternately squeeze and release your gluteal muscles, to improve blood flow and ease pressure on your joints
Get your legs moving by pumping your ankles upward than downward. Alternate your feet and extend your leg at the knee as far as possible
Even if you are on a train or plane, get up and move a little in the aisle whenever you get the chance. If you're taking a road trip in a car, stop at least once per hour and get out to stretch your legs. Factor these rest times into your travel itinerary, so you don't feel rushed. Taking breaks to refresh can also help you avoid fatigue while driving, especially during the holiday season when stress is already running high.
If you're at a gathering of family and friends, what better way to mingle and catch up with everyone than to get up and mingle? Your action may even encourage others to get moving with you!
Consult a Hip Pain Professional to:
Teach you new exercises to reduce your pain
Provide an accurate diagnosis for your problem and prescribe the best cushion for support
Troubleshoot for the best solutions when self-treatment fails to get the results you want
A hip pain specialist, like those at NYDNRehab, will help you determine the specific cause of your pain and develop a treatment plan to eliminate hip pain and dysfunction, without drugs or surgery. We use motion and gait analysis technology and diagnostic ultrasonography to pinpoint your pain source. Your personalized treatment plan may include ultrasound-guided dry needling, regenerative therapies, and specialized gait physical therapy to get you lasting results.
Contact NYDNRehab today, to resolve your hip pain and enhance your quality of life!