Kasabian return to Royal Albert Hall for Teenage Cancer Trust
Kasabian headlined day 6 of Teenage Cancer Trust at the Royal Albert Hall.Saturday night welcomed long time Teenage Cancer Trust supporting heroes. Leicester's Kasabian first played this stage in 2007, before returning in 2009, 2013 then again in 2018. This year's performance comes on the heels of their 7th album and another UK Number 1, The Alchemist's Euphoria, released in August last year. Serge Pizzorno, bassist Chris Edwards, drummer Ian Matthews and guitarist Tim Carter went hard from beginning to end. An orchestral swell heralded their relentless beats, a rock n rave began in the venue. Serge whipped the audience into a frenzy, as they mixed tracks from the latest album with classics like 'Club Foot'. The thunderous classic riff to 'Underdog' saw Serge make sure everyone rose as one and by the end, he celebrated bringing everyone to fever pitch. A rendition of 'You're In Love With A Psycho 'gave way to Daft Punk's 'One More Time' and Serge was suddenly in the audience, singing with the fans in the seats. 'Switchblade Smiles' ended the set, but the crowd demanded more and 'Bless This Acid House', 'L.S.F.' and 'Fire' capped an incredible night.Joining Kasabian were Scottish indie rock band, The Snuts. Their 2021 debut album W.L. went straight to Number 1 in the UK Charts, with their sophomore record placing at an impressive No.3 spot just over a year later. The Glaswegians proved their status as one of the most exciting bands in the UK right now, performing like headliners as they swaggered and swayed with favourites like 'The Rodeo', 'Hallelujah Moment' and 'All Your Friends'.And opening the night were Merseysiders, The K's who brought their danceable indie pop and loyal fans shouting "The K's Are on Fire" to supercharge the evening. Night five at the RAH had seen recent Grammy and BRIT Award winners Courteeners celebrate their extraordinary debut album 'St Jude; by playing it in full. In January, the lauded album reached Number 1 for the very first time with its 15th anniversary edition and became the album with the longest time between release and charting at Number 1 in UK chart history. The band and their fans celebrated with raucous passion to light up the Royal Albert Hall.The music concludes for 2023 on Sunday, courtesy of the shows' founder and The Who frontman Roger Daltrey who presents A Special Gala Evening of Music with Friends of Teenage Cancer Trust including Richard Ashcroft, the first live performance from Far From Saints, Lola Lennox, plus very special guest Joan Armatrading.Since 2000, over £32 million has been raised by Teenage Cancer Trust concerts at the Royal Albert Hall, and that money has helped fund specialist nurses, hospital units and support services right across the UK that help get young people through some unimaginably hard times.Roger Daltrey CBE, Teenage Cancer Trust Honorary Patron, and mastermind behind the gigs, said:"The generosity of the people who work in the music and comedy industries never ceases to amaze me. In this, our 21st year, after two years of artists having no shows at all, at a time where the only certain paydays are from live performances, artists are willing to give up their earnings from a London show."It shows us that miracles are everywhere, but if you cough or sneeze you'd miss them!"I'm happy to announce the Royal Albert Hall week for Teenage Cancer Trust!"Katie Collins, Chief Executive, Teenage Cancer Trust, said: "These amazing gigs and their fantastic lineups help us change lives. Because of Roger, the artists, the teams who make these gigs possible and everyone who buys a ticket, we can make sure young people don't face cancer alone and continue to provide the vital, expert care and support that is crucial for young people with cancer."Sunday 26 March - A Special Gala Evening of Music with Roger Daltrey and Friends of Teenage Cancer Trust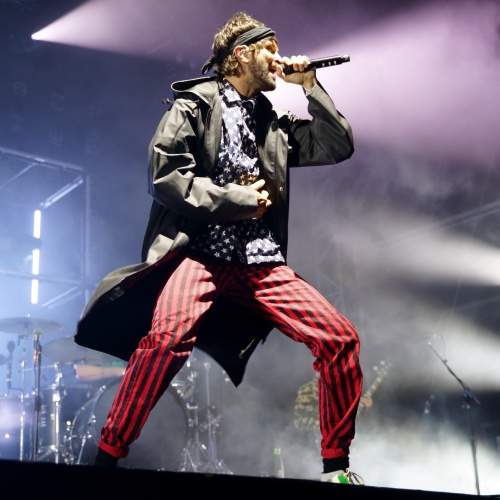 Kasabian headlined day 6 of Teenage Cancer Trust at the Royal Albert Hall.
Saturday night welcomed long time Teenage Cancer Trust supporting heroes. Leicester's Kasabian first played this stage in 2007, before returning in 2009, 2013 then again in 2018. This year's performance comes on the heels of their 7th album and another UK Number 1, The Alchemist's Euphoria, released in August last year.
Serge Pizzorno, bassist Chris Edwards, drummer Ian Matthews and guitarist Tim Carter went hard from beginning to end. An orchestral swell heralded their relentless beats, a rock n rave began in the venue. Serge whipped the audience into a frenzy, as they mixed tracks from the latest album with classics like 'Club Foot'. The thunderous classic riff to 'Underdog' saw Serge make sure everyone rose as one and by the end, he celebrated bringing everyone to fever pitch. A rendition of 'You're In Love With A Psycho 'gave way to Daft Punk's 'One More Time' and Serge was suddenly in the audience, singing with the fans in the seats. 'Switchblade Smiles' ended the set, but the crowd demanded more and 'Bless This Acid House', 'L.S.F.' and 'Fire' capped an incredible night.
Joining Kasabian were Scottish indie rock band, The Snuts. Their 2021 debut album W.L. went straight to Number 1 in the UK Charts, with their sophomore record placing at an impressive No.3 spot just over a year later. The Glaswegians proved their status as one of the most exciting bands in the UK right now, performing like headliners as they swaggered and swayed with favourites like 'The Rodeo', 'Hallelujah Moment' and 'All Your Friends'.
And opening the night were Merseysiders, The K's who brought their danceable indie pop and loyal fans shouting "The K's Are on Fire" to supercharge the evening.
Night five at the RAH had seen recent Grammy and BRIT Award winners Courteeners celebrate their extraordinary debut album 'St Jude; by playing it in full. In January, the lauded album reached Number 1 for the very first time with its 15th anniversary edition and became the album with the longest time between release and charting at Number 1 in UK chart history. The band and their fans celebrated with raucous passion to light up the Royal Albert Hall.
The music concludes for 2023 on Sunday, courtesy of the shows' founder and The Who frontman Roger Daltrey who presents A Special Gala Evening of Music with Friends of Teenage Cancer Trust including Richard Ashcroft, the first live performance from Far From Saints, Lola Lennox, plus very special guest Joan Armatrading.
Since 2000, over £32 million has been raised by Teenage Cancer Trust concerts at the Royal Albert Hall, and that money has helped fund specialist nurses, hospital units and support services right across the UK that help get young people through some unimaginably hard times.
Roger Daltrey CBE, Teenage Cancer Trust Honorary Patron, and mastermind behind the gigs, said:
"The generosity of the people who work in the music and comedy industries never ceases to amaze me. In this, our 21st year, after two years of artists having no shows at all, at a time where the only certain paydays are from live performances, artists are willing to give up their earnings from a London show.
"It shows us that miracles are everywhere, but if you cough or sneeze you'd miss them!
"I'm happy to announce the Royal Albert Hall week for Teenage Cancer Trust!"
Katie Collins, Chief Executive, Teenage Cancer Trust, said: "These amazing gigs and their fantastic lineups help us change lives. Because of Roger, the artists, the teams who make these gigs possible and everyone who buys a ticket, we can make sure young people don't face cancer alone and continue to provide the vital, expert care and support that is crucial for young people with cancer."
Sunday 26 March - A Special Gala Evening of Music with Roger Daltrey and Friends of Teenage Cancer Trust