K-Pop Besties: Girl's Day's HyeRi And BLACKPINK's Rosé Are BFF Goals And Here's Why
BLACKPINK Rosé's Instagram Welcome to the tenth article of Kpopmap's monthly series "K-Pop Besties"! This series is celebrating all of the different friendships that exist in K-Pop. We will look at some of the moments when K-Pop idols (and sometimes actors) showed off their close friendships with one another and other entertainment industry members. Check out the rest of the "K-Pop Besties" series here! Readers voted for BLACKPINK's Rosé and Girl's Day's HyeRi in our monthly poll to be featured this month. If you are a new K-Pop fan you might not know how their friendship started. Let's take a look back at their friendship. Before starting this month's series, you can vote for who you want to see featured in next month's article. If you would like to see a different idol friendship (not mentioned in the poll) featured in the series, please leave their name in the comments and we will add them to the vote over time. Who would you like to see in the next "K-Pop Besties" article? ~ Aug 04, 2022 (KST) ※You can vote multiple times without sign in. TXT's YeonJun and ATEEZ's WooYoung Dreamcatcher's SuA and A.C.E's Jun Block B's P.O. and WINNER's Mino BLACKPINK's Jennie and Jung HoYeon MAMAMOO's WheeIn and MAMAMOO's HwaSa Result View Important notice: the vote only decides who will be featured in the next article. Everyone in the poll will be featured in the series eventually. Suggestions will also be gradually added each week. Back to this month's feature! BLACKPINK Rosé's Instagram BLACKPINK's Rosé and Girl's Day's HyeRi are known for their cute friendship that makes everyone look at the pair in awe. Rosé shared the story of how they met on "Amazing Saturday", stating that HyeRi asked for her number and that as a fan Rosé was nervous but moved by the question. They became close after that and the rest is history. The two are all over each other's social media and have even recorded vlogs together that made fans gush at the duo. Check out this vlog where they have a dinner date. These besties are absolute goals in many senses of the word. They are also a source of inspiration to their fans and to each other. The same applies when it comes to achieving goals and supporting each other. BLACKPINK Rosé's Instagram They are always celebrating each other's milestones, achievements, and special occasions. They have sent each other birthday presents (when unable to spend the day together) and Rosé has sent HyeRi coffee trucks to the set of her dramas. BLACKPINK Rosé's Instagram BLACKPINK Rosé's Instagram The two especially love surprising each other. They have surprised each other on their birthdays and Rosé has surprised HyeRi with a visit on the set of her K-Drama "Moonshine", too. BLACKPINK Rosé's Instagram 친언니 생일에 현관 이렇게 꾸며놓는 동생 어떤데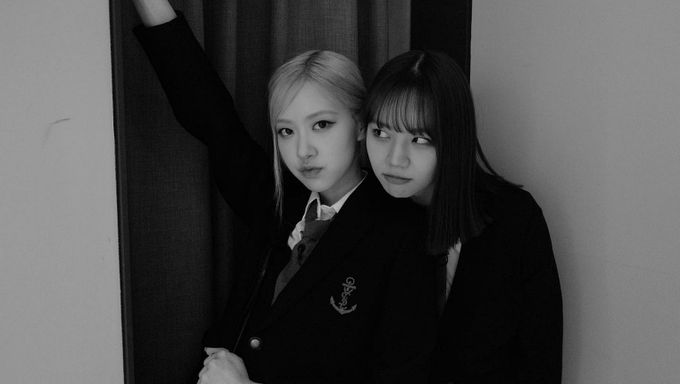 Welcome to the tenth article of Kpopmap's monthly series "K-Pop Besties"!
This series is celebrating all of the different friendships that exist in K-Pop. We will look at some of the moments when K-Pop idols (and sometimes actors) showed off their close friendships with one another and other entertainment industry members.
Check out the rest of the "K-Pop Besties" series here!
Readers voted for BLACKPINK's Rosé and Girl's Day's HyeRi in our monthly poll to be featured this month. If you are a new K-Pop fan you might not know how their friendship started. Let's take a look back at their friendship.
Before starting this month's series, you can vote for who you want to see featured in next month's article. If you would like to see a different idol friendship (not mentioned in the poll) featured in the series, please leave their name in the comments and we will add them to the vote over time.
Who would you like to see in the next "K-Pop Besties" article?
~ Aug 04, 2022 (KST)
※You can vote multiple times without sign in.
TXT's YeonJun and ATEEZ's WooYoung
Dreamcatcher's SuA and A.C.E's Jun
Block B's P.O. and WINNER's Mino
BLACKPINK's Jennie and Jung HoYeon
MAMAMOO's WheeIn and MAMAMOO's HwaSa
Important notice: the vote only decides who will be featured in the next article. Everyone in the poll will be featured in the series eventually. Suggestions will also be gradually added each week.
Back to this month's feature!
BLACKPINK's Rosé and Girl's Day's HyeRi are known for their cute friendship that makes everyone look at the pair in awe. Rosé shared the story of how they met on "Amazing Saturday", stating that HyeRi asked for her number and that as a fan Rosé was nervous but moved by the question. They became close after that and the rest is history.
The two are all over each other's social media and have even recorded vlogs together that made fans gush at the duo.
Check out this vlog where they have a dinner date.
These besties are absolute goals in many senses of the word. They are also a source of inspiration to their fans and to each other. The same applies when it comes to achieving goals and supporting each other.
They are always celebrating each other's milestones, achievements, and special occasions. They have sent each other birthday presents (when unable to spend the day together) and Rosé has sent HyeRi coffee trucks to the set of her dramas.
The two especially love surprising each other. They have surprised each other on their birthdays and Rosé has surprised HyeRi with a visit on the set of her K-Drama "Moonshine", too.
친언니 생일에 현관 이렇게 꾸며놓는 동생 어떤데