JPMorgan CEO Says Bank Crisis Not Over, America Shifting Into a 'Vicious Cycle'
JPMorgan CEO Jamie Dimon said in a letter to shareholders that the U.S. banking crisis is not over, and that even when it does end, its impact will linger for years, while warning that America seems to moving into a "vicious cycle." "As I write this letter, the current crisis is not yet over, and even when it is behind us, there will be repercussions from it for years to come," Dimon wrote in the wide-ranging 43-page missive that included the ominous warning that storm clouds threaten the U.S. economy. The collapse of Silicon Valley Bank (SVB) triggered a crisis of confidence in the U.S. banking sector, prompting financial authorities to rush through a rescue package to stem a potential run on bank deposits that threatened broader financial instability. "Any crisis that damages Americans' trust in their banks damages all banks—a fact that was known even before this crisis," Dimon wrote. In the two weeks since the failure of SVB, roughly $213 billion in deposits have been pulled from America's domestically chartered commercial banks as skittish savers rushed to withdraw their money, according to the latest seasonally adjusted Federal Reserve figures on deposit outflows. While some argue that's a relative drop in the bucket compared to the roughly $16 trillion in total deposits held in U.S. domestic banks, experts have warned that the deposit flight is a factor contributing to tighter lending standards, with small businesses especially vulnerable to what some believe is a looming credit crunch. "Regarding the current disruption in the U.S. banking system, most of the risks were hiding in plain sight," Dimon wrote, including exposure to rising interest rates, which materialized when the Federal Reserve set out on an aggressive rate-hiking cycle in a bid to tame soaring inflation. Dimon faulted regulators for not including interest-rate risk in stress testing, which exacerbated the risks. When the crisis does eventually pass, it will lead to changes in the regulatory framework, Dimon argued, while cautioning against "knee-jerk, whack-a-mole, or politically motivated responses that often result in achieving the opposite of what people intended." Rather than rushing to over-regulate, Dimon urged U.S. financial authorities to "deeply think through and coordinate complex regulations" in order to achieve stated goals while getting rid of "costly inefficiencies and contradictory policies." "America has had, and continues to have, the best and most dynamic financial system in the world—from various types of investors to its banks, rule of law, investor protections, transparency, exchanges, and other features," he wrote. "We do not want to throw the baby out with the bath water." Recession Odds Rise Dimon said that the banking sector turmoil from the collapse of SVB—along with the failure of Swiss lending giant Credit Suisse—have made a recession more likely. "The failures of SVB and Credit Suisse have significantly changed the market's expectations, bond prices have recovered dramatically, the stock market is down, and the market's odds of a recession have increased," he wrote. "And while this is nothing like 2008, it is not clear when this current crisis will end." While the crash in 2008 hit large banks, mortgage lenders, and insurers with global interconnections, "this current banking crisis involves far fewer financial players and fewer issues that need to be resolved," Dimon wrote. "It has provoked lots of jitters in the market and will clearly cause some tightening of financial conditions as banks and other lenders become more conservative," Dimon continued, referring to the potential for a credit squeeze. While he predicted that credit supply would face a squeeze, Dimon said it's unclear whether the disruption would slow consumer spending. Consumer spending, which drives over 65 percent of the U.S. economy, has so far held up fairly well. In February, consumer spending grew 0.2 percent month over month, though when adjusted for inflation, it actually dipped 0.1 percent. The slowdown in spending growth in February—the latest month of available data—followed a sharp increase of 1.8 percent in January, which was the highest pace of growth in the measure in two years. "By sometime late this year or early next year, we expect consumers will have spent the bulk of their remaining excess savings," Dimon wrote. "It remains to be seen whether this will cause a little bit of a cliff effect or whether consumer spending will simply slow down. Either way, this will add to whatever recessionary pressures there are sometime in the future," he predicted. In the here and now, Dimon said he sees signs of strength in the U.S. economy, including solid consumer spending, recovering supply chains, a healthy jobs market, and higher wages. Looking ahead, however, he sees trouble brewing. "The current crisis has exposed some weaknesses in the system," Dimon wrote, adding that America faces a range of "unique and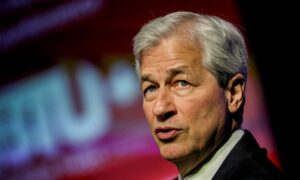 JPMorgan CEO Jamie Dimon said in a letter to shareholders that the U.S. banking crisis is not over, and that even when it does end, its impact will linger for years, while warning that America seems to moving into a "vicious cycle."
"As I write this letter, the current crisis is not yet over, and even when it is behind us, there will be repercussions from it for years to come," Dimon wrote in the wide-ranging 43-page missive that included the ominous warning that storm clouds threaten the U.S. economy.
The collapse of Silicon Valley Bank (SVB) triggered a crisis of confidence in the U.S. banking sector, prompting financial authorities to rush through a rescue package to stem a potential run on bank deposits that threatened broader financial instability.
"Any crisis that damages Americans' trust in their banks damages all banks—a fact that was known even before this crisis," Dimon wrote.
In the two weeks since the failure of SVB, roughly $213 billion in deposits have been pulled from America's domestically chartered commercial banks as skittish savers rushed to withdraw their money, according to the latest seasonally adjusted Federal Reserve figures on deposit outflows.
While some argue that's a relative drop in the bucket compared to the roughly $16 trillion in total deposits held in U.S. domestic banks, experts have warned that the deposit flight is a factor contributing to tighter lending standards, with small businesses especially vulnerable to what some believe is a looming credit crunch.
"Regarding the current disruption in the U.S. banking system, most of the risks were hiding in plain sight," Dimon wrote, including exposure to rising interest rates, which materialized when the Federal Reserve set out on an aggressive rate-hiking cycle in a bid to tame soaring inflation.
Dimon faulted regulators for not including interest-rate risk in stress testing, which exacerbated the risks.
When the crisis does eventually pass, it will lead to changes in the regulatory framework, Dimon argued, while cautioning against "knee-jerk, whack-a-mole, or politically motivated responses that often result in achieving the opposite of what people intended."
Rather than rushing to over-regulate, Dimon urged U.S. financial authorities to "deeply think through and coordinate complex regulations" in order to achieve stated goals while getting rid of "costly inefficiencies and contradictory policies."
"America has had, and continues to have, the best and most dynamic financial system in the world—from various types of investors to its banks, rule of law, investor protections, transparency, exchanges, and other features," he wrote.
"We do not want to throw the baby out with the bath water."
Recession Odds Rise
Dimon said that the banking sector turmoil from the collapse of SVB—along with the failure of Swiss lending giant Credit Suisse—have made a recession more likely.
"The failures of SVB and Credit Suisse have significantly changed the market's expectations, bond prices have recovered dramatically, the stock market is down, and the market's odds of a recession have increased," he wrote. "And while this is nothing like 2008, it is not clear when this current crisis will end."
While the crash in 2008 hit large banks, mortgage lenders, and insurers with global interconnections, "this current banking crisis involves far fewer financial players and fewer issues that need to be resolved," Dimon wrote.
"It has provoked lots of jitters in the market and will clearly cause some tightening of financial conditions as banks and other lenders become more conservative," Dimon continued, referring to the potential for a credit squeeze.
While he predicted that credit supply would face a squeeze, Dimon said it's unclear whether the disruption would slow consumer spending.
Consumer spending, which drives over 65 percent of the U.S. economy, has so far held up fairly well. In February, consumer spending grew 0.2 percent month over month, though when adjusted for inflation, it actually dipped 0.1 percent. The slowdown in spending growth in February—the latest month of available data—followed a sharp increase of 1.8 percent in January, which was the highest pace of growth in the measure in two years.
"By sometime late this year or early next year, we expect consumers will have spent the bulk of their remaining excess savings," Dimon wrote.
"It remains to be seen whether this will cause a little bit of a cliff effect or whether consumer spending will simply slow down. Either way, this will add to whatever recessionary pressures there are sometime in the future," he predicted.
In the here and now, Dimon said he sees signs of strength in the U.S. economy, including solid consumer spending, recovering supply chains, a healthy jobs market, and higher wages.
Looking ahead, however, he sees trouble brewing.
"The current crisis has exposed some weaknesses in the system," Dimon wrote, adding that America faces a range of "unique and complicated issues."
'Storm Clouds Ahead'
Besides the expected depletion of consumer excess savings, Dimon pointed to other factors clouding the economic outlook.
This includes possibly persistent inflation, huge geopolitical strains, the unpredictable trajectory of the Russia–Ukraine war, and large quantitative tightening and "other unknowns" that reduce liquidity and trigger higher long-term interest rates.
Dimon blamed "unprecedented" fiscal spending over the past few years for pushing inflation to multi-decade highs and forcing the Federal Reserve into a rapid interest-rate hiking cycle to try quash it.
"Fiscal stimulus is still surging through the system," he said, insisting that it's been inflationary and that multiplier effects of the stimulus mean that it still putting upward pressure on prices.
More deficit spending down the road—estimated at between $1.4 trillion and $1.8 trillion per year over the next three years—is another factor that makes inflation harder to root out.
Nearly 12 years of quantitative easing, whereby the Fed expanded its balance sheet by buying government securities, drove interest rates down to near zero and flooded the economy with cheap money, consequently boosting stocks, real estate, and other assets.
"Importantly, this also increased bank deposits from $13 trillion to $18 trillion (and the now-famous uninsured deposits from $6 trillion to $8 trillion)," Dimon wrote.
As the Fed grapples with high inflation, it has reversed more than a decade of quantitative easing and has been reducing its balance sheet in what's known as quantitative tightening, a process "whose full effect may not be known immediately," Dimon said.
So far, the Fed has reduced its holdings of securities by around $550 billion and has committed to slashing those holdings by nearly $100 billion per month.
While the Fed's balance sheet has shrunk, deposits at banks have fallen by more than $1 trillion from their recent April 2022 peak.
"Unfortunately, some banks invested much of these excess deposits in 'safe' Treasurys, which, of course, went down in value as rates rose faster than most people expected," Dimon said.
It's precisely this dynamic that was widely blamed for the collapse of SVB, which failed when investors rushed to withdraw their uninsured deposits when they got wind of a $1.8 billion loss the bank took when it liquidated its portfolio of Treasury holdings that had fallen in value.
The current process of quantitative tightening, which the Fed has pledged to carry out at a pace of around $1 trillion per year, puts upward pressure on interest rates and makes debt-servicing costs higher.
"While the central banks of the world are now selling instead of buying securities, the governments of the world have larger debts to finance. The United States alone needs to sell $2 trillion in securities, which must be absorbed in the market," Dimon wrote.
The Russian war in Ukraine is also having an impact on global energy and food prices, Dimon said, adding that he sees a risk that energy and food insecurity could trigger "another level of geopolitical dislocation" in the form of a huge wave of migration.
Dimon believes we are shifting from a savings glut to scarcity of capital, along with higher interest rates and higher inflation than in the recent past.
"Essentially, we may be moving, as I read somewhere, from a virtuous cycle to a vicious cycle."