Japan orders evacuation over missile scare
North Korea fired a ballistic missile on Thursday, prompting Tokyo to issue an evacuation order for residents of Hokkaido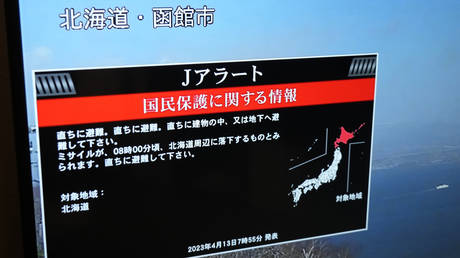 13 Apr, 2023 00:44
HomeWorld News
Japan orders evacuation over missile scare
North Korea's latest launch has prompted a warning telling Hokkaido residents to flee or take cover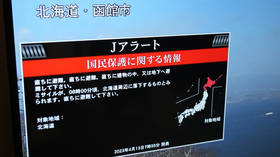 Japanese authorities have issued a brief evacuation order, warning Hokkaido residents that they could be endangered by a North Korean ballistic missile that was expected to land in the northern island's vicinity on Thursday morning.
The launch was detected around 7:30 am, and Hokkaido residents were warned to evacuate and take shelter "immediately," either inside buildings or underground, because the missile was initially projected to come down in the area. However, the government soon retracted the air raid alert, after futher analysis showed there was no possibility of the missile landing anywhere near Hokkaido.
Around 8:20 am the Japanese Defense Ministry confirmed that the missile had come down and was no longer a threat. Japan's Coast Guard said the missile was launched from near Pyongyang and fell outside of the country's territorial waters, in the Sea of Japan.
The type of the projectile has yet to be established, but its flight time and distance suggests that it was an intermediate- or long-range missile, according to South Korean military sources cited by Yonhap news agency.
The missile test was North Korea's ninth this year and its first in more than two weeks. It came amid heightened tensions with Seoul. South Korean media outlets reported that North Korean officials have refused to answer calls for six days on the inter-Korean military hotline that the two countries use to avoid miscommunication.