Jake Bugg headlines Royal Albert Hall for Teenage Cancer Trust
Jake Bugg headlined day 4 of Teenage Cancer Trust at the Royal Albert Hall, showing why he is one of the most successful British singer songwriters of the past decade.His self-titled debut album reached No.1 in the UK Album Charts back in 2012, with Jake going on to have four more top selling albums and countless headline live performances across the world. Last year the BRIT Award and Mercury Prize nominee celebrated the 10th anniversary of his debut record and his song 'Trouble Town' is the theme tune to hit TV show Happy Valley, with over 11 million streams on Spotify.Tonight he continued the celebrations, performing favourites from throughout his career, stating before the show:"I have always been a supporter of Teenage Cancer Trust. It's an honour to represent TCT at the Albert Hall and I look forward to playing songs from the last decade to celebrate their great work." - Jake BuggTrue to his word, he began by showcasing his expert guitar playing with the bluesy 'Strange Creatures', and then his voice filled the room with the yearning country swing of 'Southern Rain'. 'Kiss Like The Sun' sparked the first use of electric guitar, evoking his Britpop influences, then came 'Trouble Town', a rare, electric version. A beautiful orchestral 'Broken' also featured a choir adding lush new layers, before signature hit 'Lightning Bolt' transported the crowd to that debut album.Jake was supported by Swiss born, Brighton based YouTuber James Marriott, who brought his loyal fanbase to London, singing along to every word of favourites from EP Bitter Tongues, while he also debuted new tracks for the Teenage Cancer Trust audience.Night three at the RAH saw recent Grammy and BRIT Award winners Wet Leg continue their incredible rise by playing a brilliant set for their debut at the Royal Albert Hall. Acclaimed by critics, the band were on amazing form with Rhian Teasdale saying, "It feels like we're in a big lovely cake with many tiers. Big up Teenage Cancer Trust for having us and big up you guys for getting tickets to this, very cool." The music then continues for the rest of the week, courtesy of some of the biggest UK acts around: Manchester's musical phenomenon Courteeners playing their No.1 album St. Jude in full on Friday 24th March, and huge Teenage Cancer Trust supporting heroes Kasabian playing on Saturday 25th March.On Sunday the shows' founder and The Who frontman Roger Daltrey presents A Special Gala Evening of Music with Friends of Teenage Cancer Trust including Richard Ashcroft, the first live performance from Far From Saints, Lola Lennox, plus very special guest Joan Armatrading.Since 2000, over £32 million has been raised by Teenage Cancer Trust concerts at the Royal Albert Hall, and that money has helped fund specialist nurses, hospital units and support services right across the UK that help get young people through some unimaginably hard times.Roger Daltrey CBE, Teenage Cancer Trust Honorary Patron, and mastermind behind the gigs, said:"The generosity of the people who work in the music and comedy industries never ceases to amaze me. In this, our 21st year, after two years of artists having no shows at all, at a time where the only certain paydays are from live performances, artists are willing to give up their earnings from a London show."It shows us that miracles are everywhere, but if you cough or sneeze you'd miss them!"I'm happy to announce the Royal Albert Hall week for Teenage Cancer Trust!"Katie Collins, Chief Executive, Teenage Cancer Trust, said:"These amazing gigs and their fantastic lineups help us change lives. Because of Roger, the artists, the teams who make these gigs possible and everyone who buys a ticket, we can make sure young people don't face cancer alone and continue to provide the vital, expert care and support that is crucial for young people with cancer."2023 Show Dates:Friday 24 March - CourteenersSaturday 25 March - KasabianSunday 26 March - A Special Gala Evening of Music with Roger Daltrey and Friends of Teenage Cancer TrustPhoto credit: Naomi Dryden-Smith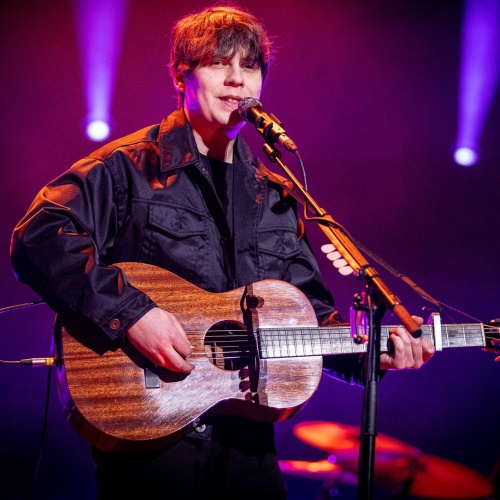 Jake Bugg headlined day 4 of Teenage Cancer Trust at the Royal Albert Hall, showing why he is one of the most successful British singer songwriters of the past decade.
His self-titled debut album reached No.1 in the UK Album Charts back in 2012, with Jake going on to have four more top selling albums and countless headline live performances across the world. Last year the BRIT Award and Mercury Prize nominee celebrated the 10th anniversary of his debut record and his song 'Trouble Town' is the theme tune to hit TV show Happy Valley, with over 11 million streams on Spotify.
Tonight he continued the celebrations, performing favourites from throughout his career, stating before the show:
"I have always been a supporter of Teenage Cancer Trust. It's an honour to represent TCT at the Albert Hall and I look forward to playing songs from the last decade to celebrate their great work." - Jake Bugg
True to his word, he began by showcasing his expert guitar playing with the bluesy 'Strange Creatures', and then his voice filled the room with the yearning country swing of 'Southern Rain'. 'Kiss Like The Sun' sparked the first use of electric guitar, evoking his Britpop influences, then came 'Trouble Town', a rare, electric version. A beautiful orchestral 'Broken' also featured a choir adding lush new layers, before signature hit 'Lightning Bolt' transported the crowd to that debut album.
Jake was supported by Swiss born, Brighton based YouTuber James Marriott, who brought his loyal fanbase to London, singing along to every word of favourites from EP Bitter Tongues, while he also debuted new tracks for the Teenage Cancer Trust audience.
Night three at the RAH saw recent Grammy and BRIT Award winners Wet Leg continue their incredible rise by playing a brilliant set for their debut at the Royal Albert Hall. Acclaimed by critics, the band were on amazing form with Rhian Teasdale saying, "It feels like we're in a big lovely cake with many tiers. Big up Teenage Cancer Trust for having us and big up you guys for getting tickets to this, very cool."
The music then continues for the rest of the week, courtesy of some of the biggest UK acts around: Manchester's musical phenomenon Courteeners playing their No.1 album St. Jude in full on Friday 24th March, and huge Teenage Cancer Trust supporting heroes Kasabian playing on Saturday 25th March.
On Sunday the shows' founder and The Who frontman Roger Daltrey presents A Special Gala Evening of Music with Friends of Teenage Cancer Trust including Richard Ashcroft, the first live performance from Far From Saints, Lola Lennox, plus very special guest Joan Armatrading.
Since 2000, over £32 million has been raised by Teenage Cancer Trust concerts at the Royal Albert Hall, and that money has helped fund specialist nurses, hospital units and support services right across the UK that help get young people through some unimaginably hard times.
Roger Daltrey CBE, Teenage Cancer Trust Honorary Patron, and mastermind behind the gigs, said:
"The generosity of the people who work in the music and comedy industries never ceases to amaze me. In this, our 21st year, after two years of artists having no shows at all, at a time where the only certain paydays are from live performances, artists are willing to give up their earnings from a London show.
"It shows us that miracles are everywhere, but if you cough or sneeze you'd miss them!
"I'm happy to announce the Royal Albert Hall week for Teenage Cancer Trust!"
Katie Collins, Chief Executive, Teenage Cancer Trust, said:
"These amazing gigs and their fantastic lineups help us change lives. Because of Roger, the artists, the teams who make these gigs possible and everyone who buys a ticket, we can make sure young people don't face cancer alone and continue to provide the vital, expert care and support that is crucial for young people with cancer."
2023 Show Dates:
Friday 24 March - Courteeners
Saturday 25 March - Kasabian
Sunday 26 March - A Special Gala Evening of Music with Roger Daltrey and Friends of Teenage Cancer Trust
Photo credit: Naomi Dryden-Smith