ISIS kills dozens of mushroom hunters in Syria – media
At least 26 people have been killed in a terrorist attack in Syria's Hama province, national media are reporting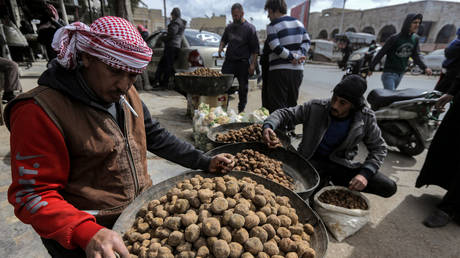 ISIS kills dozens of mushroom hunters in Syria – media
Islamic State terrorists attacked a group of locals collecting truffles in the desert, SANA news agency has reported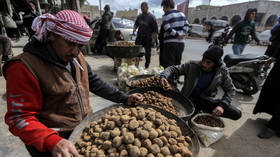 At least 26 people have been killed in an attack by Islamic State (IS, formerly ISIS) terrorists in Syria's province of Hama, SANA news agency reported on Sunday. A source within the regional police told the news agency that local residents were collecting truffles in the desert in the east of the province when they were assaulted by terrorists.
Syrian media reported that over 30 civilians had allegedly been shot down in the incident. A local hospital director in the city of Salamiyah told the media that his facility had received the remains of 26 people murdered in the attack.
Last week, Syria's Al Watan newspaper warned people against going out into the Hama desert in search of truffles, citing high risks stemming from unexploded mines and shells, as well as activities of the ISIS remnants in the area.
A total of 47 people have been killed and 71 injured while collecting truffles between February 5 and March 22, a Syrian Arab Red Crescent official told Al Watan. Many people have also gone missing in the area, the newspaper reported, adding that they may have been kidnapped by ISIS extremists as well.

One of the major ISIS attacks was carried out in mid-February, when 53 civilians were killed by terrorists while collecting truffles, SANA reported.
Desert truffles are not as rare and prized as their rather distant European cousins but they are still quite popular in the Middle East. The mushrooms are usually sold by the kilo and can cost between $22 and $65 per unit. Some desert-truffle types can cost as much as $237 per kilo, depending on the crop's quality. According to Al Watan, though, the harvest has been abundant this year, leading to lower truffle prices on Syrian markets.