Infineon Raises 2023 Outlook on Automotive and Industrial Strength
FRANKFURT—German chipmaker Infineon has raised its outlook for both its financial second quarter and the whole of 2023, it said on Tuesday, citing "resilient business dynamics" at its automotive and industrials divisions. The group said it now expected 2023 sales significantly above the 15.5 billion euros ($16.8 billion) forecast previously. It said there would be a corresponding positive impact on margins, without specifying. Frankfurt-listed shares in the company narrowed losses to trade 0.1 percent lower at 1733 GMT. Second-quarter sales, which will be officially released on May 4, are now forecast above 4 billion euros, the group said, compared with around 3.9 billion euros previously. Better pricing and more favorable energy costs will also lead to a second-quarter segment results margin in a high twenties percentage range, above the 25 percent it had expected. Infineon, whose chips are used in cars and data centers, last month lifted its full-year profit margin forecast on strong demand from carmakers that led to higher prices. ($1 = 0.9228 euros)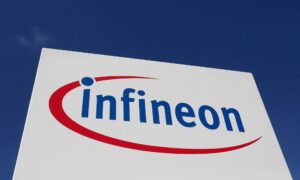 FRANKFURT—German chipmaker Infineon has raised its outlook for both its financial second quarter and the whole of 2023, it said on Tuesday, citing "resilient business dynamics" at its automotive and industrials divisions.
The group said it now expected 2023 sales significantly above the 15.5 billion euros ($16.8 billion) forecast previously.
It said there would be a corresponding positive impact on margins, without specifying.
Frankfurt-listed shares in the company narrowed losses to trade 0.1 percent lower at 1733 GMT.
Second-quarter sales, which will be officially released on May 4, are now forecast above 4 billion euros, the group said, compared with around 3.9 billion euros previously.
Better pricing and more favorable energy costs will also lead to a second-quarter segment results margin in a high twenties percentage range, above the 25 percent it had expected.
Infineon, whose chips are used in cars and data centers, last month lifted its full-year profit margin forecast on strong demand from carmakers that led to higher prices.
($1 = 0.9228 euros)