Indian dependence on Russian oil soaring – Nikkei
Russian oil supplies now account for 30% of total imports to India, the world's third-biggest crude consumer, Nikkei reported on Sunday citing analysis of shipping data for March.New Delhi previously relied on Middle Eastern oil but purchased over 6 million tons of crude from Russia in March, according to data tracked by UK-based researcher Refinitiv and shared by Nikkei. The number reflects the tracked amount of crude oil, fuel oil and refined petroleum products transported by tankers from Russian ports to India by the end of last month.The reported 30% dependence on Russian oil, which is expected to increase to up to 50% this month, marked a new high in trade relations between New Delhi and Moscow. In January 2022, Russia accounted for just 2% of Indian oil imports.Meanwhile, China purchased over 4.7 million tons of oil from Russia in March, second only to India. Dependence on Russia by the world's second biggest oil consumer reached 10%, Nikkei reported. According to the media agency, Russia's flagship Urals blend is currently hovering in the $62 range, which is up to 30% lower compared to the price of the North Sea Brent international benchmark. Prior to sanctions, Russian crude was sold at a slight discount to Brent.India and China have dramatically increased imports of Russian crude offered at a discount since Western states shunned direct supplies in response to Moscow's military operation in Ukraine.In December, the EU, G7, and their allies introduced a collective ban on Russian seaborne oil exports, along with a price cap of $60 per barrel. Another embargo banning almost all imports of Russian oil products, as well as introducing price caps on diesel and other petroleum products, kicked in on February 5.Russia has opposed any attempts to cap the price of its energy exports and has banned any oil deals under the scheme. In February, Russia announced plans to voluntarily reduce oil production in March by 500,000 barrels per day as it halts sales to buyers that comply with Western-imposed restrictions.For more stories on economy & finance visit RT's business section You can share this story on social media: Follow RT on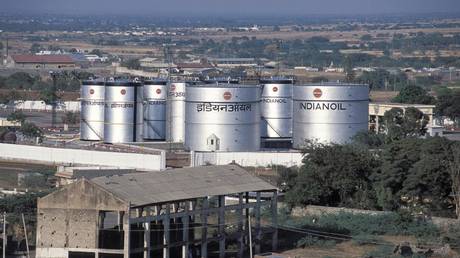 Russian oil supplies now account for 30% of total imports to India, the world's third-biggest crude consumer, Nikkei reported on Sunday citing analysis of shipping data for March.
New Delhi previously relied on Middle Eastern oil but purchased over 6 million tons of crude from Russia in March, according to data tracked by UK-based researcher Refinitiv and shared by Nikkei. 
The number reflects the tracked amount of crude oil, fuel oil and refined petroleum products transported by tankers from Russian ports to India by the end of last month.
The reported 30% dependence on Russian oil, which is expected to increase to up to 50% this month, marked a new high in trade relations between New Delhi and Moscow. In January 2022, Russia accounted for just 2% of Indian oil imports.
Meanwhile, China purchased over 4.7 million tons of oil from Russia in March, second only to India. Dependence on Russia by the world's second biggest oil consumer reached 10%, Nikkei reported.
According to the media agency, Russia's flagship Urals blend is currently hovering in the $62 range, which is up to 30% lower compared to the price of the North Sea Brent international benchmark. Prior to sanctions, Russian crude was sold at a slight discount to Brent.
India and China have dramatically increased imports of Russian crude offered at a discount since Western states shunned direct supplies in response to Moscow's military operation in Ukraine.
In December, the EU, G7, and their allies introduced a collective ban on Russian seaborne oil exports, along with a price cap of $60 per barrel. Another embargo banning almost all imports of Russian oil products, as well as introducing price caps on diesel and other petroleum products, kicked in on February 5.
Russia has opposed any attempts to cap the price of its energy exports and has banned any oil deals under the scheme. In February, Russia announced plans to voluntarily reduce oil production in March by 500,000 barrels per day as it halts sales to buyers that comply with Western-imposed restrictions.
For more stories on economy & finance visit RT's business section
You can share this story on social media: