Indian delegation in Russia to explore business opportunities
A 50-strong group will attend meetings in Moscow and St. Petersburg, mainly connected to the food and agriculture sectors A delegation of 50 business representatives from India is in Russia this week on a four-day visit to the Russian capital and to St. Petersburg. The visit comes amid a massive push to further deepen economic ties between the two countries, which have grown exponentially since Russia started its special military operation against Ukraine in February 2022."We see huge business opportunities in Russia and the delegates arrived in Moscow on Monday to explore the possibilities," Ajay Sahai, Director-General of the Federation of Indian Export Organisations (FIEO), told RT.On Monday, FIEO signed a memorandum of understanding (MoU) with the national organization Business Russia, to promote trade and investments between the two countries."The two organizations will cooperate to arrange exhibitions, meetings between buyers and sellers, workshops and seminars, and to encourage enterprises to work in tandem with their counterparts for joint ventures," Sahai said."The delegates are focused on the food and agriculture sector," he said, adding that "they are also exploring opportunities in diverse business ventures such as ready-to-eat meals, fish meal, animal feed, soybean, [as well as] conventional products." However, Indian exporters are hamstrung by a raft of issues, including logistics, market access and payment difficulties.The FIEO chief cited the budding rupee-ruble trade mechanism as "moving forward, but the pace is tardy." He described himself as optimistic about a quick resolution as "exporters, importers and bankers on both sides have to do a little extra work to resolve it." "A direct exchange rate between rupee and ruble," Sahai explained, "will help streamline the process in a big way."Data shows that bilateral trade in the Indian financial year, ending March 31, exceeded $48 billion, with imports and exports around $45 billion and over $3 billion, respectively.Sahai conceded that this "huge trade deficit is a concern, but it is also an opportunity to push exports exponentially. We have to diversify exports to automobiles and auto components, electronics, medical devices, solar cells, textile, food and agriculture etc." Russia has been sourcing more products from India as its trade with the West has dried up following the US-led sanctions.The visit of 50 business figures to Russia comes amid deliberations over a free-trade deal, which gathered momentum last week during the visit to New Delhi of Russian Deputy Prime Minister Denis Manturov.Manturov represented Russia in the 24th round of Intergovernmental Commission (IGC) talks, which were held in the Indian capital on April 17 and 18. India's External Affairs Minister Dr Subrahmanyam Jaishankar represented the host nation. Last week, India agreed to adopt Bank of Russia's financial messaging system SPFS, or Service Bureau of Financial Messaging System, in a bid to facilitate the cross-border payment mechanism. SPFS is a financial messaging system akin to SWIFT, or Society for Worldwide Interbank Financial Telecommunication, the international payment system used by banks to transfer funds worldwide. Manturov signed the landmark payments pact with Dr Jaishankar. The deal will allow acceptance of India's Ru-Pay cards and Unified Payments Interface (UPI) in Russia, and of the Russian MIR cards and its Fast Payments System (FPS) in India.Earlier, Bloomberg had reported about a deterrent to a payment mechanism between India and Russia. The report quoted unnamed officials that payments worth $2 billion from India to Russia have been stuck since last year. Russia has purportedly decided to stop supplying credit for about $10 billion worth of spare parts and two S-400 missile-defense system batteries are yet to be delivered. However, RT could not independently authenticate the veracity of this news report from either Indian and Russian authorities.India and Russia had set up a payment mechanism last year through Special Rupee Vostro Accounts (SRVA), but that has been defunct, owing to a fear of Western sanctions on Indian banks and lopsided bilateral trade. Russia has been willing to accept payment through yuans or dirhams. New Delhi is reluctant to adopt the Chinese currency because of its worsening bilateral ties with Beijing.Similarly, t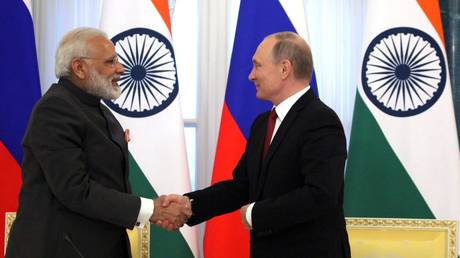 A 50-strong group will attend meetings in Moscow and St. Petersburg, mainly connected to the food and agriculture sectors
A delegation of 50 business representatives from India is in Russia this week on a four-day visit to the Russian capital and to St. Petersburg. The visit comes amid a massive push to further deepen economic ties between the two countries, which have grown exponentially since Russia started its special military operation against Ukraine in February 2022.
"We see huge business opportunities in Russia and the delegates arrived in Moscow on Monday to explore the possibilities," Ajay Sahai, Director-General of the Federation of Indian Export Organisations (FIEO), told RT.
On Monday, FIEO signed a memorandum of understanding (MoU) with the national organization Business Russia, to promote trade and investments between the two countries.
"The two organizations will cooperate to arrange exhibitions, meetings between buyers and sellers, workshops and seminars, and to encourage enterprises to work in tandem with their counterparts for joint ventures," Sahai said.
"The delegates are focused on the food and agriculture sector," he said, adding that "they are also exploring opportunities in diverse business ventures such as ready-to-eat meals, fish meal, animal feed, soybean, [as well as] conventional products."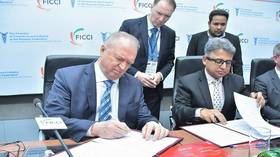 However, Indian exporters are hamstrung by a raft of issues, including logistics, market access and payment difficulties.
The FIEO chief cited the budding rupee-ruble trade mechanism as "moving forward, but the pace is tardy." He described himself as optimistic about a quick resolution as "exporters, importers and bankers on both sides have to do a little extra work to resolve it." "A direct exchange rate between rupee and ruble," Sahai explained, "will help streamline the process in a big way."
Data shows that bilateral trade in the Indian financial year, ending March 31, exceeded $48 billion, with imports and exports around $45 billion and over $3 billion, respectively.
Sahai conceded that this "huge trade deficit is a concern, but it is also an opportunity to push exports exponentially. We have to diversify exports to automobiles and auto components, electronics, medical devices, solar cells, textile, food and agriculture etc." Russia has been sourcing more products from India as its trade with the West has dried up following the US-led sanctions.
The visit of 50 business figures to Russia comes amid deliberations over a free-trade deal, which gathered momentum last week during the visit to New Delhi of Russian Deputy Prime Minister Denis Manturov.
Manturov represented Russia in the 24th round of Intergovernmental Commission (IGC) talks, which were held in the Indian capital on April 17 and 18. India's External Affairs Minister Dr Subrahmanyam Jaishankar represented the host nation.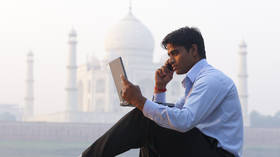 Last week, India agreed to adopt Bank of Russia's financial messaging system SPFS, or Service Bureau of Financial Messaging System, in a bid to facilitate the cross-border payment mechanism. SPFS is a financial messaging system akin to SWIFT, or Society for Worldwide Interbank Financial Telecommunication, the international payment system used by banks to transfer funds worldwide.
Manturov signed the landmark payments pact with Dr Jaishankar. The deal will allow acceptance of India's Ru-Pay cards and Unified Payments Interface (UPI) in Russia, and of the Russian MIR cards and its Fast Payments System (FPS) in India.
Earlier, Bloomberg had reported about a deterrent to a payment mechanism between India and Russia. The report quoted unnamed officials that payments worth $2 billion from India to Russia have been stuck since last year. Russia has purportedly decided to stop supplying credit for about $10 billion worth of spare parts and two S-400 missile-defense system batteries are yet to be delivered. However, RT could not independently authenticate the veracity of this news report from either Indian and Russian authorities.
India and Russia had set up a payment mechanism last year through Special Rupee Vostro Accounts (SRVA), but that has been defunct, owing to a fear of Western sanctions on Indian banks and lopsided bilateral trade. Russia has been willing to accept payment through yuans or dirhams. New Delhi is reluctant to adopt the Chinese currency because of its worsening bilateral ties with Beijing.
Similarly, the UAE has been wary of sanctions if India decides to pay in dirham for crude oil amid the Western-stipulated price of $60 per barrel.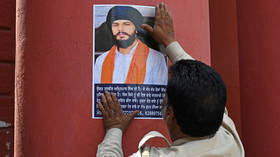 Russia, according to Bloomberg, has rejected India's offer of using rupee earned from defense transactions and investing the currency in Indian debt and capital markets to avoid stockpiling.
India has been importing a record 1.6 million barrels of oil from the sanctions-hit Russia daily since last October, as Moscow emerges as the leading exporter of crude to New Delhi, now accounting for over one-third of the South Asian nation's energy needs.
India has been steadfast in refusing to join sanctions on Moscow or to condemn Russia's invasion of Ukraine outright. Prime Minister Narendra Modi has been calling for a negotiated resolution of the conflict.
Meanwhile, India is also in talks with Russia to inaugurate the Chennai-Vladivostok Maritime Corridor, which will further boost maritime ties between the two Cold War allies, according to Sarbananda Sonowal, the country's federal minister for ports, shipping and waterways.
"This corridor will serve this purpose, acting as a conduit of growth and investment cooperation between two historic cities with rich marine history – Chennai and Vladivostok – of the two countries," he added.