In Occupied Cities, Time Doesn't Exist: Conversations with Bucha Writers
Bucha after the Russian invasion of Ukraine. Photo licensed under CC BY-SA 2.0, VIA WIKIMEDIA COMMONS. "Russian soldiers stayed in our building," my friend, the poet Lesyk Panaisuk, wrote to me when the Ukrainian city of Bucha was liberated from Russian occupation on March 31. Some months before, as soon as the war ensued, Lesyk had left Bucha in a hurry, fleeing the Russian soldiers. Although the city is now liberated, it is still dangerous to walk around Bucha. Lesyk's neighbors find mines in the halls of their building, inside their slippers and washing machines. Some neighbors return only to install doors and windows. "In our neighborhood, doors to almost every apartment were broken by Russian soldiers," Lesyk emails. "A Ukrainian word / is ambushed: through the broken window of / a letter д other countries watch how a letter і / loses its head," writes Lesyk in one of his poems. He continues: "how / the roof of a letter м / falls through." While I read Lesyk's emails, miles from Ukraine, my own uncle is missing. As bombs explode in Odesa, I email friends, relatives. No one can find him. Meanwhile, after another message from Lesyk, I suggest that I might begin to interview other Bucha poets. Some of their answers to my emails are as striking as their poetry. "All the words now wear a military uniform," Daryna Gladun writes. "I set aside metaphors to speak about the war in clear words." This resonates with the many responses I get from other writers in Kharkiv, Odesa, Kyev. The testimonies are vivid and unpretentious: poets write about their children, parents, friends, loved ones, and fears. At the same time, reading email after email, something epic unfolds. These voices testify "in the name of all funeral wreaths and plastic ribbons / in the name of lacquered coffins and lacquered shoes of corpses," as one of Gladun's poems goes. As I read her poem, my uncle finally emails, after two months' absence. He'd had a bad case of the coronavirus and spent two months in the hospital, on a ventilator. When he returns to his apartment, in the Tairovo area of Odesa, he is learning to sit and walk again. Meanwhile, a bomb explodes on his block, injuring multiple people and killing a child. "I have chosen wrong time to get ill," my uncle says. Writing from Bucha, voices of poets redefine for me what time means in bombardment, in a war-zone, and what it might mean for us, as we watch from our safe houses elsewhere in the world. We collect these testimonies to document the war crimes that are taking place in Ukraine and disseminate information about them. And yet one can't help but discern something lyrical in these writers' hurried email responses, unadorned interview answers, and scraps of experience. The attentiveness to the world in these messages is startling. Reading them, one is reminded of the philosopher Emil Cioran, who wrote, "Miles away from poetry, we still participate in it by that sudden need to scream—the last stage of lyricism." —Ilya Kaminsky    Olena Stepanenko The first hours of war, I do not sleep half the night because I am diagnosed with COVID-19. In the morning, we hear explosions from the Gostomel airfield, so we pack our things and make our way down from the tenth floor. The elevators no longer work. I will never forget the view from our balcony: shells blowing up, rockets exploding as the helicopters keep arriving. Black smoke—Russians are attacking the airfield.  All my neighbors stand side by side and watch this happen. Many take pictures. We know that it's impossible to stay, but we don't have a car, so we spend the first day in our friends' apartment on the third floor of our building. The next day, at dawn, a Russian missile hits. It is hard for us to comprehend that this place—littered with fragments of metal, broken trees, and covered with a thick layer of insulation—was our yard, which was always so clean and tidy. We go to a shelter on the other side of the city. Coming back, we do not recognize our Vokzalna Street: 300 meters from our house are four destroyed Russian infantry fighting vehicles, among linden and oak trunks broken in half. (A month later, already in Poland, I'll read in the newspaper that Russians set up a torture chamber at the Radiant Children's Camp nearby.) We spend two weeks in someone else's apartment, without water, light, or gas. Temperatures sometimes reach ten degrees. In occupied cities, time doesn't exist, it is gone. War is not about time; time was completely destroyed in Gostomel, where the morning begins by chopping wood and lighting a fire to cook food. In the occupied city, we focus on those few hours when the generator is working. We are waiting for only two things—victory to be announced or the opportunity to escape. I manage to leave Bucha with my son; my husband stays behind in Ukraine. On the first day of the "green corridor," a passage by which civilians can leave the country, we wait for six hours with children in the cold. We are here with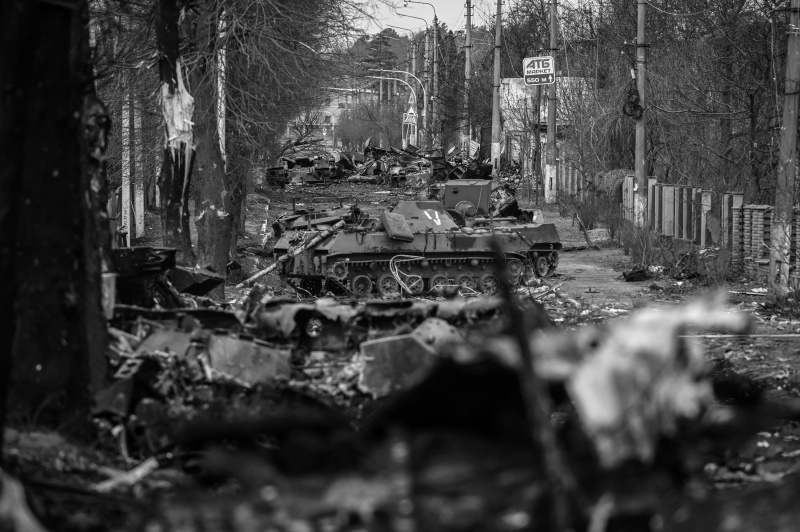 "Russian soldiers stayed in our building," my friend, the poet Lesyk Panaisuk, wrote to me when the Ukrainian city of Bucha was liberated from Russian occupation on March 31. Some months before, as soon as the war ensued, Lesyk had left Bucha in a hurry, fleeing the Russian soldiers.
Although the city is now liberated, it is still dangerous to walk around Bucha. Lesyk's neighbors find mines in the halls of their building, inside their slippers and washing machines. Some neighbors return only to install doors and windows. "In our neighborhood, doors to almost every apartment were broken by Russian soldiers," Lesyk emails.
"A Ukrainian word / is ambushed: through the broken window of / a letter д other countries watch how a letter і / loses its head," writes Lesyk in one of his poems. He continues: "how / the roof of a letter м / falls through."
While I read Lesyk's emails, miles from Ukraine, my own uncle is missing. As bombs explode in Odesa, I email friends, relatives. No one can find him.
Meanwhile, after another message from Lesyk, I suggest that I might begin to interview other Bucha poets. Some of their answers to my emails are as striking as their poetry. "All the words now wear a military uniform," Daryna Gladun writes. "I set aside metaphors to speak about the war in clear words."
This resonates with the many responses I get from other writers in Kharkiv, Odesa, Kyev. The testimonies are vivid and unpretentious: poets write about their children, parents, friends, loved ones, and fears. At the same time, reading email after email, something epic unfolds. These voices testify "in the name of all funeral wreaths and plastic ribbons / in the name of lacquered coffins and lacquered shoes of corpses," as one of Gladun's poems goes. As I read her poem, my uncle finally emails, after two months' absence. He'd had a bad case of the coronavirus and spent two months in the hospital, on a ventilator. When he returns to his apartment, in the Tairovo area of Odesa, he is learning to sit and walk again. Meanwhile, a bomb explodes on his block, injuring multiple people and killing a child. "I have chosen wrong time to get ill," my uncle says. Writing from Bucha, voices of poets redefine for me what time means in bombardment, in a war-zone, and what it might mean for us, as we watch from our safe houses elsewhere in the world.
We collect these testimonies to document the war crimes that are taking place in Ukraine and disseminate information about them. And yet one can't help but discern something lyrical in these writers' hurried email responses, unadorned interview answers, and scraps of experience. The attentiveness to the world in these messages is startling. Reading them, one is reminded of the philosopher Emil Cioran, who wrote, "Miles away from poetry, we still participate in it by that sudden need to scream—the last stage of lyricism."
—Ilya Kaminsky
Olena Stepanenko
The first hours of war, I do not sleep half the night because I am diagnosed with COVID-19. In the morning, we hear explosions from the Gostomel airfield, so we pack our things and make our way down from the tenth floor. The elevators no longer work.
I will never forget the view from our balcony: shells blowing up, rockets exploding as the helicopters keep arriving. Black smoke—Russians are attacking the airfield. 
All my neighbors stand side by side and watch this happen. Many take pictures.
We know that it's impossible to stay, but we don't have a car, so we spend the first day in our friends' apartment on the third floor of our building. The next day, at dawn, a Russian missile hits. It is hard for us to comprehend that this place—littered with fragments of metal, broken trees, and covered with a thick layer of insulation—was our yard, which was always so clean and tidy.
We go to a shelter on the other side of the city. Coming back, we do not recognize our Vokzalna Street: 300 meters from our house are four destroyed Russian infantry fighting vehicles, among linden and oak trunks broken in half. (A month later, already in Poland, I'll read in the newspaper that Russians set up a torture chamber at the Radiant Children's Camp nearby.)
We spend two weeks in someone else's apartment, without water, light, or gas. Temperatures sometimes reach ten degrees. In occupied cities, time doesn't exist, it is gone. War is not about time; time was completely destroyed in Gostomel, where the morning begins by chopping wood and lighting a fire to cook food. In the occupied city, we focus on those few hours when the generator is working. We are waiting for only two things—victory to be announced or the opportunity to escape.
I manage to leave Bucha with my son; my husband stays behind in Ukraine. On the first day of the "green corridor," a passage by which civilians can leave the country, we wait for six hours with children in the cold. We are here with thousands of women and children—and here we believe we will die, as the Russians on tanks laugh at our despair. Waiting is perhaps the worst thing that can happen to us. We can deal with hunger and the need to save water. We can deal with the cold—we are used to that. But the wait is unbearable. When I imagine people buried alive in Borodyanka under the ruins of high-rise buildings, I begin to hate time. These people wait for infinitely long days and nights in complete darkness, pain, and fear. And their wait is in vain. Probably, if I could hate anything more than Russia and its mad horde of "liberators," I would hate time.
I can't even remember the names of my favorite Ukrainian bands. I forget the names of poets I used to admire. Sometimes it's hard for me to even remember the name of the city where I live now and what I have to do here. But the name of the man who agrees to take us on his bus to a Ukrainian safe place, and who gave my son his first piece of bread in ten days, I remember. His name was Valera.
Lesyk Panasiuk
Let me tell you about three cities: Bucha, Zhytomyr and Khmelnytski.
Khmelnytski is where Daryna Gladun and I escape to from Bucha. Her parents and grandparents live there. We don't have a car, because Bucha is a tiny city—in Bucha you walk everywhere. We travel by the last train, then on foot. As we walk through the woods we hear explosions. It isn't very clear where the sound is coming from in the forest; it seems to us that a small village nearby, on the border of Zhytomyr and Kyiv, is being bombed, but later we learn that it seemed to people there that we were being bombed. In the village, we are taken in by strangers and spend the night. They give us food for the road. We change cars four times, then board a crowded minibus to Khmelnytsky. When we arrive, we learn that several cities were bombed just after we passed through them. Khmelnytski has changed: there are shelters everywhere in the city, and many people with weapons in their hands.
Let me tell you about Zhytomyr now: the city where I was born and raised, where my mother and stepfather lived before the war. They move to a village at the start of war, and take my younger brothers. My grandmother does not want to go; she wants to stay in her apartment. But because of the war, she has a stroke. She lies in the hallway of her apartment all night, for about twelve hours. When she hears that it's safe, she calls the neighbors, who break down the door and call an ambulance. She's taken to a hospital in another part of the city because a rocket falls near the hospital in our area. But this hospital is near a military school, so the place is also hit by a rocket. Fortunately, the blast only knocks out the hospital windows. Unfortunately, you have to crawl through charred debris and huge holes in the ground to get there. My parents take my grandmother to the village. She was born in 1946, so she did not live through the Second World War, but war still comes for her. She seems very old suddenly; part of her body is paralyzed. Even there, in a village in the south of the Zhytomyr region, peasants find Russian booby traps in the woods, and someone is killed.
Let me now tell you about Bucha, our home. These days Bucha often appears in the news. We see our house, our broken windows, dead people. Someone was shot in the street, someone was tortured. A man with his ears and nose cut off was found in our complex; he was our neighbor. Graves and dead bodies—everywhere, on the streets where we walked every day, under the houses opposite ours, and under our house too.
For a long time, Bucha was a city where artists, scientists, doctors—Nikolay Murashko, Mikhail Bulgakov, Eugene and Borys Paton and others—lived or visited. It was a small, cozy town with a beautiful landscape, where people sought for a quiet life. They came here to start and raise families. And now I don't know how to live there and not remember what happened.
As for poetry: I never thought that I would write about a Russian soldier who died with stolen vibrators in his hands. Now you can write about anything. Gone are taboos. There is more detail and forthrightness in the poems, the lines are bolder, wider—sometimes too bold, too wide. I want to speak louder, even louder, so that they hear me.
Julia Stakhivska
I am not in Bucha; my life has turned the tide. I moved to another part of Ukraine. I will be able to return to my Bucha apartment only after a mine test. I have a young daughter, and Bucha is dangerous, so I need to look for a temporary new home. I lost my favorite job: the Polish Institute in Kyiv ceased to exist.
These days, I can't write poetry, but I find it very easy to speak up publicly. It became a kind of text therapy: I am writing columns for Deutsche Welle, and I am preparing material about Bucha for a book.
The value of memory and the desire to record days have changed. When I left, I despaired over leaving behind my great-grandfather's written memories of our family—a family chronicle—which could have served as a kind of umbilical cord, a connection to something bigger than me, during this turbulent period. But then I realized: that was just a paper illusion. I still have all of these memories; my task is to push the ongoing text line further.
Oleh Kotsarev
I evacuated with my young daughter and my wife to Western Ukraine, where there are thousands of migrants from other regions. There are occasional air raid alarm sirens around us. Otherwise, life seems quite peaceful on the surface. It's soothing, but sometimes I have restless and surreal feelings. As for the city I left—hundreds of people were killed in Bucha, many of whom died after being tortured. Those who survived were also tortured. The city is mutilated.
For me, time has become a carousel: everything flashes, and you realize with a little effort that it is a certain hour, day of the week, and day of the month, and that it all belongs to Anno Domini 2022. During war, time is the location of the sun and stars and the season, rather than the numbers on the phone or the angle between the hands on the clock. On the one hand, wartime is timelessness, and on the other, it is filled with nervous attempts to look ahead.
In wartime, you look at a photo of a street in a city you recently left, and you do not recognize it. Not because of the destruction; you simply forgot it. However, you remember  unexpected little things. Before the start of full-scale Russian aggression, when I pondered which of the books I had written to take with me into possible "exile"—and I imagined I was supposed to take very few things, just one or two books—it was difficult for me to make up my mind. Before I left, I grabbed my latest collection of poetry, appropriately titled The Contents of a Man's Pocket. But after a few weeks, it became clear that I should have taken my novel People in the Nests, which plays with family history, deconstructs it, decomposes it. It is my most active, vivid connection with the past. I want this connection for myself and, also, for my daughter—who knows where we will be in future?
Daryna Gladun
I'm in a foreign country. I see the transparent walls of an aquarium all around me. I look at the news images of Bucha for a long time before I recognize any places. In my memory the city is very clean, beautiful, and bright. These days, I always have the same dream: I go into the corridor of my temporary dwelling and enter my pre-war apartment in Bucha, then take a book from the shelf and read it. Every time it is a different book. I don't remember what they are about. It is getting dark outside the window. I go to bed. I wake up because a man breaks down the apartment door. I have these dreams every night. Sometimes my own cries wake me up.
When war started, I began to speak directly. Writing has become much simpler. Metaphors and euphemisms seem unnecessary. Useless. Russia's war against Ukraine is very real. It seems to me that metaphor smudges reality. Blurs it and creates distance between the reality of the author and the reader. And if once I preferred to live in this blurred reality, after February 24 I don't anymore. Now my words have become heavier and  less flexible. They do not crumble, do not break, and do not flow into each other.
All the words now wear a military uniform. They come and I can't resist them. I don't like all the poems I've written during the war. But I have a need to write and to share what is written immediately. Before this, I had not posted poems online or given any public readings for a year. But now everything I write sits at the the boundary between literature and journalism. It is poetry in uniform. I set aside metaphors to speak about the war in clear words, so that readers around the world will be struck by the cynicism, cruelty, and inevitability of the war that Russia brought to Ukraine.
Since February 24, I haven't felt like time is passing. I mechanically mark the days of war in the titles of individual poems, but this division of time is not real. Only when the war is over will I understand which direction and at what speed the clock has been moving. Now I am infinitely old, and only a few years old. While the war continues, I am internally oscillating between this sense of all-encompassing old age and my prenatal state. And I feel like the world is swaying with me.
I speak about time, yet I am thinking of Serhiy, a refugee boy at the train station in Poznan. He held up his hedgehog and said that he was a happy hedgehog because he had survived, and that the other toys were unhappy because they had all died at home. I felt like a lucky toy hedgehog.
Siarhey Prylutski
My family spends two weeks in occupied Bucha. The war takes place some 100 meters from our house on the first day. That evening, I go to the supermarket to buy groceries, and walk past the kiosk near the house where we always used to buy cigarettes, beer, and sweets; the entrance is already barricaded against looters.
Most of the people in the supermarket look alarmed. But some do not yet fully understand that war has begun. One guy in his twenties stands in front of me at the checkout, cheerful, joking with the saleswoman. The people around us grab flour, cereal, canned food, meat. He takes only a pack of seeds and a couple of gin and tonics. A couple of times he tells the saleswoman, "I didn't expect that!"
None of us expect just yet that the Russians will soon turn life in Bucha into hell. On the way home, I see a local military near the volunteer headquarters. In less than a day, people withdraw all the money from street ATMs. Walking through a dark deserted park, one catches oneself thinking: here they come, the dark times.
In the first days of March, everything disappears—water, light, heating—we find ourselves in a kind of Middle Ages of the twenty-first century. Water is carried from a nearby building in plastic bottles and buckets. Food is now prepared in the yards of high-rise buildings. Fires are rising from almost every entrance. People begin to help each other more actively, and we learn the names of neighbors we had lived near for years.
The buildings in the occupation turn into "caves," suitable only for sleeping and hiding from shelling. The nights are frosty, and we have to sleep dressed. We in an apartment on the first floor rather than in the basement, so during heavy shelling we hide in the bathroom. Sometimes the children spend the night there while the adults sleep in the hallway, near the front door.
The curfew begins at 7 P.M. It's already dark outside. It is dark in the apartment too—we are saving candles. So I go to bed at 8 or 9 P.M., and get up at 5 or 6 A.M. unless there are night bombardments. My wife, my four-year-old son, and I live with a friend and her two daughters. During one night of heavy shelling, when explosions shake the walls of the bathroom, her eldest daughter begins to say goodbye to all of us in turn, just in case she dies suddenly today.
One can't help but feel constant involvement in what is happening across the country: while you're drinking coffee, someone else doesn't know where to find food for their child due to constant gunfire. Someone 200 kilometers away dies in the bombardment because they went out to buy bread, while you are smoking a cigarette on the balcony. You keep thinking: how is a new friend who refused to leave? Is he alive or in the hands of the Russians? During the occupation, it often seems like it is perpetually morning;  you didn't notice that it has become dark outside. When a city is bombed, time doesn't exist, time doesn't matter at all—you just wait for the shells to stop flying over the buildings.
I can tell you this: during one of the bombardments, when a shell hit a nearby building, there was no such thing as the feeling described in books, the sense that "all my life flashed before my eyes." I didn't think about my past life at all. Instead, in that moment, my memory switched off. Everything before that moment became irrelevant. I could only think about the survival of the children nearby—my son and my friend's child. My only thought was what might await them if they were left without parents. How might they climb out of this nightmare.
Edited by Katie Farris and Ilya Kaminsky.
Translated by Tetyana Denford, Katie Farris, Ilya Kaminsky, Ira Mykyta,  Alisa Slaughter, and Julia Sushytska.