IMF improves Russian GDP outlook
Despite the change, the exit of Western firms could still harm the country's economy in the long run, the body has warned The International Monetary Fund (IMF) has raised its growth forecast for the Russian economy in 2023 in its World Economic Outlook report released on Tuesday.Russia's GDP is expected to grow 0.7% this year, an upwards revision from the 0.3% increase that the IMF predicted in its January report.According to IMF chief economist Pierre-Olivier Gourinchas, Russia was "able to maintain quite a bit of momentum in the economy by taking, for instance, very strong fiscal measures." Despite the upward revision for the current year, the organization lowered its 2024 GDP growth forecast for Russia to 1.3% from the earlier 2.1%, expecting labor shortages and the exit of Western companies to affect economic growth. According to the report, the unemployment rate in Russia was 3.9% at the end of 2022. While analysts expect it to fall to 3.6% in 2023, next year it is forecast to rise again to 4.3%."An exodus of multinationals, loss in human capital, isolation from global financial markets, and impaired access to advanced technology goods and know-how will hamper the Russian economy," an IMF spokesperson said, as cited by Reuters.He also warned that the Russian economy would be in danger if the terms of trade worsen due to new sanctions, which would result in a decline in the current account surplus and in fiscal revenues. "The latter means that the authorities will need to either curtail spending or find ways to finance noticeably higher deficits," the spokesperson added.Russia's budget deficit was 2.4 trillion rubles ($29.2 billion) in the first quarter, down from a surplus of 1.13 trillion rubles ($13.7 billion) in 2022, while the current account surplus dropped by roughly 73% year-on-year to $18.6 billion. Both changes were brought about by heavy spending and lower energy revenues, analysts say.Earlier, official forecasts from the Ministry of Economic Development predicted Russian GDP to decrease by 0.8% in 2023 and return to growth in 2024 at 2.6%. The Bank of Russia also recently revised the GDP dynamics to -1%/+1% this year, up from its October forecast, which predicted an economic contraction in the range of 1-4%. The regulator is expected to publish an updated medium-term macroeconomic forecast later this month.For more stories on economy & finance visit RT's business section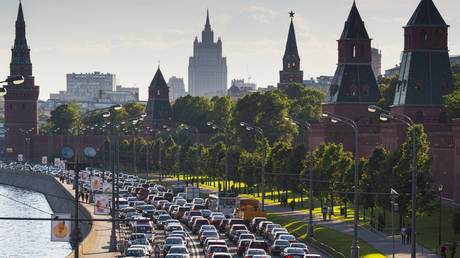 Despite the change, the exit of Western firms could still harm the country's economy in the long run, the body has warned
The International Monetary Fund (IMF) has raised its growth forecast for the Russian economy in 2023 in its World Economic Outlook report released on Tuesday.
Russia's GDP is expected to grow 0.7% this year, an upwards revision from the 0.3% increase that the IMF predicted in its January report.
According to IMF chief economist Pierre-Olivier Gourinchas, Russia was "able to maintain quite a bit of momentum in the economy by taking, for instance, very strong fiscal measures." 
Despite the upward revision for the current year, the organization lowered its 2024 GDP growth forecast for Russia to 1.3% from the earlier 2.1%, expecting labor shortages and the exit of Western companies to affect economic growth. According to the report, the unemployment rate in Russia was 3.9% at the end of 2022. While analysts expect it to fall to 3.6% in 2023, next year it is forecast to rise again to 4.3%.
"An exodus of multinationals, loss in human capital, isolation from global financial markets, and impaired access to advanced technology goods and know-how will hamper the Russian economy," an IMF spokesperson said, as cited by Reuters.
He also warned that the Russian economy would be in danger if the terms of trade worsen due to new sanctions, which would result in a decline in the current account surplus and in fiscal revenues.
"The latter means that the authorities will need to either curtail spending or find ways to finance noticeably higher deficits," the spokesperson added.
Russia's budget deficit was 2.4 trillion rubles ($29.2 billion) in the first quarter, down from a surplus of 1.13 trillion rubles ($13.7 billion) in 2022, while the current account surplus dropped by roughly 73% year-on-year to $18.6 billion. Both changes were brought about by heavy spending and lower energy revenues, analysts say.
Earlier, official forecasts from the Ministry of Economic Development predicted Russian GDP to decrease by 0.8% in 2023 and return to growth in 2024 at 2.6%. The Bank of Russia also recently revised the GDP dynamics to -1%/+1% this year, up from its October forecast, which predicted an economic contraction in the range of 1-4%. The regulator is expected to publish an updated medium-term macroeconomic forecast later this month.
For more stories on economy & finance visit RT's business section