How To Watch the 2023 World's Strongest Man
Here's how you can keep up with all the action in Myrtle Beach. Written by Robert Zeglinski Last updated on April 17, 2023The biggest contest in strongman, the 2023 World's Strongest Man (WSM), will take place on Apr. 19-23, 2023. After occurring in Sacramento, CA for 2021 and 2022, this year's edition is changing it up by being set in Myrtle Beach, SC for the first time in the contest's 46-year run. By the end of the weekend, another all-time strength champion will write another stirring chapter in the strongman history books. Admission is free for fans attending the 2023 WSM in person at Burroughs & Chapin Pavilion Place, and gates open to the public at 7 a.m. Eastern time. There will be a fan festival area and a general admission viewing area for spectators. For those who wish to watch the 2023 WSM at home, viewing it live is impossible. In the U.S., CBS Sports Network will air the 2023 WSM beginning on May 28, 2023. In the UK, the 2023 WSM will air on Channel 5 in December. In the meantime, the 2023 WSM's various social media platforms, including YouTube and Instagram, will feature behind-the-scenes coverage while 15-time WSM athlete Terry Hollands conducts interviews with the competitors. More from Breaking Muscle: Tom Stoltman is the two-time defending WSM champion. The strongman is seeking history in the form of the third "three-peat" in the history of the flagship strength contest. To date, the only athletes to have ever successfully won three consecutive WSM titles were the United States' Bill Kazmaier (1980-1982) and Iceland's Magnús Ver Magnússon (1994-1996). Here is the 30-man roster for the 2023 WSM: 2023 World's Strongest Man Roster The WSM organization will reveal the Qualifying Round groups for the 2023 WSM on Apr. 18, 2023 at 2 p.m. Eastern time. While unconfirmed, it is anticipated there will once again be six groups of five competitors each. Hollands will conduct the group announcement in front of a live audience in Myrtle Beach, and it will be livestreamed. 2023 World's Strongest Man Events Schedule Here are the events and their scheduling for the 2023 WSM: Qualifying Stage Day One Event One: Loading Race — April 19 | 8 a.m., Sand Stage Event Two: Deadlift Machine — April 19 | 11:29 a.m., Land Stage Event Three: Log Ladder — April 19 | 4:49 p.m., Sand Stage Qualifying Stage Day Two Event Four: Conan's Wheel — April 20 | 8 a.m., Land Stage Event Five: Kettlebell Toss — April 20 | 1:20 p.m., Sand Stage Event Six: Stone Off — April 20 | 6:13 p.m., Land Stage Rest Day — April 21, 2023 Final Day One Just 10 strongmen will advance to the Final after the Qualifying Round. Event One: Fingal's Fingers — April 22 | 8 a.m., Street Stage Event Two: KNAACK Deadlift — April 22 | 10:41 a.m., Sand Stage Event Three: Reign Shield Carry — April 22 | 2:18 p.m., Street Stage Final Day Two Event Four: Max Dumbbell — April 23 | 8 a.m., Land Stage Event Five: Vehicle Pull — April 23 | 10:10 a.m., Street Stage Event Six: Atlas Stones — April 23 | 1:54 p.m., Sand Stage Stoltman's "three-peat" pursuit aside, there are other notable storylines to watch at the 2023 WSM. For example, four-time WSM champion (2011, 2013, 2015-2016) Brian Shaw will compete in his last-ever WSM. Long-time WSM competitor Mark Felix will also be putting a bow on his WSM career, which, as of this contest, makes for his 18th appearance. Meanwhile, other potential bona fide WSM contenders include Mitchell Hooper. The Canadian athlete has won four of his last five strongman contests and blitzed the 2022 WSM in his debut by qualifying for the Final. Even while nursing a lat muscle injury, Oleksii Novikov will be someone to watch, too. Novikov has qualified for the podium in 15 straight competitions dating back to July 2021. Aside from Shaw and the defending champion Stoltman, Novikov is the only other former WSM winner (2020) in the field. More from Breaking Muscle: As past WSM editions have shown, anything can happen in Myrtle Beach. The only reality that seems inevitable is that some of the world's most physically powerful people will show off their sheer strength to an admiring crowd in person and at home. Featured image: @theworldsstrongestman on Instagram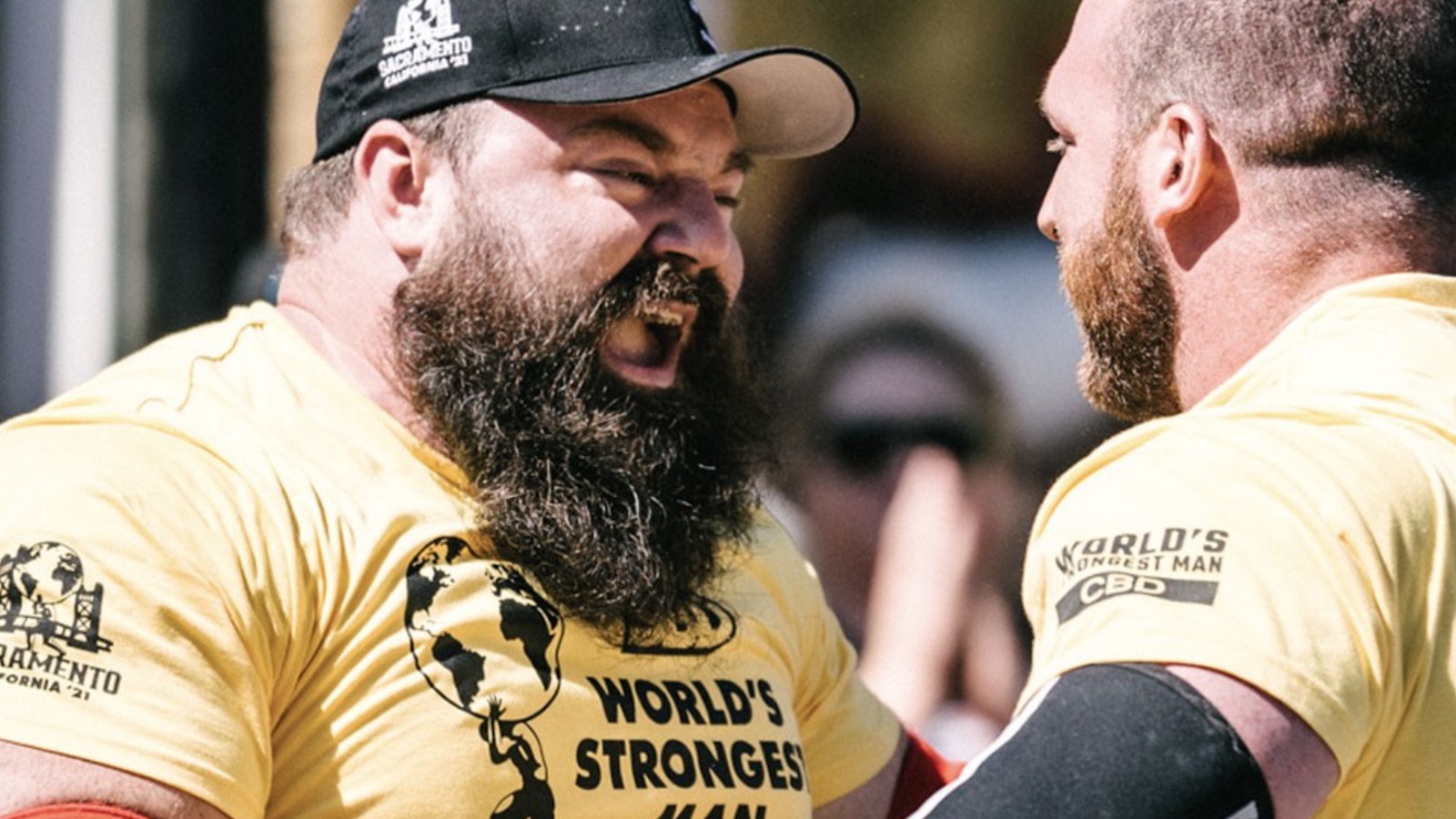 The biggest contest in strongman, the 2023 World's Strongest Man (WSM), will take place on Apr. 19-23, 2023. After occurring in Sacramento, CA for 2021 and 2022, this year's edition is changing it up by being set in Myrtle Beach, SC for the first time in the contest's 46-year run. By the end of the weekend, another all-time strength champion will write another stirring chapter in the strongman history books.
Admission is free for fans attending the 2023 WSM in person at Burroughs & Chapin Pavilion Place, and gates open to the public at 7 a.m. Eastern time. There will be a fan festival area and a general admission viewing area for spectators. For those who wish to watch the 2023 WSM at home, viewing it live is impossible. In the U.S., CBS Sports Network will air the 2023 WSM beginning on May 28, 2023. In the UK, the 2023 WSM will air on Channel 5 in December. In the meantime, the 2023 WSM's various social media platforms, including YouTube and Instagram, will feature behind-the-scenes coverage while 15-time WSM athlete Terry Hollands conducts interviews with the competitors.
Tom Stoltman is the two-time defending WSM champion. The strongman is seeking history in the form of the third "three-peat" in the history of the flagship strength contest. To date, the only athletes to have ever successfully won three consecutive WSM titles were the United States' Bill Kazmaier (1980-1982) and Iceland's Magnús Ver Magnússon (1994-1996).
Here is the 30-man roster for the 2023 WSM:
2023 World's Strongest Man Roster
The WSM organization will reveal the Qualifying Round groups for the 2023 WSM on Apr. 18, 2023 at 2 p.m. Eastern time. While unconfirmed, it is anticipated there will once again be six groups of five competitors each. Hollands will conduct the group announcement in front of a live audience in Myrtle Beach, and it will be livestreamed.
2023 World's Strongest Man Events Schedule
Here are the events and their scheduling for the 2023 WSM:
Qualifying Stage Day One
Event One: Loading Race — April 19 | 8 a.m., Sand Stage
Event Two: Deadlift Machine — April 19 | 11:29 a.m., Land Stage
Event Three: Log Ladder — April 19 | 4:49 p.m., Sand Stage
Qualifying Stage Day Two
Event Four: Conan's Wheel — April 20 | 8 a.m., Land Stage
Event Five: Kettlebell Toss — April 20 | 1:20 p.m., Sand Stage
Event Six: Stone Off — April 20 | 6:13 p.m., Land Stage
Rest Day — April 21, 2023
Final Day One
Just 10 strongmen will advance to the Final after the Qualifying Round.
Event One: Fingal's Fingers — April 22 | 8 a.m., Street Stage
Event Two: KNAACK Deadlift — April 22 | 10:41 a.m., Sand Stage
Event Three: Reign Shield Carry — April 22 | 2:18 p.m., Street Stage
Final Day Two
Event Four: Max Dumbbell — April 23 | 8 a.m., Land Stage
Event Five: Vehicle Pull — April 23 | 10:10 a.m., Street Stage
Event Six: Atlas Stones — April 23 | 1:54 p.m., Sand Stage
Stoltman's "three-peat" pursuit aside, there are other notable storylines to watch at the 2023 WSM.
For example, four-time WSM champion (2011, 2013, 2015-2016) Brian Shaw will compete in his last-ever WSM. Long-time WSM competitor Mark Felix will also be putting a bow on his WSM career, which, as of this contest, makes for his 18th appearance.
Meanwhile, other potential bona fide WSM contenders include Mitchell Hooper. The Canadian athlete has won four of his last five strongman contests and blitzed the 2022 WSM in his debut by qualifying for the Final. Even while nursing a lat muscle injury, Oleksii Novikov will be someone to watch, too. Novikov has qualified for the podium in 15 straight competitions dating back to July 2021. Aside from Shaw and the defending champion Stoltman, Novikov is the only other former WSM winner (2020) in the field.
As past WSM editions have shown, anything can happen in Myrtle Beach. The only reality that seems inevitable is that some of the world's most physically powerful people will show off their sheer strength to an admiring crowd in person and at home.