How to Make Play Dough
We can show you how to make play dough with just 6 ingredients and 10 minutes of your time. It's a quick and easy tutorial that'll have you on your way to rolling, stamping, squeezing, and squishing in no time at all. Why we love this project Making play dough is really simple, but opens up a world of imaginative sensory play for kids. You can alter the intensity of your colors by simply adding more or less food coloring, see our Easter play dough for inspiration on lighter pastel colors. Helpful Project Information: Age Level: 6 and upMess Factor: MediumLevel of Difficulty: EasyTime to Complete: Less than 10 minutesCost Estimate: Less than $5.00 Craft supplies you will need Get full list of supplies and directions in the printable version at the end of this post. How to Make Play Dough These step by step photos and instructions are here to help you visualize how to make this project. Please scroll down to simply print out the instructions! Combine all of the dry ingredients in a large mixing bowl and mix well.Add your water and food coloring to a small bowl and mix together. To achieve a nice bold color, use about 5 drops of food coloring, adding in more as you see fit until you reach your desired intensity. Then add in your vegetable oil and stir.Add the wet ingredients to the saucepan first.Next, add dry ingredients into the saucepan and mix together well.Heat the saucepan over low to medium heat. Continue to stir while the pot is on the heat so it does not stick to the bottom. You want the dough to thicken to the point it can form a shape, you'll know it is done when it is no longer wet.Remove from heat and let cool. After cooling, knead your dough until it is soft. You can add a couple drops of water or oil if the dough doesn't seem to soften up. Expert Crafting Tips There are lots of fun add ins for play dough. Foam balls, scents, glitter, or confetti are great options. This play dough tool kit is awesome for cutting, shaping, rolling, and molding!The more you play with the dough, the drier it will become. If it dries out too much, try adding a drop or two of water and knead with your hands. Likewise, you can use a drop of vegetable or coconut oil instead of water to make your play dough soft again.Store your play dough in an air-tight container. To keep it from drying out sooner, wrap the dough in plastic wrap or seal it in a plastic bag that's flattened to remove the air before storing in a container.The cream of tartar is the secret ingredient in play dough that keeps it soft. Along with the salt, it also helps preserve your dough. Play dough is a fun project to tackle that requires minimal ingredients but provides countless hours of entertainment for kids. Grab some cookie cutters to make cute shapes or enjoy it as is by rolling, squishing, and molding it. I love to create and share my projects with you! I know it's hard to remember to come back and search, so I've made it easy for you with my weekly newsletter! You can subscribe for free and I'll send you fun crafts and delicious recipes every week right to your email. More Slime, Dough, and Clay Projects Print Project 5 from 1 vote How to Make Play Dough Play dough is a fun project to tackle that requires minimal ingredients but provides countless hours of entertainment for kids. Grab some cookie cutters to make cute shapes or enjoy it as is by rolling, squishing, and molding it. Prep Time5 minsCrafting Time5 minsTotal Time10 mins Age Group: Kids Crafts Makes: 1 batch of dough Supplies1 cup flour2 tsp cream of tartar1/2 cup salt1 cup water5 drops food coloring less or more for desired intensity.1 Tbsp vegetable oil Craft toolsSaucepanMedium size mixing bowl InstructionsCombine all of the dry ingredients in a large mixing bowl and mix well.Add your water and food coloring to a small bowl and mix together. To achieve a bold color, use about 5 drops of food coloring, adding in more as you see fit until you reach your desired intensity. Then add in your vegetable oil and stir.Add the wet ingredients to the saucepan first.Next, add dry ingredients into the saucepan and mix together well.Heat the saucepan over low to medium heat. Continue to stir while the pot is on the heat so it does not stick to the bottom. You want the dough to thicken to the point it can form a shape, you'll know it is done when it is no longer wet.Remove from heat and let cool. After cooling, knead your dough until it is soft. You can add a couple drops of water or oil if the dough doesn't seem to soften up. Expert Tips & FAQs The ingredients listed above will make 1 batch of dough. Repeat the process for multiple colors. Store your play dough in an air-tight container. To keep it from drying out sooner, wrap the dough in plastic wrap or seal it in a plastic bag that's flattened to remove th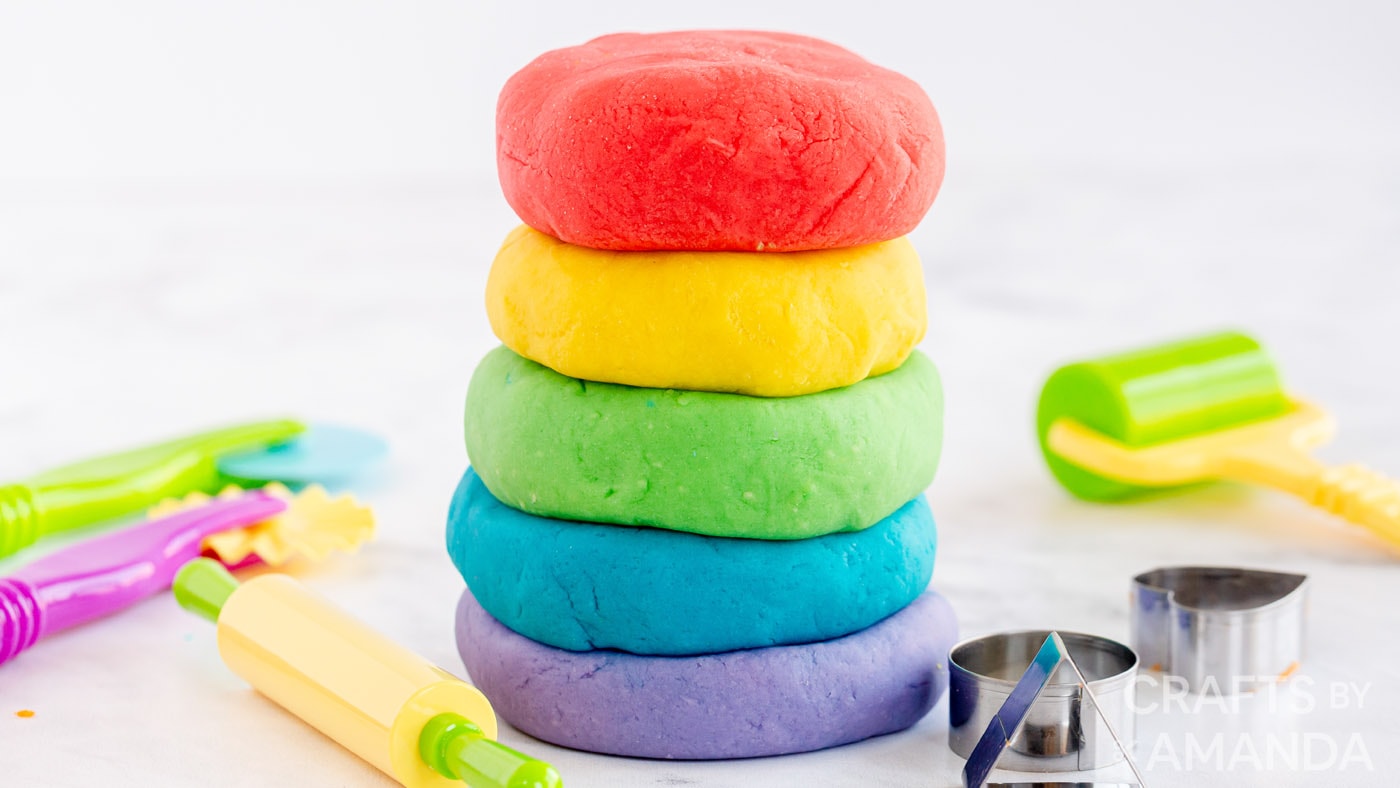 We can show you how to make play dough with just 6 ingredients and 10 minutes of your time. It's a quick and easy tutorial that'll have you on your way to rolling, stamping, squeezing, and squishing in no time at all.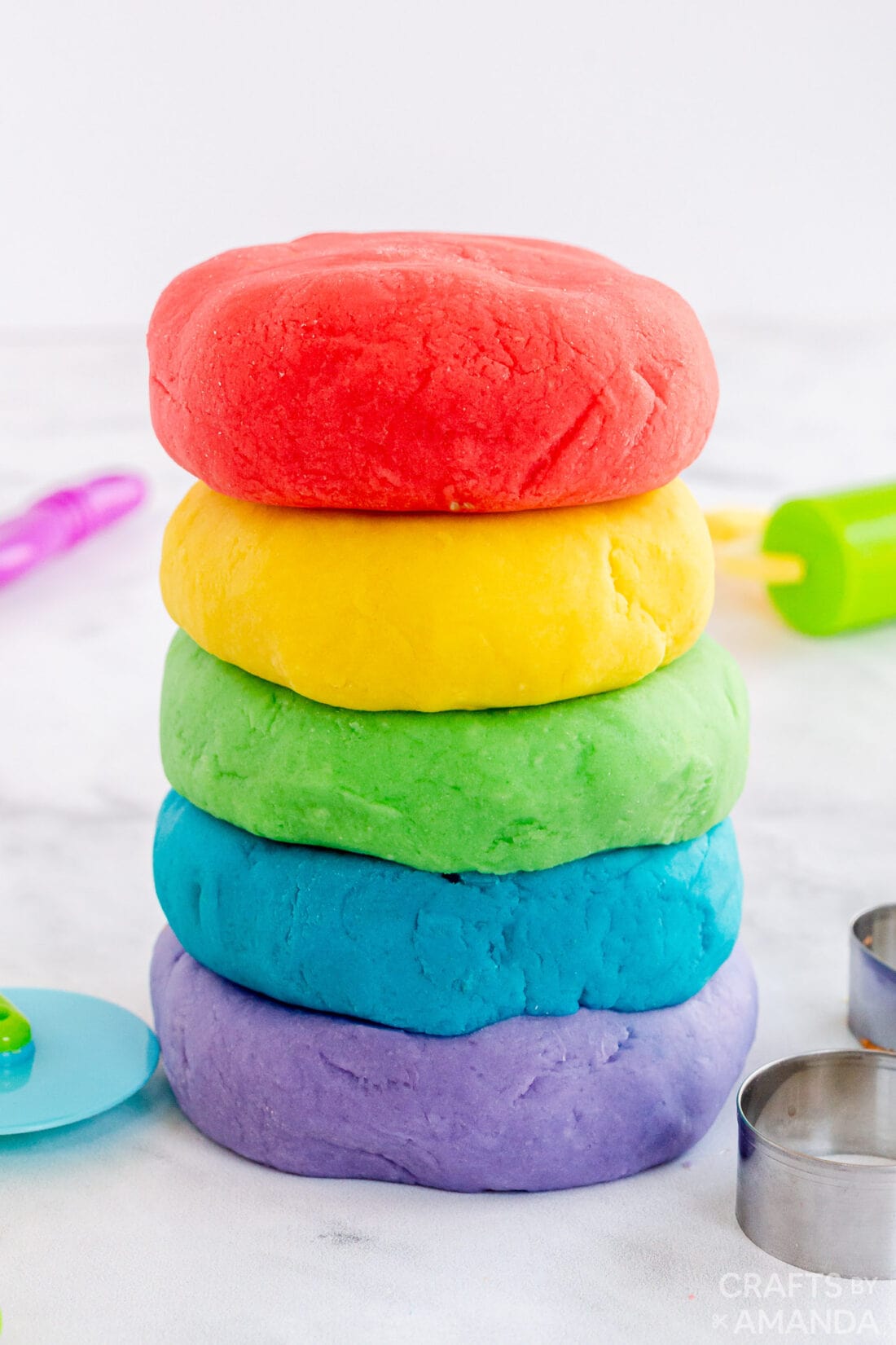 Why we love this project
Making play dough is really simple, but opens up a world of imaginative sensory play for kids. You can alter the intensity of your colors by simply adding more or less food coloring, see our Easter play dough for inspiration on lighter pastel colors.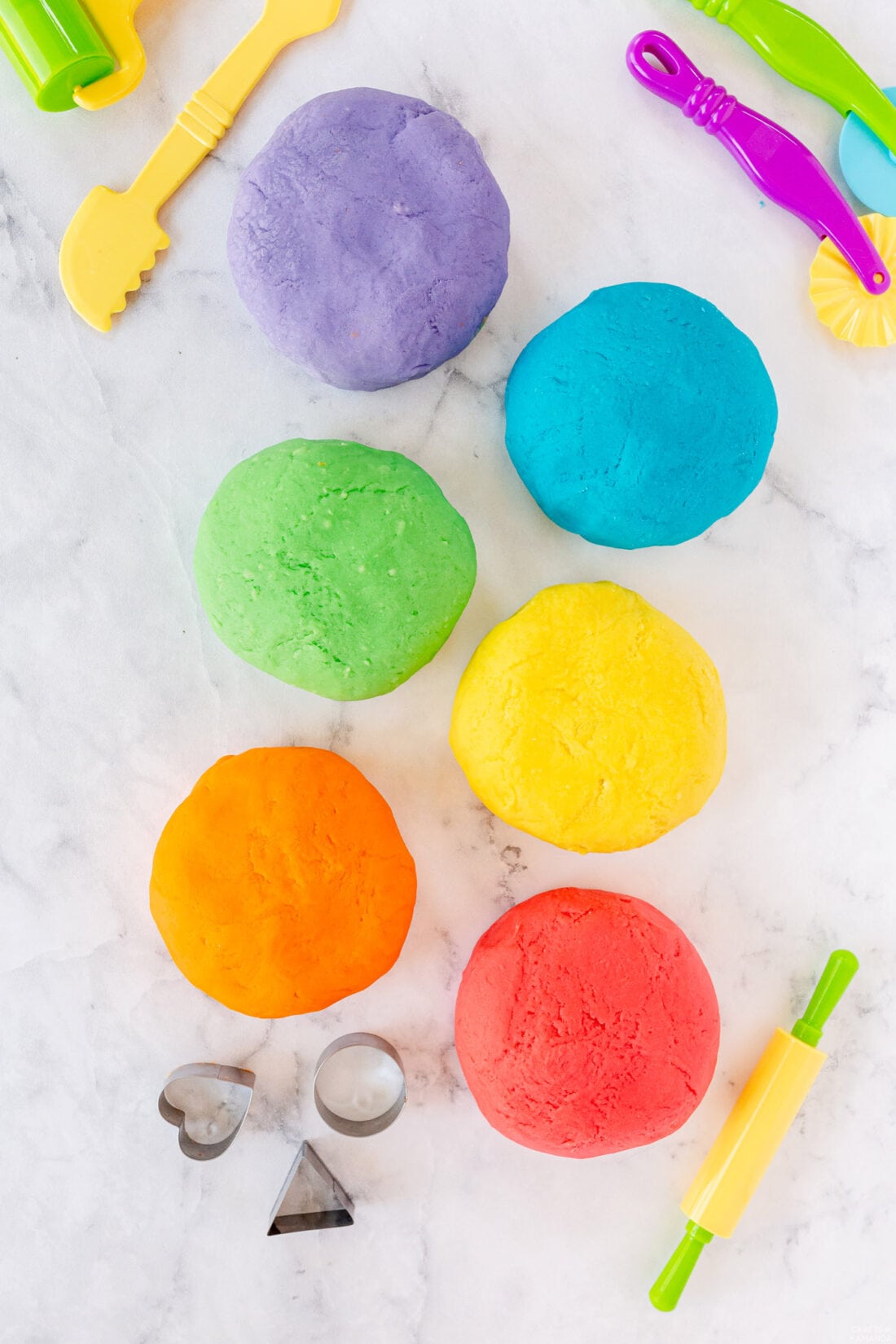 Helpful Project Information:
Age Level: 6 and up
Mess Factor: Medium
Level of Difficulty: Easy
Time to Complete: Less than 10 minutes
Cost Estimate: Less than $5.00
Craft supplies you will need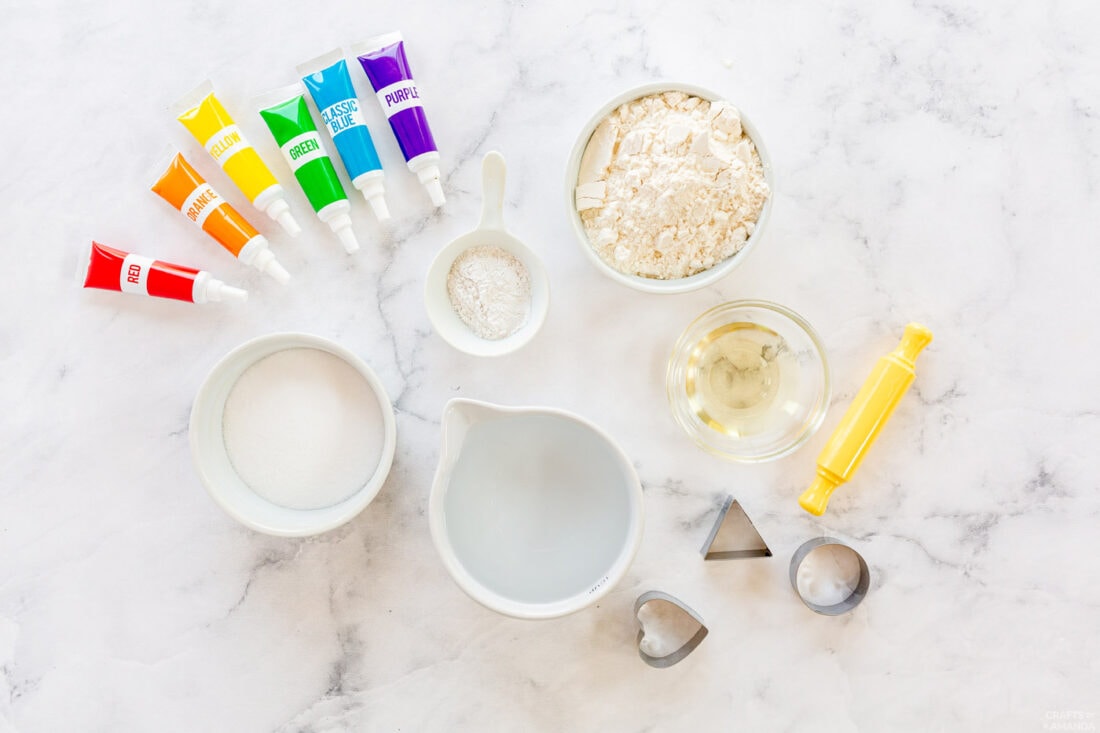 Get full list of supplies and directions in the printable version at the end of this post.
How to Make Play Dough
These step by step photos and instructions are here to help you visualize how to make this project. Please scroll down to simply print out the instructions!
Combine all of the dry ingredients in a large mixing bowl and mix well.
Add your water and food coloring to a small bowl and mix together. To achieve a nice bold color, use about 5 drops of food coloring, adding in more as you see fit until you reach your desired intensity. Then add in your vegetable oil and stir.
Add the wet ingredients to the saucepan first.
Next, add dry ingredients into the saucepan and mix together well.
Heat the saucepan over low to medium heat. Continue to stir while the pot is on the heat so it does not stick to the bottom. You want the dough to thicken to the point it can form a shape, you'll know it is done when it is no longer wet.
Remove from heat and let cool. After cooling, knead your dough until it is soft. You can add a couple drops of water or oil if the dough doesn't seem to soften up.
Expert Crafting Tips
There are lots of fun add ins for play dough. Foam balls, scents, glitter, or confetti are great options. This play dough tool kit is awesome for cutting, shaping, rolling, and molding!
The more you play with the dough, the drier it will become. If it dries out too much, try adding a drop or two of water and knead with your hands. Likewise, you can use a drop of vegetable or coconut oil instead of water to make your play dough soft again.
Store your play dough in an air-tight container. To keep it from drying out sooner, wrap the dough in plastic wrap or seal it in a plastic bag that's flattened to remove the air before storing in a container.
The cream of tartar is the secret ingredient in play dough that keeps it soft. Along with the salt, it also helps preserve your dough.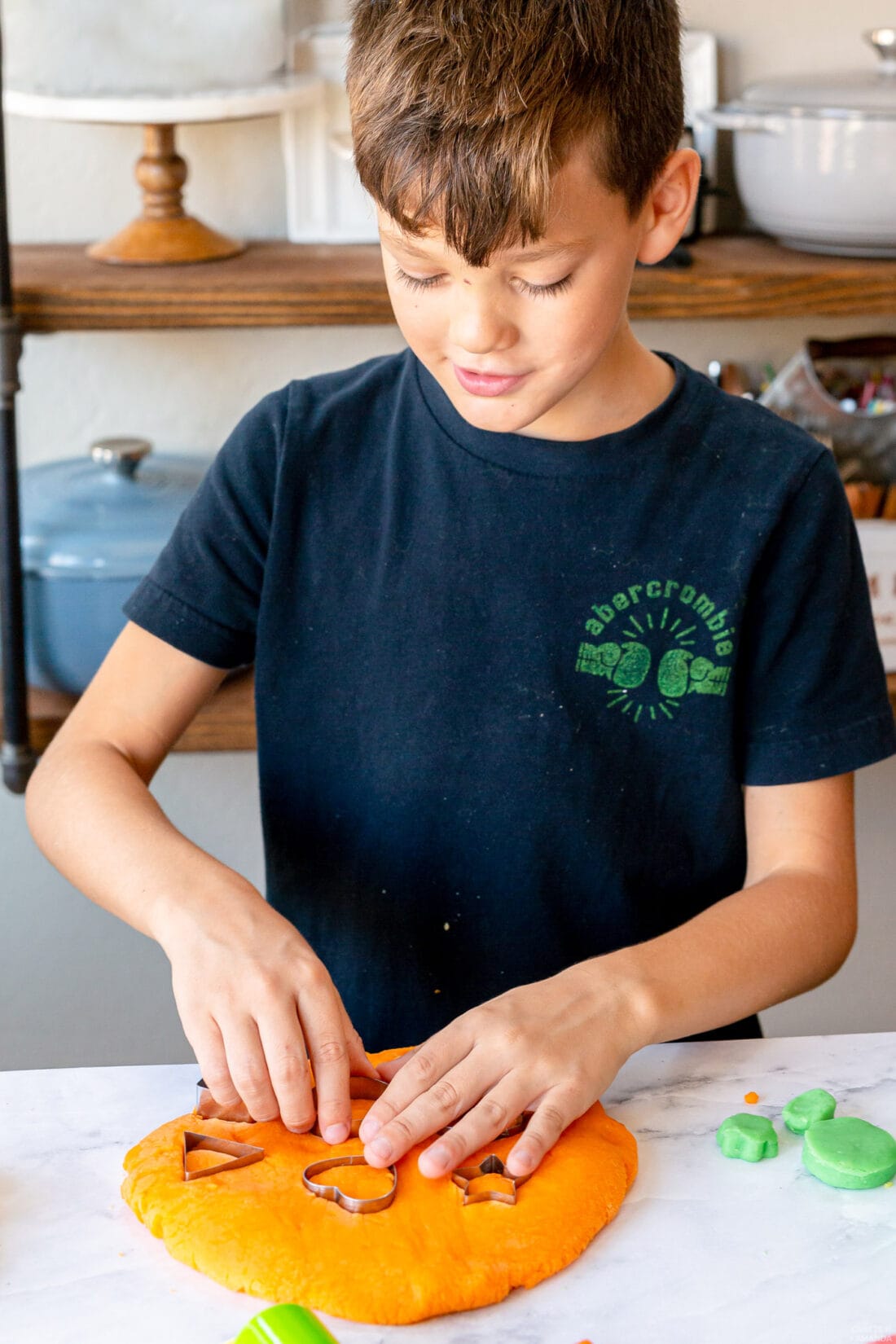 Play dough is a fun project to tackle that requires minimal ingredients but provides countless hours of entertainment for kids. Grab some cookie cutters to make cute shapes or enjoy it as is by rolling, squishing, and molding it.
I love to create and share my projects with you! I know it's hard to remember to come back and search, so I've made it easy for you with my weekly newsletter! You can subscribe for free and I'll send you fun crafts and delicious recipes every week right to your email.