How to fly to a country and job-hunt in-person
Get off the plane, rest, then start networking. After the plane lands, you'll want to take a shower, have a quick rest, and then start using your time to hunt for job prospects. While your first thought might be to start visiting the schools from your Google list, there's something else you should do first – start networking. Talking with local people and getting current first-hand advice can be extremely useful for narrowing down your search efforts. Networking with your hostel: Hostels and local BnB's are a huge resource in a new country. The local staff can usually hook you up with all of the foreigner hotspots. They know where foreigners go to be tourists, and more importantly, they'll likely know where long term foreigners go to hang out. This is something to keep in mind – you're here to find work, not be a tourist. Some of the staff may even know the top cram schools because they studied there, or they see school advertisements during intake season. The staff at the front desk are usually the biggest pool of knowledge, but you might get lucky and find a returning visitor or a local who is doing a staycation. These people might be able to refer you to their friend who is already teaching. The point is, go where the people are and start finding your resources. Note: Schools are usually situated near to residential areas. While you might find schools in city centers, they'll likely not be near busy bar streets, nightclubs, or tourist traps. If you find yourself heading to one of these areas, you should have a clear objective in mind – talking with people to find possible school leads, and not getting distracted. You'll have plenty of time to enjoy these areas after you've got settled in. Networking with foreigners: Now that you've talked to the locals, it's time to talk to the foreigners. Where do you find them? Expat bars: People that have lived In a particular country for a while are more likely to congregate in particular bars. They will likely have grown bored of the more touristy areas, and will have found other areas. You can search on Google to find expat bars in each city to help narrow down your focus. Facebook groups: There are plenty of groups online for different expat communities in each major city of the world. If you open up Facebook, and search for "ESL teaching", "teaching jobs" along with the name of the city/country that you're in, you'll likely find groups to join. You might also stumble across ladies only or expat only groups that might hold more relevant advice. While not all expats are going to want to play an active role in helping you find work, you might get some good leads, hear of some schools to avoid, and which areas to look for. You might also stumble across recruiters… Keep an eye open for recruiters It's very common to find recruiters in most major English teaching destinations around the world. There are several types of recruiters that you might find. HR recruiters: For larger franchise schools, they will often have several HR employees that will be responsible for hiring teachers. They'll often rely on job postings, but may also hang out in the local expat areas to discover potential new teachers. As these recruiters directly work for the school hiring you, they will usually have more accurate and transparent information to give you. Agencies: These can be some of the best places to find work quickly, but you should exercise caution. Agencies network with a range of schools to help them find English language teachers. The schools then pay the agency a certain commission for each new teacher. As these agencies network with a large range of schools, they'll often have a greater ability to find a job for you. However, as they're working on a commission basis, they might be inclined to exaggerate your promised pay/work conditions in order to get you to sign with them. You should check whether you'll be employed directly by the school, or employed by the agency, and you should be prepared to push them to put things in writing. Teachers: Schools will often offer teachers a commission if they can recruit friends or other teachers to join their school. This means that you might find expats willing to introduce you to their school, so that you can get a job, and so that they can earn a commission from it. Independent recruiters: This final type of recruiter is one to be careful with. They're usually locals that earn a commission in a similar way to an agency to earn extra income on the side. Unfortunately, unlike agencies, they have very little accountability, and can easily disappear if you have any issues with them. Note: Do not pay any agency or recruiter to help you find a job. They will always receive their commission from the school directly after you've been hired, so there should be no need to charge the teacher up front first. Apply with schools directly Alongside your networking and recruiter efforts, you can start to apply directly with schoo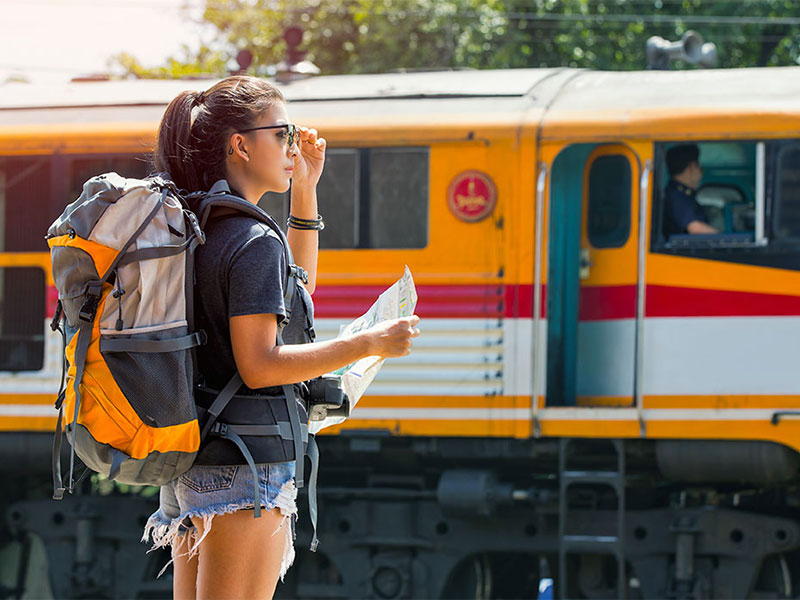 Get off the plane, rest, then start networking.
After the plane lands, you'll want to take a shower, have a quick rest, and then start using your time to hunt for job prospects.
While your first thought might be to start visiting the schools from your Google list, there's something else you should do first – start networking. Talking with local people and getting current first-hand advice can be extremely useful for narrowing down your search efforts.
Networking with your hostel:
Hostels and local BnB's are a huge resource in a new country. The local staff can usually hook you up with all of the foreigner hotspots. They know where foreigners go to be tourists, and more importantly, they'll likely know where long term foreigners go to hang out. This is something to keep in mind – you're here to find work, not be a tourist.
Some of the staff may even know the top cram schools because they studied there, or they see school advertisements during intake season. The staff at the front desk are usually the biggest pool of knowledge, but you might get lucky and find a returning visitor or a local who is doing a staycation. These people might be able to refer you to their friend who is already teaching. The point is, go where the people are and start finding your resources.
Note: Schools are usually situated near to residential areas. While you might find schools in city centers, they'll likely not be near busy bar streets, nightclubs, or tourist traps. If you find yourself heading to one of these areas, you should have a clear objective in mind – talking with people to find possible school leads, and not getting distracted. You'll have plenty of time to enjoy these areas after you've got settled in.
Networking with foreigners:
Now that you've talked to the locals, it's time to talk to the foreigners. Where do you find them?
Expat bars: People that have lived In a particular country for a while are more likely to congregate in particular bars. They will likely have grown bored of the more touristy areas, and will have found other areas. You can search on Google to find expat bars in each city to help narrow down your focus.
Facebook groups: There are plenty of groups online for different expat communities in each major city of the world. If you open up Facebook, and search for "ESL teaching", "teaching jobs" along with the name of the city/country that you're in, you'll likely find groups to join. You might also stumble across ladies only or expat only groups that might hold more relevant advice.
While not all expats are going to want to play an active role in helping you find work, you might get some good leads, hear of some schools to avoid, and which areas to look for. You might also stumble across recruiters…
Keep an eye open for recruiters
It's very common to find recruiters in most major English teaching destinations around the world. There are several types of recruiters that you might find.
HR recruiters: For larger franchise schools, they will often have several HR employees that will be responsible for hiring teachers. They'll often rely on job postings, but may also hang out in the local expat areas to discover potential new teachers. As these recruiters directly work for the school hiring you, they will usually have more accurate and transparent information to give you.
Agencies: These can be some of the best places to find work quickly, but you should exercise caution. Agencies network with a range of schools to help them find English language teachers. The schools then pay the agency a certain commission for each new teacher. As these agencies network with a large range of schools, they'll often have a greater ability to find a job for you.
However, as they're working on a commission basis, they might be inclined to exaggerate your promised pay/work conditions in order to get you to sign with them. You should check whether you'll be employed directly by the school, or employed by the agency, and you should be prepared to push them to put things in writing.
Teachers: Schools will often offer teachers a commission if they can recruit friends or other teachers to join their school. This means that you might find expats willing to introduce you to their school, so that you can get a job, and so that they can earn a commission from it.
Independent recruiters: This final type of recruiter is one to be careful with. They're usually locals that earn a commission in a similar way to an agency to earn extra income on the side. Unfortunately, unlike agencies, they have very little accountability, and can easily disappear if you have any issues with them.
Note: Do not pay any agency or recruiter to help you find a job. They will always receive their commission from the school directly after you've been hired, so there should be no need to charge the teacher up front first.
Apply with schools directly
Alongside your networking and recruiter efforts, you can start to apply directly with schools from your Google list, adding any potential leads you've heard about or seen since your arrival.
You can call up schools and ask if they have any vacancies, but it can be better to visit them directly and ask in person.
What to take with you:
When approaching schools, you'll want to be well-prepared. This means having a plastic folder with the following:
TEFL certificate copy
Passport copy
Degree certificate copy (if you have one)
Resume + profile photograph
You should make lots of copies of each document, and put them into pre-made packs with plastic wallets so that they're ready to hand over to schools. If you don't prepare like this, you'll likely show up with wrinkled documents in a disorganised way – this would be a bad first impression for any school.
What to wear:
Schools will generally want to see well-dressed teachers with neat hair and freshly shaven faces (it's possible to get hired with a beard, but it's not the most ideal thing that schools have in their mind).
You will want to wear trousers or a formal knee-length skirt, along with a relatively plain buttoned shirt. It can help if you bring a shoulder bag or laptop bag (not a backpack) to keep your documents in. You can also keep one or two ironed and folded shirts inside this bag so that you can change your shirt if you get too sweaty while travelling between different schools throughout the day.
What to say when you arrive:
You'll want to approach the school calmly, and confidently. When you walk in, you'll likely see a receptionist first, and will be able to chat with them about any vacancies they might have.
Here's a great opener to try when visiting a school:
"Good morning! My name is ____.
I'm an English teacher from ____, and i'd like to check if there are any positions that I could apply for at your school.
Is there somebody from HR that I could talk with?"
After introducing yourself in this way, the receptionist would likely respond in one of three main ways:
Rejection: You might be told there are no current openings. In this situation, you could thank them for their time and ask where to leave your resume in case any positions open up. Alternatively, you could ask who you can contact to check about openings in the future – you might be able to collect a name card/email to use.
Postponing: You might be told that there is nobody to check with at this moment in time. In this situation, you could lead with asking what time would be better to return. If they're aren't able to give a clear answer, you could ask how you could contact their recruitment team. The receptionist might not have this available to give you, or might not want to hand out their contact details, so you could follow up with leaving your resume pack with the receptionist.
Interview: This is the best-case scenario. The receptionist might be able to call somebody to come by and meet you. They might ask you if you have time for an interview on the spot, or you might be able to chat with them and arrange a time to interview later in the week. If you feel particularly confident, and have been practising your demo classes at home, you could even mention that you would be interested in giving a demo class for them.
Not all interactions will go this way, but by preparing for the most likely outcomes, you will be able to walk into the schools with more confidence, and walk out with a higher chance of securing a position.
Conclusion
While it might seem like a daunting task at first, It actually isn't all that difficult to fly over to a new country and find work. If you save up, prepare well before your flight, and take destiny in your hands when you arrive, it can be possible to quickly find your dream job overseas.