House Passes Bill to Prohibit Collusion Between Federal Government, Big Tech to Censor Lawful Speech
The House passed a bill on March 9 that would prohibit the federal government from colluding with Big Tech to censor lawful speech. The bill passed 219–206. The bill, which is likely dead on arrival in the Democrat-controlled Senate, was introduced by Rep. James Comer (R-Ky.), the chairman of the House Oversight Committee. Ahead of the vote, Rep. Greg Landsman (D-Ohio) accused the proponents of the bill of "promoting" Russian President Vladimir Putin's "will" and propaganda. Rep. Dan Goldman (D-N.Y.) called the bill "a complete waste of time and completely unnecessary." Rep. Jamie Raskin (D-Md.), the ranking member of the House Oversight Committee, called the bill "the Putin protection act." However, also ahead of the vote, supporters of the bill decried free speech being attacked by the nexus of the federal government and Big Tech that includes silencing conservative voices. Rep. Glenn Grothman (R-Wis.) cited Twitter's censorship of the Hunter Biden laptop story just weeks before the 2020 election. "It is the policy of the Congress that employees acting in their official capacity should neither take action within their authority or influence to promote the censorship of any lawful speech, nor advocate that a third party, including a private entity, censor such speech," states the bill. The bill would be an extension of The Hatch Act, which prohibits civil federal employees, except for the president and vice president, from engaging in certain political acts including campaigning. The measure would not prevent the federal government from working with Big Tech to combat illicit content, including child pornography and exploitation, drug trafficking, and human trafficking. The bill comes in light of the Twitter Files released by prominent journalists including Matt Taibbi at the behest of Twitter owner Elon Musk. Some of the files revealed collusion between Washington and Big Tech. One description of such collusion between the FBI and Twitter was, according to Taibbi on Dec. 16, "constant and pervasive, as if it were a subsidiary." According to Taibbi, "between January 2020 and November 2022, there were over 150 emails between the FBI and former Twitter Trust and Safety chief Yoel Roth." Some of these emails pertained to alleged election disinformation. The FBI gave Twitter accounts that may have violated Twitter's terms of service. The FBI dismissed the accusations, calling it the work of "conspiracy theorists." "The correspondence between the FBI and Twitter show nothing more than examples of our traditional, longstanding and ongoing federal government and private sector engagements, which involve numerous companies over multiple sectors and industries," the bureau told multiple outlets in a statement. "As evidenced in the correspondence, the FBI provides critical information to the private sector in an effort to allow them to protect themselves and their customers." "The men and women of the FBI work every day to protect the American public," continued the FBI. "It is unfortunate that conspiracy theorists and others are feeding the American public misinformation with the sole purpose of attempting to discredit the agency."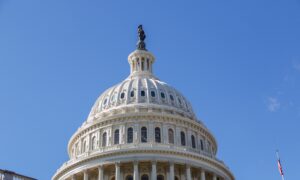 The House passed a bill on March 9 that would prohibit the federal government from colluding with Big Tech to censor lawful speech.
The bill passed 219–206.
The bill, which is likely dead on arrival in the Democrat-controlled Senate, was introduced by Rep. James Comer (R-Ky.), the chairman of the House Oversight Committee.
Ahead of the vote, Rep. Greg Landsman (D-Ohio) accused the proponents of the bill of "promoting" Russian President Vladimir Putin's "will" and propaganda. Rep. Dan Goldman (D-N.Y.) called the bill "a complete waste of time and completely unnecessary." Rep. Jamie Raskin (D-Md.), the ranking member of the House Oversight Committee, called the bill "the Putin protection act."
However, also ahead of the vote, supporters of the bill decried free speech being attacked by the nexus of the federal government and Big Tech that includes silencing conservative voices. Rep. Glenn Grothman (R-Wis.) cited Twitter's censorship of the Hunter Biden laptop story just weeks before the 2020 election.
"It is the policy of the Congress that employees acting in their official capacity should neither take action within their authority or influence to promote the censorship of any lawful speech, nor advocate that a third party, including a private entity, censor such speech," states the bill.
The bill would be an extension of The Hatch Act, which prohibits civil federal employees, except for the president and vice president, from engaging in certain political acts including campaigning.
The measure would not prevent the federal government from working with Big Tech to combat illicit content, including child pornography and exploitation, drug trafficking, and human trafficking.
The bill comes in light of the Twitter Files released by prominent journalists including Matt Taibbi at the behest of Twitter owner Elon Musk. Some of the files revealed collusion between Washington and Big Tech.
One description of such collusion between the FBI and Twitter was, according to Taibbi on Dec. 16, "constant and pervasive, as if it were a subsidiary."
According to Taibbi, "between January 2020 and November 2022, there were over 150 emails between the FBI and former Twitter Trust and Safety chief Yoel Roth." Some of these emails pertained to alleged election disinformation. The FBI gave Twitter accounts that may have violated Twitter's terms of service.
The FBI dismissed the accusations, calling it the work of "conspiracy theorists."
"The correspondence between the FBI and Twitter show nothing more than examples of our traditional, longstanding and ongoing federal government and private sector engagements, which involve numerous companies over multiple sectors and industries," the bureau told multiple outlets in a statement. "As evidenced in the correspondence, the FBI provides critical information to the private sector in an effort to allow them to protect themselves and their customers."
"The men and women of the FBI work every day to protect the American public," continued the FBI. "It is unfortunate that conspiracy theorists and others are feeding the American public misinformation with the sole purpose of attempting to discredit the agency."